---
A glimmer of hope
Balangir district, Odisha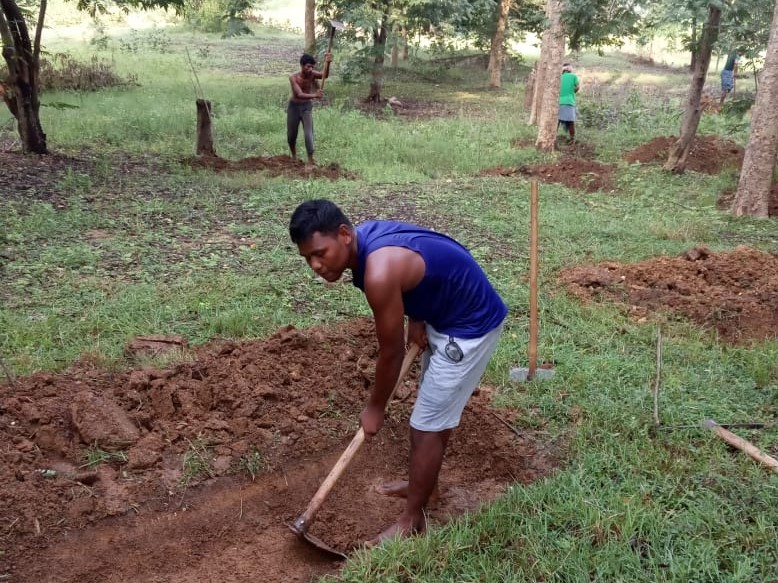 In Odisha's Balangir district, the Mahatma Gandhi National Rural Employment Guarantee Scheme (NREGA) has given villagers hope to earn and feed their families during the pandemic. Twenty-five-year-old Jadupati Biswal, a second-year postgraduate science student at KIIT University, Bhubaneswar, now works as a daily wage labourer in Belpada block. After returning to his village due to the sudden nationwide lockdown in March, Jadupti had no option but to sit idle.
"I belong to a very poor family. My father who is a marginal farmer and a daily wage earner, lost all his opportunities due to the lockdown. Our family was facing a severe financial crisis. So, I decided to work as a daily wage earner to support my family," said Jadupati. During the lockdown, he wasn't able to find a job based on his education qualification, but he has no regrets that he works as a daily wage worker. "I was sitting idle and there was no work opportunity to earn. At least through NREGA, I am able to support my family financially," he expressed.
According to Maheswar Swain, Project Director, DRDA (District Rural Development Agency), Balangir, the district administration has generated 70 lakh working days. They have spent a more than INR 226 crore on NREGA work, and almost four lakh active workers are engaged and receiving timely payments under the scheme. There are 20,000 projects in progress, and a total of 15,000 families have completed the 100 days of work that NREGA offers.
"Apart from pond and well digging work, the government has created durable livelihoods work for villagers under NREGA such as land development, trenching, earthen bunding, and so on. If more villagers join and work, it will help them in a long run," explained Jatin Patra, an activist working on the issue of migration in Balangir district.
Jadupati, agrees. He says, "NREGA has given me a scope to work and feed my family in this COVID-19 situation."
Rakhi Ghosh is an independent development journalist with nearly 20 years of experience in the field of print, electronic, and digital media. The original story was published by Charkha Features.

—
Know more: Read more on how NREGA has fared during the lockdown.
Do more: Connect with the author at rakhighosh@rediffmail.com to know more and support her work.