---
Water and worship
Mumbai Suburban district, Maharashtra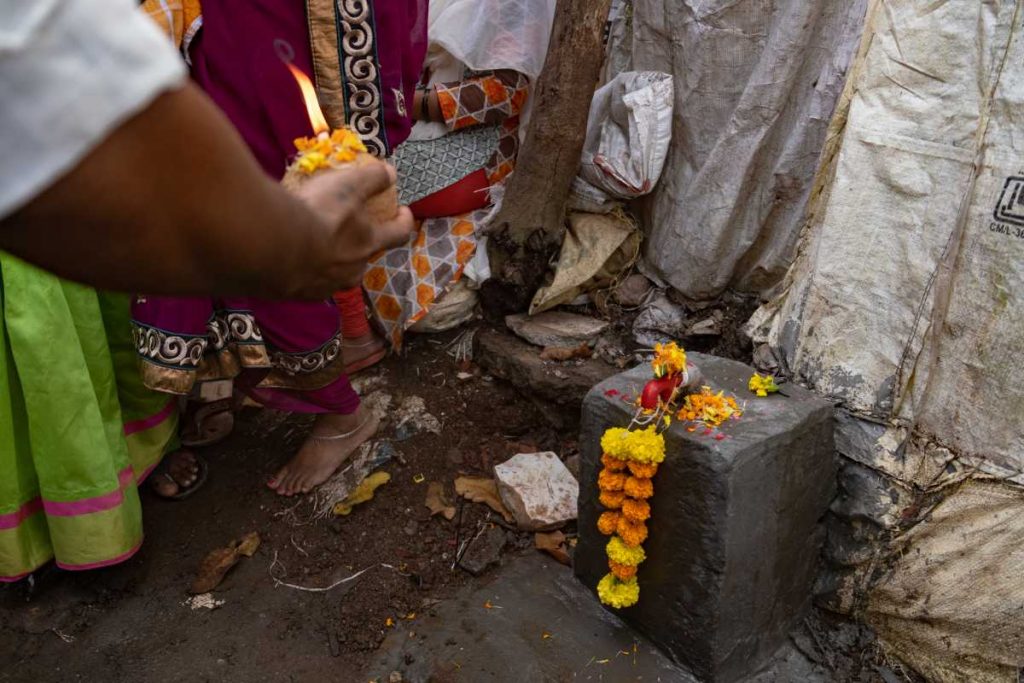 On January 12th, 2019, the residents of Unit no. 32 of Aarey Colony, Mumbai—approximately 200 shanties and 700 people—dressed up for a puja (ritual of worship). They cracked open coconuts, applied tilaks (a sacred mark made with red powder or sandalwood), sprinkled flowers, and conducted an aarti (a ceremony where the idol is offered a flame of light).
But there wasn't an idol in sight. Instead, residents were performing the puja for the newly installed water taps in their settlement. After a year and a half of waiting, the final three of the settlement's five applications for water connections had been approved by the BMC. On this day, the colony was having an inauguration ceremony for these water taps.
The significance of water both as an object of worship and as a part of rituals is well known and documented. For instance, the immersion of idols of Lord Ganesh into the ocean to mark the end of Ganesh Chaturthi, or the practice of offering prayers to the sea during Narali Punav, a festival celebrated by the Kolis (fishing communities) that marks the beginning of the fishing season. However, in the ceremony at Unit no. 32, it was not the element that was worshipped but the conduit. This was due to the label of legitimacy that comes with official water connections, something that had evaded the residents for generations.
This evolution of the tap to a deity cannot be ignored. Informal settlements in Mumbai have been denied utilities like water and electricity for generations by the city. And when generations are unable to access what is available to the rest of the city as a basic human right, it is understandable that associations of the elusive divine are built around it.
Residents of Unit no. 32, Vandana Xavier (40) and Ismota Khatoon (31), sum it up quite simply, saying "Apne paas jo cheez nahi hoti usi ka mahatva zyada hota hai" (The importance of the things we do not have is always felt very deeply).
Prior to this day, Vandana and Ismota had been living in Unit no. 32 for over a decade without a formal water connection. They had been fulfilling their water needs by "renting" water—they would pay INR 1,000 as a deposit and INR 500 INR per month for 10-12 containers of water, each with a 15-litre capacity. They would then haul the containers from the market to their homes, making multiple trips.
This is an edited version of an essay that was originally published with Mumbai Water Narratives, at the Living Waters Museum. You can view the original here.
Prachi Adesara is a freelance photojournalist drawn to human interest stories.
—
Know more: Read more about the water crisis in India and how women bear the brunt of it.