---
No safety in sugarcane town
Mandya district, Karnataka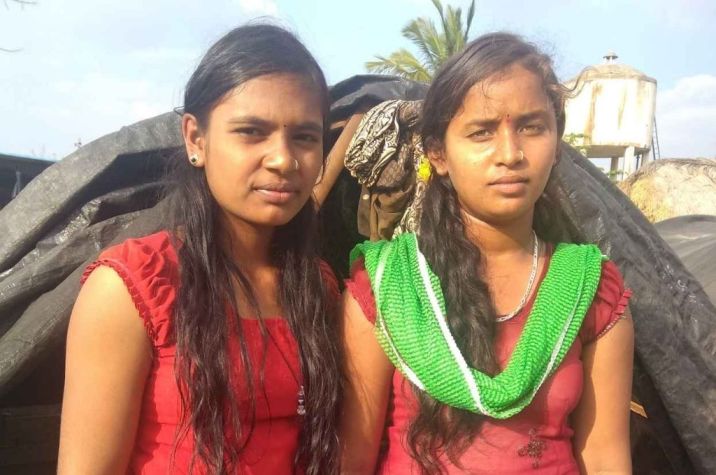 Maheswari and Kavita migrated with their family of sugarcane harvesters from Bellary to Mandya (also known as 'the sugarcane town') to earn a living. It's the middle of the day, and the sisters have come back to the padav (a temporary shelter for migrant workers engaged in sugarcane harvesting) to fetch water for the next morning.
"Will you wait for us to come back to the padav or do you want to walk with us towards the handpump?" Kavita asks us.
Maheswari shares that afternoon is the only time they can go to the handpump to get water, because in the mornings and evenings the locals don't let them use the community pump. The sisters belong to the Valhar caste (a Scheduled Caste in Karnataka), and locals hurl casteist remarks at them. As she signals us to walk faster, Maheswari says that two upper caste men even tried to grope them a few days ago.
Both sisters started working on the sugarcane farm as soon as they learned to use a koyta (a sickle used to cut sugarcane; it is also a term used to refer to migrant sugarcane workers). Since their parents have to worry about their safety here all the time, they will soon be 'given' to a suitable boy for marriage soon, even though they are not even 16 years old yet. Their parents will then be able to work peacefully without having to worry about them.
Gazal Malik is a policy research practitioner and Kratika Choubey is a young development professional. This story is an excerpt from Research on Child Labour in Sugarcane in India: Paradox of the Sweetest Crop.
—
Know more: Learn more about the reasons for low budget allocations towards women farmers.

Do more: Connect with the authors at gazal.malik@gmail.com and kratikachoubey7@gmail.com to understand more about and support their work.