---
Gadia Lohar in the age of machines: A struggle for survival
Jaipur district, Rajasthan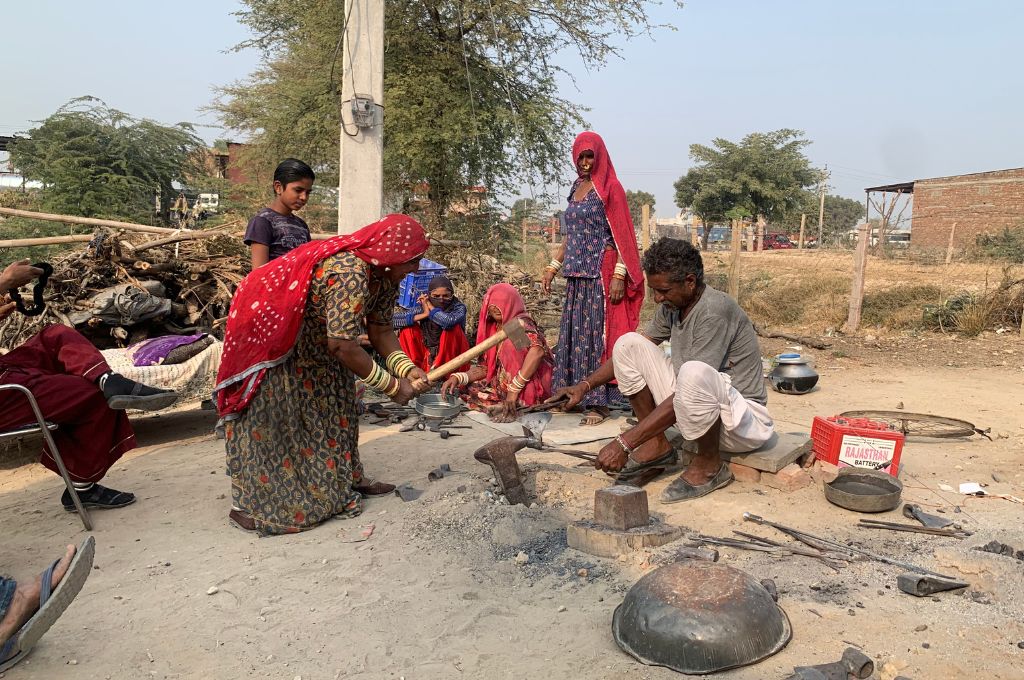 Dali is a 60-year-old woman who lives in Padasoli village near the winding Ajmer–Jaipur highway in Rajasthan. Like everyone else from the Gadia Lohar community, she makes a living by fashioning iron products such as axes. It takes three to four people a day of manual labour to make one axe, which then sells for anywhere between INR 300 and INR 1,300. However, these days, a machine can produce multiple axes in a day at a much lower cost, which is hampering the livelihoods of the Gadia Lohars.
"Why would anyone buy from us then? We don't have money to purchase the production machines," says Dali. Along with making axes, she also buys items such as locks, chains, and knives to resell at a small profit. "If we buy goods worth INR 20,000, our total earning will be INR 2,000. That's it," adds Kamla, another woman from the community.
Dali and Kamla, along with others from their community, sit on the roadside to sell their wares. "I have earned only INR 50 today and it is past afternoon. With this amount, we can't even buy the vegetables we need to cook," says Kamla. Sometimes the women of the community also sell their products at handicraft fairs. However, this is becoming increasingly difficult due to the high rent prices at these fairs. "Pushkar Fair, the biggest fair in the area, is no longer profitable for us. The organisers charge us INR 3,000 per square feet to sit and sell our wares. And even after paying that amount, they keep shifting us from one place to another. Whether or not we sell anything, we have to pay this rent," explains Dali.
As profits dwindle and it becomes increasingly hard to earn a liveable wage, many people from the community dream of a different and better future for their children. Dali says, "We have heard about online work. Maybe if our children are able to complete their studies, they can look at online options to showcase our products. But who will buy them?"
Shefali Martins is an independent journalist and educator from Ajmer, Rajasthan. The original story was published by Charkha Features.
—
Know more: Read this article to learn more about the pheriwala community in Delhi.