---
Rural India's new NREGA problem
Anantapur district, Andhra Pradesh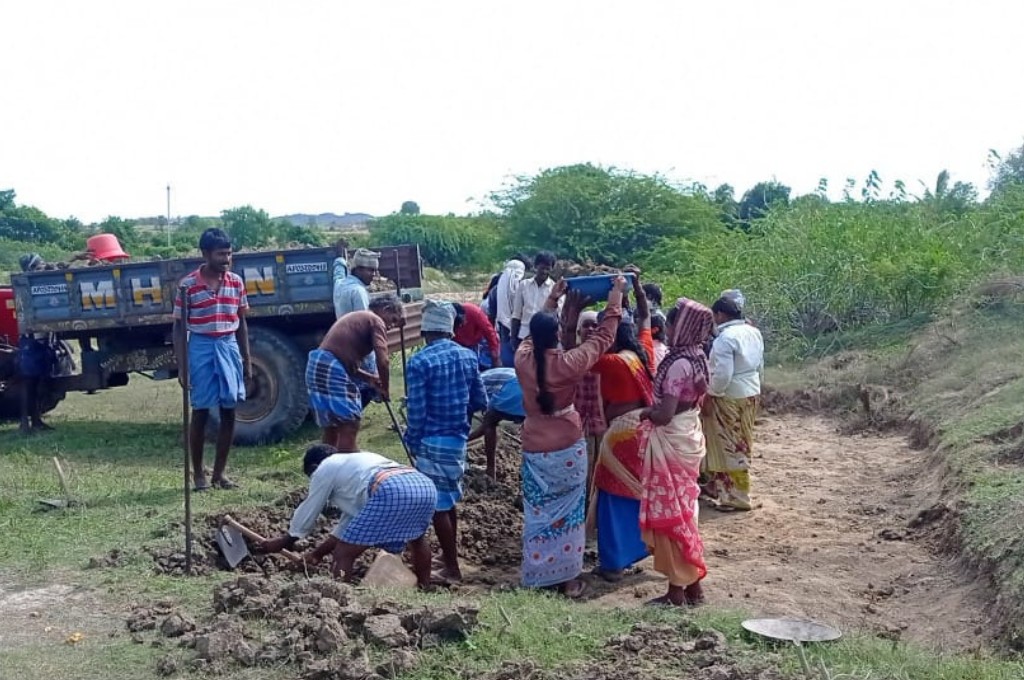 In May 2021, the Government of India introduced a new monitoring system for MGNREGA—the country's flagship employment guarantee scheme. Called the National Mobile Monitoring System (NMMS), it requires that the supervisor take attendance of the workers twice a day—in the morning and in the afternoon.
According to the government, the app is aimed at bringing more transparency and ensuring proper monitoring of the schemes since it takes real-time attendance of workers at MGNREGA work sites along with geotagged photographs. However, in reality, it is only penalising the farmers.
In the old system, payment was based on the quantity of work done and not the number of hours spent on-site, which allowed the workers flexibility of time and income. A job card–holder would go to the MGNREGA work site in the morning, sometimes as early as 7 am. She would complete the day's work in four to five hours and return home at noon for lunch, before going to farm her land or taking her livestock to graze. This allowed her to continue with usual farming activities and supplement her meagre income with the MGNREGA wages. This additional income helped pay for her family's healthcare, children's education, and household needs.
With the NMMS system, the farmer must now choose between her occupations. She can't give up MGNREGA work because the wage from that is critical, but she also can't continue with her other work due to lack of time.
Today, rural household incomes are about more than just agriculture. They need to be supplemented with livestock rearing and daily wages since farming alone isn't viable. But if the farmer is expected to spend time on-site even after her work is done and register her attendance twice a day, she is unable to take her livestock for open grazing to the commons or work on farmlands.
There are other issues too. In most cases, MGNREGA work is harder than farm work and is energy sapping. It is not like office work that has fixed hours through the day and can be tracked and monitored. Spending all day on work sites also takes away the time the farmer needs for community and social activities. Pre-NMMS, she had the time to participate in SHG meetings, attend to social obligations, and do things beyond daily work.
Essentially, the new rules are creating more hurdles for the farmers whom the government is supposed to serve.
Mohammad Bhakthar Vali is the regional head at Foundation for Ecological Security in Madanapalle, Andhra Pradesh.
—
Know more: Learn why women artisans in Rajasthan need to open Demat accounts.
Do more: Connect with the author at [email protected] to learn more about and support his work.