---
Unsettled again
Bikaner district, Rajasthan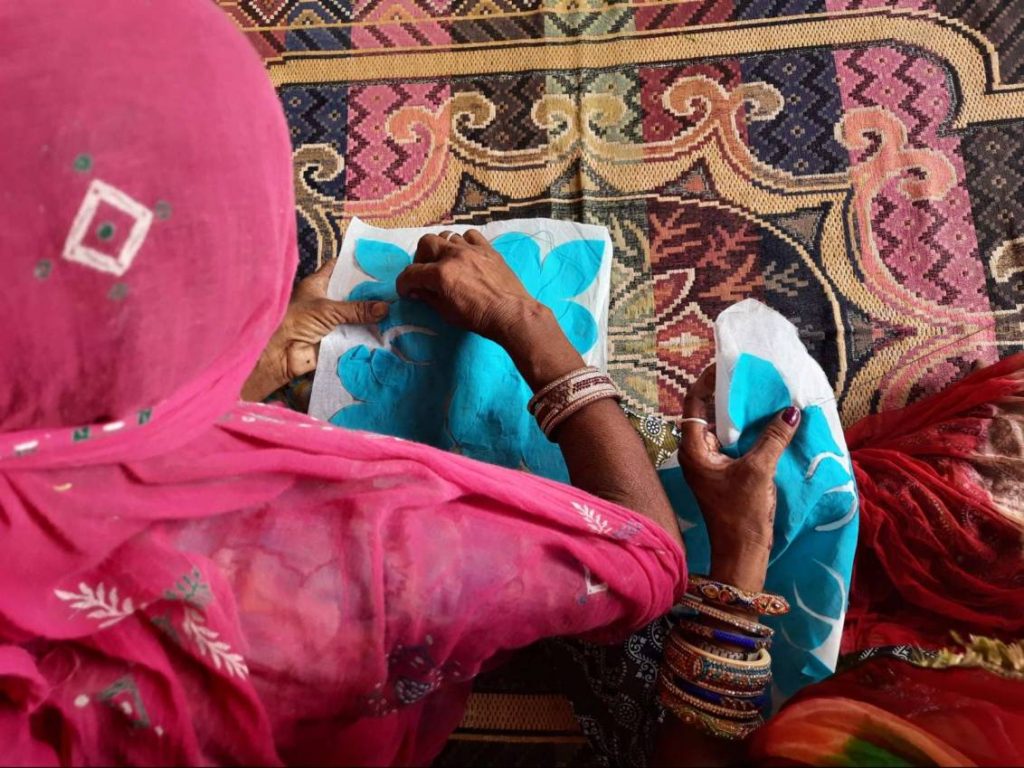 "We have always done kashidakari (embroidery) on kurtas and thans (fabrics). We didn't know what to do when all the channels for work closed down because of the lockdown. All of a sudden, there was no work for us," says Sugni Devi from Poogal village in Bikaner district, Rajasthan. For artisans like Sugni, who have been doing kashidakari since childhood, it was difficult to think of any other livelihood option to support her family during the COVID-19 lockdowns.
Residing in the isolated dhaanis (agricultural fields that are far away from village settlements) of the Thar desert, near the India-Pakistan border, these artisans—belonging to the Meghwal community—are heavily reliant on agriculture and manual labour. They are always looking for embroidery work from city-based textile manufacturers, members of self-help groups, or middlemen. As a result of the lockdown, the transportation between these villages and the dhaanis were cut down from barely two times a day (in pre-COVID-19 times) to none.
"This year, we could not even travel to the cities to get payments for work that we had already done," says Shyamlal, a shibori artisan from Ghantiyali, Jodhpur district. "With the summer months approaching, we wanted to work in crafts. Neither could we rely on agriculture till the onset of rains, nor could we count on animals for income. Animal trading also took a back seat because of the lockdown," he adds.
Eventually, local nonprofits and producer groups approached the Meghwal community artisans to make masks and ration kit bags for distribution, so that their livelihoods could be secured. For artisans like Sugni and many from her village, it was a job they never thought they would ever do. "We weren't ready; we had never even heard of masks, let alone know how to make them," adds Tara Bai who has been doing kashidakari for more than 50 years now. "Corona didn't come to our dhaanis, but its effects are the same that my family and I witnessed after the 1971 Indo-Pak War, where we were left without work and without any options," asserts Tara Bai.
Rituja Mitra currently works with Urmul Desert Crafts.
—
Know more: Read about why we need a decentralised paradigm for rural livelihoods.
Do more: Connect with the author at rituja.mitra@urmul.org to understand more about her work and extend support.