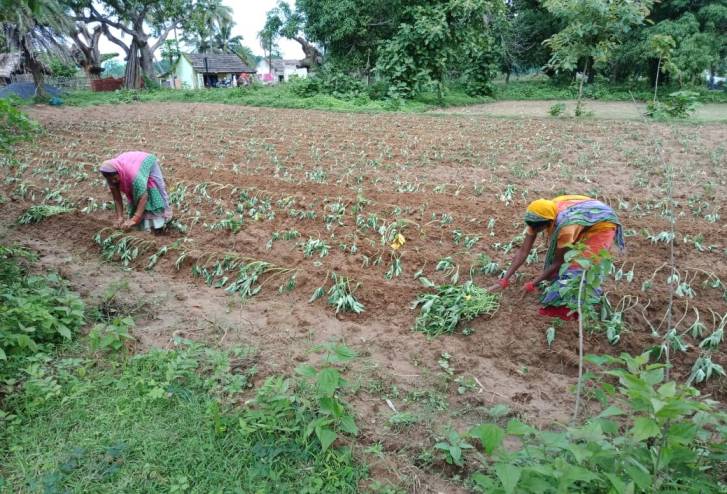 In the month of October 2020, driving through the villages around the Satkosia Tiger Reserve in Angul district, Odisha, one can see fields upon fields of sweet potatoes. This is an unusual sight in a region that predominantly grows paddy during the kharif season.
The difference this time has been the COVID-19 pandemic. Due to the lockdown in all the big cities across the country and the resulting loss of livelihoods there, many migrant labourers had returned to their villages in Odisha during April and May last year. In an attempt to earn a living while at home, they turned to farming. However, they were unable to access seeds and other inputs needed to cultivate paddy.
As they worried about how to make ends meet for themselves and their families, a few of their neighbours started sharing their sweet potato cuttings with them. As the farmers nursed more cuttings, they would distribute them to other villages. Eventually, 700 farmers across 23 villages were engaged in growing this crop, with nearly 1,800 acres under cultivation—nearly three times the area and four times the number of farmers, when compared to 2019.
Typically, sweet potato is grown as an ancillary crop. However, this time, it became the primary crop with a bumper harvest, eventually earning each household a profit of approximately INR 50,000 per acre. Around 500 farmers have also come together to form a farmer producer company (FPO) though which they sell their produce both within and outside Odisha, earning them better prices.
For many returning migrant workers, this return on investment has begun to look like a far better deal than going back to ill-paying, volatile, and stressful jobs in the big cities. While the young migrants have started going back, the older ones with families are now keen to explore a more stable and dignified life back home for themselves and their families.
Swapna Sarangi is a team leader at the Foundation for Ecological Security (FES) in Angul, Odisha.
—
Know more: Read this article to understand how a community-based agriculture model can increase productivity.
Do more: Connect with the author at swapnasris@gmail.com to understand more about her work and extend support.