---
Festival of work: Women kitemakers have no respite
Ahmedabad district, Gujarat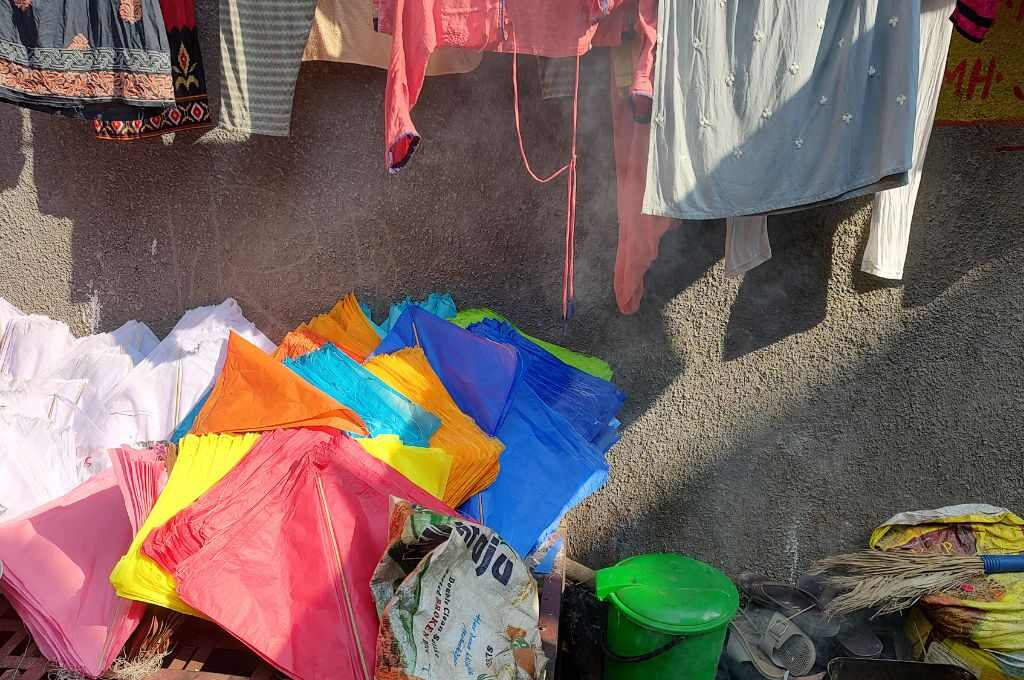 Every year prior to the kite festival on January 14, women in Rasul Kade Ni Chali, a settlement in Behrampura, Ahmedabad, are part of an unending work shift. "Here, every other woman makes kites," says Noorani, a kitemaker herself. Every day, the work is supplied to their doorstep by the contractors who run wholesale kite shops at Jamalpur market. While some women paste the central stick to the kite, others are involved in pasting the arch.
They receive a low wage of INR 100 per 1,000 kites, which goes up to INR 130–140 during peak season (November to December). "The wages are high till the kite festival. There is no work from January to March. So, it's important for me to do as much work as I can. Ultimately, this will be my savings for the next three months," adds Noorani. This pushes the women to work extra hours during peak season.
Ruksana, 36, has been making kites for the last decade. She says, "I usually wake up at 5 or 6 am, do all the cooking, cleaning, and dusting, drop my children at the madrasa, come back home, and start working at 12 pm sharp." Within a couple of hours, she has to prepare lunch for the family and pick up the children from school. In the evening, from 4 to 7 pm, she gets some more kitemaking work done before cooking dinner and washing the dishes.
"Finally, at 10 pm when everyone goes to sleep, I get time for myself. I work continuously for four to five hours since there's no interruption, and sleep at 2 or 3 am," adds Ruksana. During peak season, she gets only two to three hours of sleep. Ruksana's husband is a loading-and-unloading worker with a limited income, and her earning is crucial to the household. Missing work is not an option as the family has to pay house rent too.
Abidah, who lives in the same locality, made kites for 25 years, but has now stopped and manages household chores. Her four daughters have taken over the work from her and their income is sufficient for the family. Abidah's eldest daughter, Salma, 23, says, "My sisters often take leave from school to work on the kites during peak season. The four of us start making kites at 9 am and work till 9 pm. We take a break only to eat. If bored, we watch TV while working. Sometimes I feel it's a nice pastime as we don't step out much."
Salma adds that she misses school lessons and has back pain at the end of a workday. The sisters make 4,000 to 5,000 kites a day, earning a revenue of approximately INR 500–700.
Anuj Behal is an urban researcher and practitioner.
—
Know more: Learn why young women in Odisha fear migration.

Do more: Connect with the author at [email protected] to learn more about and support his work.