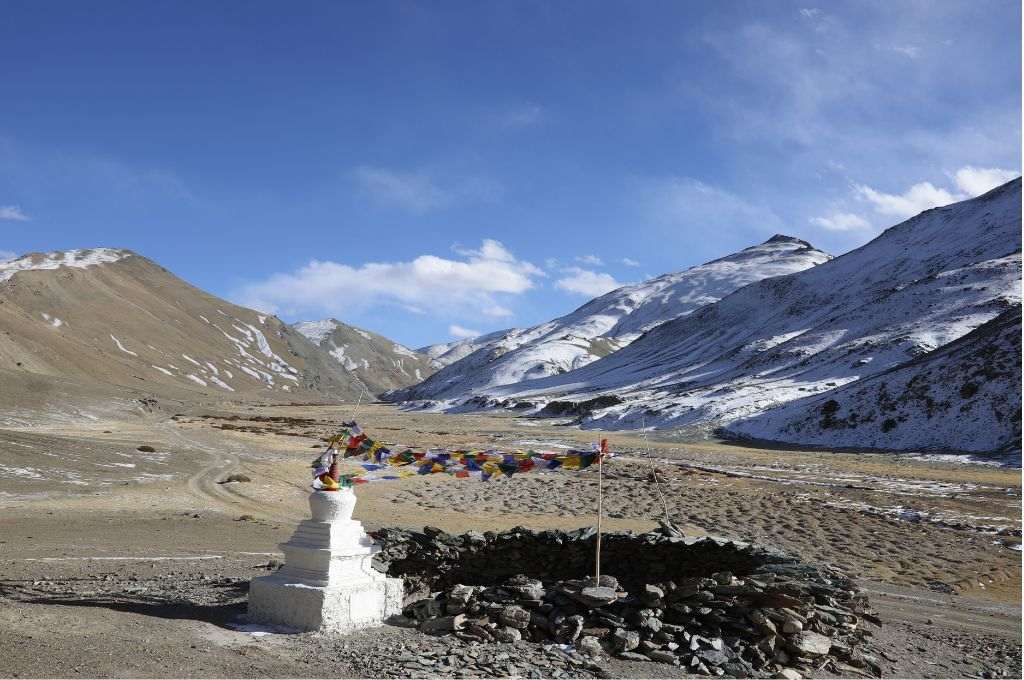 In Ladakh's Leh district, which is predominantly inhabited by agro-pastoral communities, shandongs (wolf-trapping pits) are a relatively common sight. These traditional trapping pits were built by the people of the trans-Himalayan region to protect their livestock from wolf attacks. However, they have largely remained unused and fallen into disrepair over the past few decades owing to the expansion of Ladakh's infrastructure and the implementation of wildlife conservation measures.
In 2017, as part of a group of conservationists, we commenced discussions with the members and political representatives of the pastoral village of Chushul. We spoke about possibly neutralising the local shandongs while preserving and maintaining them as part of the region's cultural heritage.
We had built long-term relationships with the community members through multiple visits and interactions—this helped us understand that their killing of wolves was purely motivated by a desire to preserve their livestock. Additionally, it enabled us to demonstrate to the community that we did not wish to penalise them or outright destroy the shandongs, which represented a critical aspect of their cultural heritage. We approached His Eminence Bakula Rangdol Nyima Rinpoche, an influential religious leader and scholar, for his advice on building a stupa at the shandong site, which would not only have religious significance for the local Buddhist community but also boost the economy of the region by attracting tourists.
The possibility of neutralising the shandongs, committing to conservation, and collectively constructing a stupa under the Rinpoche's guidance was met with enthusiasm by the Chushul community. In June 2018, the community neutralised all four shandongs in their locality by removing a few stones from each structure, which created a passage for any trapped animal to escape from them while simultaneously preserving their traditional architectural structure. A stupa was constructed beside one of these four shandongs, which had all been active in the past.
Although we supported the cost of building the stupa, the locals voluntarily contributed funds and also relics to be placed inside it. The stupa was subsequently publicly consecrated by the Rinpoche. Our informal interactions with people in the community indicated that their involvement in the initiative invoked considerable pride and a sense of gratification in them. "Every time we pass the stupa, I make sure to circumambulate it and chant some mantras," says Sonam Lotus, a local herder. The efficacy of the conservation initiative is yet to be robustly assessed using data on metrics such as the reduction in wolf hunting cases. However, anecdotal evidence suggests that no wolves have been killed in the region since the conversion of the shandongs.
Ajay Bijoor works as assistant programme head with Nature Conservation Foundation's High-Altitude Programme in Ladakh; Karma Sonam works as field manager with Nature Conservation Foundation's High-Altitude Programme in Ladakh.
This is an edited excerpt of a paper that was originally published on Frontiers in Ecology and Evolution and co-authored by Rigzen Dorjay, Munib Khanyari, Sherab Lobzang, Manvi Sharma, Shruti Suresh, Charudutt Mishra, and Kulbhushansigh R. Suryawanshi.
—
Know more: Learn what needs to change about India's efforts in wildlife conservation.
Do more: Connect with Ajay Bijoor at ajay@ncf-india.org and Karma Sonam at karma@ncf-india.org to learn more about and support their work.