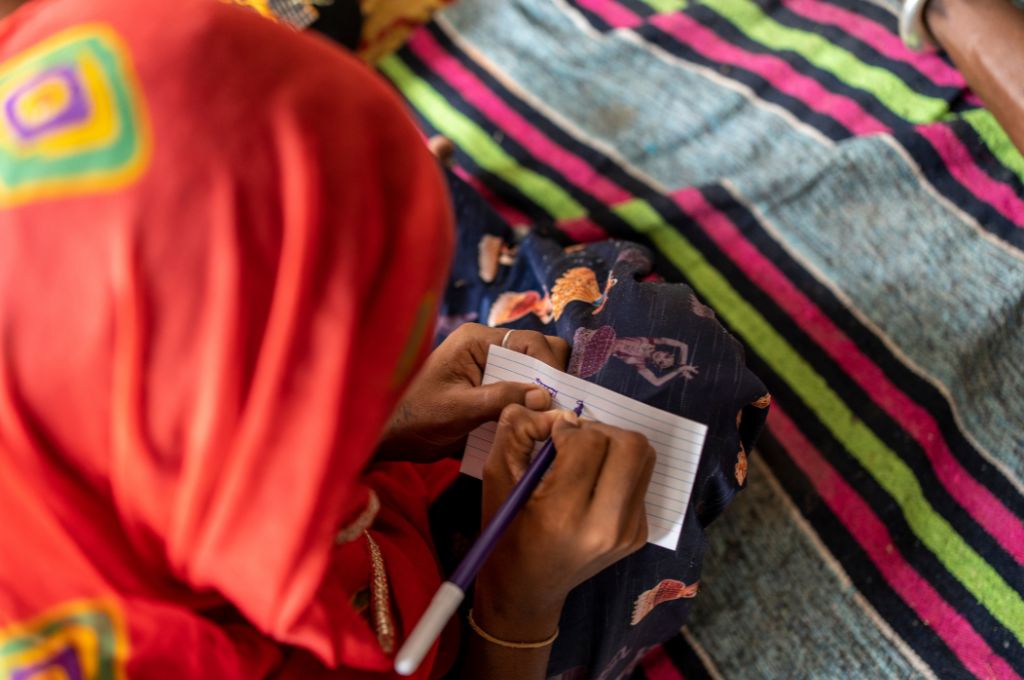 Neelam,* a 23-year-old woman from Odo Ki Dhani village of Pali district in Rajasthan, got married when she was 17. After six years in an abusive marriage, she divorced her husband in 2022. Since then, Neelam and her four-year-old daughter have been living with her parents.
Neelam wants to study more and become financially secure. She says, "I want to pass class 10 and class 12 exams. I only studied till class 8 because my village school did not have classes beyond that. With a secondary certificate, I can apply for jobs such as that of an anganwadi worker or a NREGA mate (supervisor). Even to become a treasurer in a self-help group, you need a class 10 certificate."
Neelam is currently studying at a learning camp and is ready to appear for the class 10 board exams. However, the process to register for the exams has come with its unique challenge—the Jan Aadhaar card.
In 2019, the Rajasthan state government launched the Jan Aadhaar card with the stated objective of streamlining and unifying the delivery of public welfare schemes run by the state. Registered under the name of the female head of the family, the Jan Aadhaar card also serves as an identification document for a family and an individual. Since 2022, the card has been made mandatory to access a number of the state government's schemes and for several registration processes, including the class 10 examination administered by the Rajasthan State Open School. However, this has become a barrier to education for many people, especially divorced women such as Neelam who are trying to rejoin school.
Once they get married, women's names are removed from the family's Jan Aadhaar and added to their in-laws' card. After divorce, they have to re-register their name on their family's Jan Aadhaar, which is an extra step and requires running from pillar to post.
Farzana, who works with Educate Girls, a nonprofit that helps young women complete their secondary education, says, "I went with Neelam to the panchayat samiti, a rural local government body, and the sub-divisional magistrate office several times. We explained her situation to many government officials. We got an application written by the sarpanch and the panchayat secretary and took that to the tahsildar office. Upon verification from the tahsildar, the application went back to the panchayat secretary. We had to submit an affidavit form stating that her name was removed from the family's Jan Aadhaar following her wedding, but now that she lives with her parents her name should be added back."
After a month and several visits to various officials, Neelam finally managed to get registered on her family's Jan Aadhaar. But the Rajasthan State Open School registration window is now closed for the year and will reopen in June 2023. This means Neelam will only be able to sit for her exams in April 2024.
*Name changed to maintain confidentiality.
As told to IDR.
This article was updated on November 11, 2022, to reflect that Neelam is studying at a learning camp and not enrolled in an open school.
Farzana works with Educate Girls on facilitating women's education; Neelam studies is studying at a learning camp organised by Educate Girls.
—
Know more: Learn how people who didn't own ration cards had to live without food during the pandemic-induced lockdowns.
Do more: Connect with Farzana at [email protected] to learn more about and support her work.