---
A click away: Social media helps a batik artisan reinvent traditional methods
Kachchh district, Gujarat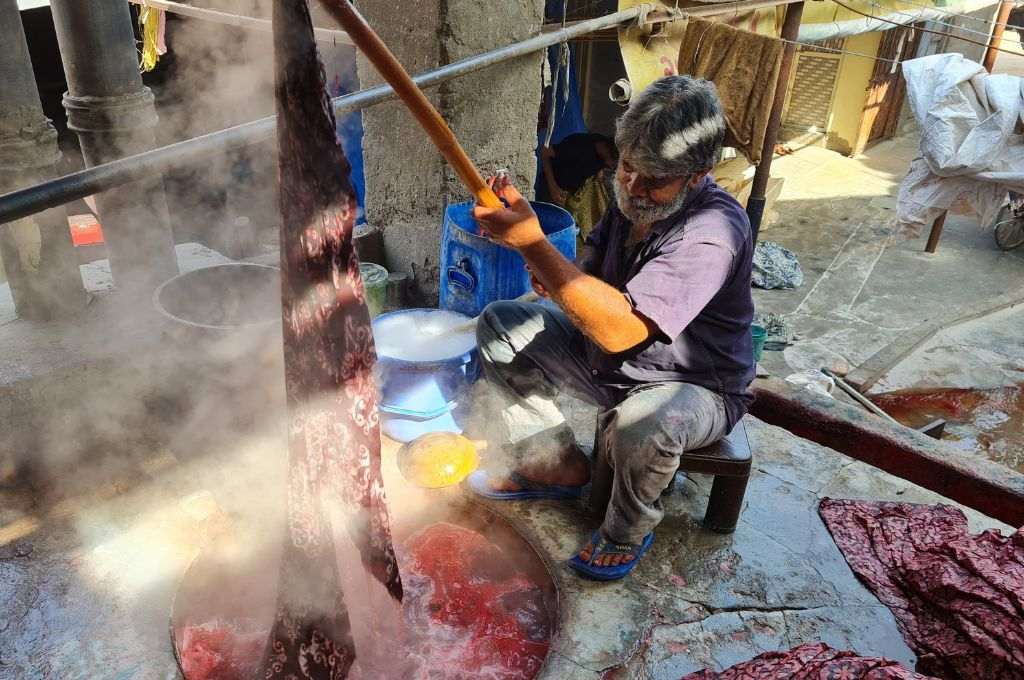 I am a batik artisan from Kachchh, Gujarat. Batik is a technique of wax-resist dyeing and block printing that has been practised by six generations of my family. Initially, I learnt the craft on the job while helping out with the family business. It was only a little later in life that I expanded my understanding of batik production—through school and social media.
In 2009 I joined Kala Raksha Vidhyalaya, a design institute, where I had the opportunity to interact with other traditional artisans as well as faculty from prestigious design schools. I also gained more insight into my craft by attending classes on the basics of design, colour gradations, product finishing, presentation, and more.
My time at the school gave me the confidence to experiment with colours and designs. It also opened my mind and made me appreciate and take inspiration from all the colours, textures, and patterns that I was surrounded by in my daily life. Soon after, I began playing around with textures. This eventually led me to start an Instagram page in 2016, where I began posting about my design inspirations and innovations. Rather than keeping my ideas to myself, I wanted to share them with people in the hope that they too would get inspired.
If you use social media well, you can learn a lot. I regularly watch tutorials on YouTube to learn techniques that are being adopted by other batik producers around the world. For instance, I came across a new process to remove wax from fabric. The method we followed to remove wax was difficult and back-breaking. We would use two pieces of wood to immerse the fabric in boiling hot water and then twist the fabric, which would remove the wax. In one go we would be dipping five lengths of fabric, with a yardage of 10 metres each, in the hot water. The weight of the cloth, along with the added weight of the water and the wax, put a lot of pressure on our bodies. This is why I decided to look for alternative methods online. I came across a technique used in Indonesia where artisans immerse just one length of fabric in water and slowly remove the wax without twisting the cloth. When I first showed the video to my workers, they were reluctant as the process is more time-consuming. The time they would normally spend on 10 pieces, they would now have to spend on just three. However, when some of them tried the new method, they really liked it because it wasn't as laborious; soon the others joined in as well.
Since then, I regularly spend time online studying about the different techniques that are employed by artisans all over the world. There are many benefits to using the internet and social media to improve our craft.
Shakil Khatri is a managing partner at Rainbow Textiles and Neel Batik, which collaborates with 200 Million Artisans, a content partner for #groundupstories on IDR.
Know more: Read this story about the last hand-block printer in Gujarat.
Do more: Connect with Shakil Khatri at @shakil_ahmed_2292 to learn more about his work.