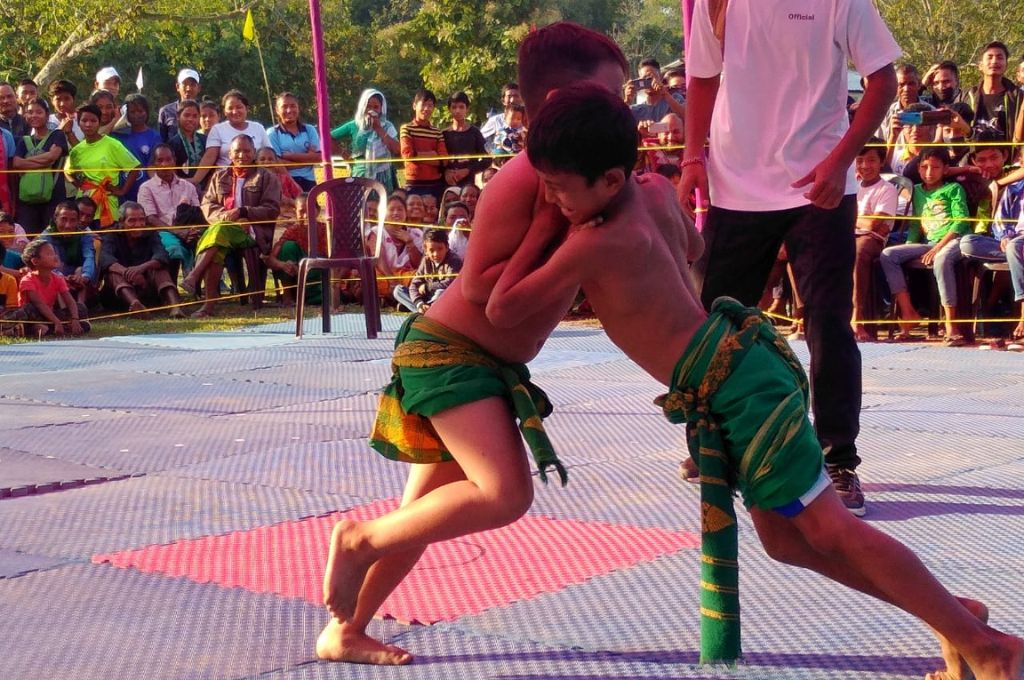 In 2009, when Mijing Narzary, a former boxer, became a khomlainai (traditional Bodo wrestling) coach, there were not many takers for the sport. He would demonstrate khomlainai in the schools and open areas of Simlaguri village in a bid to convince people. But most villagers did not understand why their children should break their arms and legs playing a sport that would never translate into sustainable income.
Mijing says, "I still remember a woman asking me, 'When was the last time anyone earned a living playing a game in traditional Bodo attire?' I had no answer."
Khomlainai has come a long way since then. Many young people from Simlaguri have found employment in the Indian army and police forces due to the discipline and physical fitness that the sport teaches.
However, this is just one reason for khomlainai's importance in the village. Over the past few decades, Simlaguri has been plagued by alcohol addiction among its youth. This was unprecedented even in Bodo households, which were traditionally involved in alcohol production. Mijing says, "Alcohol was always part of our culture and was used in all events from pujas to funerals, but children weren't allowed to drink on those occasions. Some of these events were exclusive to adults. However, things started changing. Children began joining the adults and they also started to drink."
The rise in consumerism is partly to be blamed for this change. Chirang district now has dedicated 'picnic spots', which are available for rent and have become hubs of alcohol consumption. The other factor is Simlaguri's proximity to Bhutan, where alcohol is cheaper than it is in India. Whenever there's a reason to celebrate, people just travel for 30 minutes to the other side of the border.
In such a situation, khomlainai, which prohibits smoking and drinking as part of sports discipline, is a useful intervention. The sport is attracting parents desperate to counter alcoholism and children who see their peers lead a better daily life. But there's much more that the sport can do for Simlaguri and Assam if it receives government support.
Mijing says, "The Sports of Authority of India (SAI) now supports Bodo children from our village by providing them sports equipment. They also house our children in hostels. All this is great, but I wish there was also funding for community-run centres such as ours. SAI chooses young people from the village based on talent alone. For them, everyone is equal. We understand that there are many factors, including family income, that contribute to the making of a sportsperson. I would like to build a hostel where poor Bodo children can stay, practise, and study in the time they now use in doing household chores. The routine will also help them stay away from alcohol."
Mijing Narzary is a fellow at the Tribal Leadership Programme 2022 and founder of the Chirang Sports Centre in Assam.
—
Know more: Learn why three villages in Kashmir wanted a wrestling ground and not a road.
Do more: Connect with Mijing Narzary at [email protected] to learn more about and support his work.