Artificial Intelligence (AI) is characterised by machines that possess specific aspects of human intelligence, and encompass capabilities such as perception, learning, reasoning, problem-solving, language interaction, and even creative output. Over the past decade, AI has been integrated into the education space. It is being used to streamline students' performance data in schools. For example, in Uttar Pradesh, the Nipun Assessment Test (NAT) is leveraging AI to assess the skills of 1.6 crore students across grades 1 to 8. AI also allows translation from one language to another, and provides individualised learning tools to students.
In the last year or so, a subset of AI—generative AI—has been gaining traction. Generative AI uses deep learning to analyse existing sets of data to create new outputs. Unlike its predecessors, generative AI also has reasoning capabilities. ChatGPT, which can produce human-like responses to text prompts, and DALL-E, which can create images and artworks from text prompts, are popular examples of generative AI.
The rise of generative AI has raised curiosity and piqued interests. It's early days and there's no clear verdict, but its potential has opened up many possibilities. This article looks at some of these possibilities and highlights how generative AI can be effectively adopted in the education sector.

Generative AI in education
Generative AI can help bridge many gaps in a country like India that has vast cultural and social differences and barriers of inequality. It can be beneficial to various sets of stakeholders in the education system, be it students, teachers, or parents.
Recognising the importance of developing AI skills for children, CBSE has introduced AI as a skill module in classes 6–8 and as a skill subject in classes 9–12. Additionally, there are several organisations that are creating virtual assistants for students, teachers, and parents to enable them to learn and teach better. Many such initiatives are now being seen across a diverse set of use cases.
Here are some potential ways in which generative AI can be used:
1. Parents can leverage virtual assistants to figure out activities they can do with their child to help enhance their reading and comprehension skills. For example, parents can narrate stories generated by the AI to the child or get the child to read aloud a story. This can be especially useful for parents who aren't literate but want to be involved in their child's education.
2. Generative AI can help teachers follow the prescribed guidelines for teaching in an efficient way without spending hours going through multiple reading materials. A virtual assistant built on generative AI can assist a teacher in planning unique and engaging classroom activities by referring to a selection of carefully chosen documents and expert insights and suggesting methods that may work in a class setting.
3. This technology can adapt to the unique needs of a child and so, under the assistance of a caring adult (teacher, parent, or community member), it can be extremely helpful in early childhood education where learning pace and approaches vary from one child to another. It can be useful in developing foundational literacy and numeracy and teaching basic language skills.
4. Generative AI can assist with speech-to-text, text-to-speech, and speech-to-speech translations, and also adjust the tone and cultural context while translating. This will help in making education more inclusive for children from various linguistic and sociocultural backgrounds.
5. Generative AI can help create virtual labs on smartphones, especially for students in senior grades and colleges. This will be particularly useful for students from marginalised backgrounds who may not have access to a physical lab to perform science experiments or learn vocational skills. AI can aid in helping them understand these skills and concepts.
6. Virtual assistants can be used to resolve students' doubts and queries and also help them in developing skills such as critical thinking, creativity, problem-solving, and communication. It can be a function of how one trains the virtual assistant to aid students in developing these skills. Students can speak with the virtual assistant in their local language, write and scan text, or type into it directly. Similarly, a school app that uses virtual assistants can be customised for students, teachers, and parents to track assignments, attendance, results, etc.
Many of these are already being piloted by various organisations that are working closely with a set of stakeholders on the ground.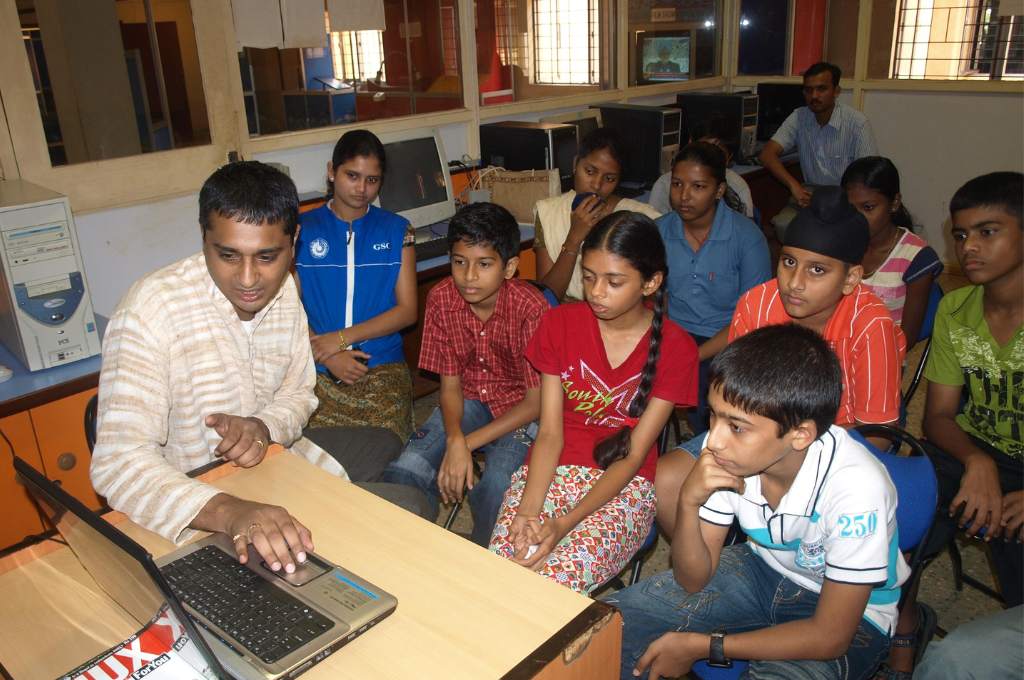 Approaches for effective adoption
While there are many possible ways to implement it, currently the adoption of generative AI in the education space remains minimal and experimental. In order to incorporate it in our programmes more effectively, the following things need to be kept in mind:
1. Picking the right problem
Amid the myriad of potential applications for generative AI, it's crucial to ensure that our focus is directed towards solving and addressing the correct issues. For example, it is important to identify the real problems that a teacher faces while teaching a class or managing it. Can there be more constructive methods of doing so? What's the most practical way for a teacher to do this without giving up their own agency? Are the suggestions contextual and relevant for the teacher to implement?
Forums and events, user research, and focus group discussions with the community serve as a valuable compass for shaping appropriate solutions and policies.
One useful approach involves gaining insights into the challenges faced by the target audience and relevant stakeholders. Forums and events, user research and understanding, and focus group discussions that engage with the community and delve into their real-world experiences serve as a valuable compass for shaping both appropriate solutions as well as policies. These foster open communication and deeper empathy towards the problem so that solutions and policies are co-created while paying attention to inclusion and co-designing for diverse stakeholders and perspectives.
In the early stages, it is also useful to ensure that programmes are undertaken in a low-stakes manner. This means that evolution goes through stages with appropriate checks and balances. To avoid undesirable results, one can always figure out the value proposition at a smaller scale.
2. Building the ecosystem
Most organisations working in the education space are not equipped to build or leverage generative AI. For example, if an organisation wants to build a storytelling application that narrates stories to children in the local dialect, they would need a diverse set of experts from the technology ecosystem, besides domain experts. This calls for greater synergy between the education space and the tech space and a conducive ecosystem that supports them. However, fostering such collaborations requires resources, money, permissions, and access. Therefore, without the support of funders, policymakers, and a larger ecosystem, this synergy is not possible.
3. Figuring out who takes responsibility
When an organisation engages technology experts to develop applications on their behalf, the issue of responsibility and ownership becomes quite complicated. For instance, if an organisation collaborates with a state government and a technology expert to implement a new application, the following questions arise: Who assumes the charge of managing and monitoring the app? Who rightfully claims ownership of the technology and shoulders the onus of data governance? Who accepts accountability for any setbacks? This requires careful crafting of policy guardrails and guidelines, governance structures, and clarity in the roles and responsibilities of those involved so that stakeholder interests can be safeguarded. There needs to be a clear policy on how the data is coming in, whether it is anonymised, and what this data is being used for.
4. Checking for bias
Since generative AI is heavily dependent on the data it is being fed, biases are a pertinent threat. These biases can be detrimental to a child's education or can lead to exclusion. While building models, it is important to ensure that no inherent bias is getting introduced and that the impact of the tool on the child has been evaluated. The onus should also extend to other players in the space including parents, teachers, and the community. For this, models should be tested thoroughly with smaller cohorts to identify and address such biases before deploying them at scale.
So far, generative AI has elicited a range of responses—either it is being hailed as the biggest technological breakthrough of the century or being met with vehement criticism. However, for wider adoption, its potential benefits need to be recognised while also acknowledging the challenges it presents.
Generative AI can help in overcoming the challenges to education in India only if it has an ecosystem that innovates and supports its growth, participates in its evaluation, and assumes responsibility for failures. This ecosystem should comprise community members; social, private, and public sector organisations; experts; thought leaders; and funders, and demand active participation from each of these stakeholders.
—
Know more