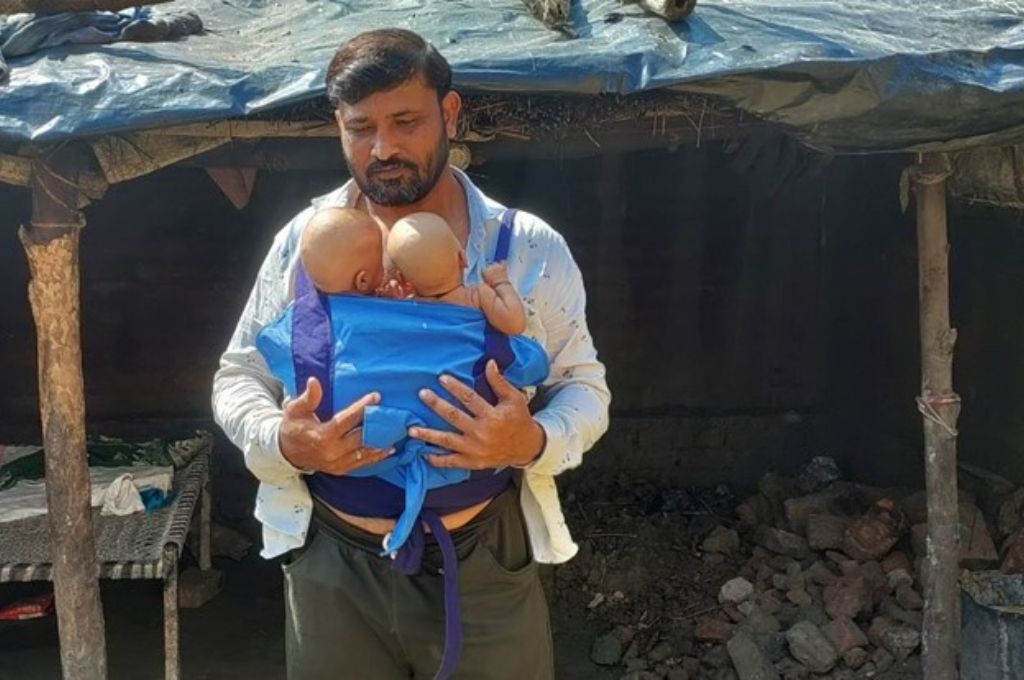 On entering the maternity or paediatrics ward of a public health facility in Uttar Pradesh, you are likely to encounter a sign that reads, "Purushon ka pravesh nishedh hai" (Men are not allowed). The reason behind this is the assumption about the role of men in newborn care and parenting—local hospital administrators often believe that men don't have any part to play and that their presence in the ward will cause crowding and/or make women feel unsafe.
On a hot summer day in August 2022, Nizam was informed that his wife, Meena, was in premature labour and would soon undergo a caesarean section at a large public hospital. He rushed home to eastern Uttar Pradesh from Delhi, where he was working as a migrant labourer. On the way, he learned that Meena had given birth to twins; each weighed 1.6 kilograms—much lower than the normal birthweight of 2.5 kilograms.
Premature and underweight babies frequently struggle to regulate their body temperatures and have underdeveloped feeding reflexes, so Nizam and Meena's twins were enrolled in the hospital's breastfeeding and newborn-care programme. Despite government guidelines envisioning the involvement of families, particularly fathers, in caring for sick and preterm newborns, the hospital—like many others—didn't allow fathers to be present in the neonatal intensive care unit with the baby and mother. However, in Nizam's case, they made an exception due to the logistical challenge of caring for twins.
This provided Nizam the unique opportunity to stay with the babies for a month until they were discharged. Previously, he would leave within a month of his wife giving birth. But this time he has been home for three months, and plans to stay till the twins recover completely. He says, "Compared to my older children, I feel more attachment and love towards my twins since I have spent more time with them. They are more attached to me as well. As soon as I come home from work, they start crying for me and attach themselves to me like monkeys."
Meena also feels that she benefitted from Nizam's support. Post-operative pain made even simple tasks such as eating food and taking medicines complicated, so taking care of the children would not have been possible without him. "I would have had to leave the hospital earlier if it was not for him," she says.
There is sufficient medical evidence to suggest that fathers can be efficient caregivers. This, however, doesn't eliminate the social pressure that fathers face to adhere to patriarchal gender norms around parenthood. Childcare is typically seen as a woman's domain, and fathers who want to share in caregiving duties are often discouraged from doing so. Puttan, another father who was heavily involved in taking care of his newborn children, says, "There were some acquaintances who said that this is not a man's job and I shouldn't care for them like this." But he brushed aside such comments. "Nowadays, women are doing everything. They're becoming officers, doctors, so why can't men do everything? How will it work if husband and wife don't support each other?"
Taha Ibrahim Siddiqui is a researcher and data analyst at research institute of compassionate economics (r.i.c.e.) and an economics graduate from Jamia Millia Islamia.
—
Know more: Read this article to learn why maternity benefits should be extended to cover informal workers as well.
Do more: Connect with Taha at [email protected] to learn more about and support his work.