---
Odds decide the end: Kibber village's unique panchayat election
Lahaul–Spiti district, Himachal Pradesh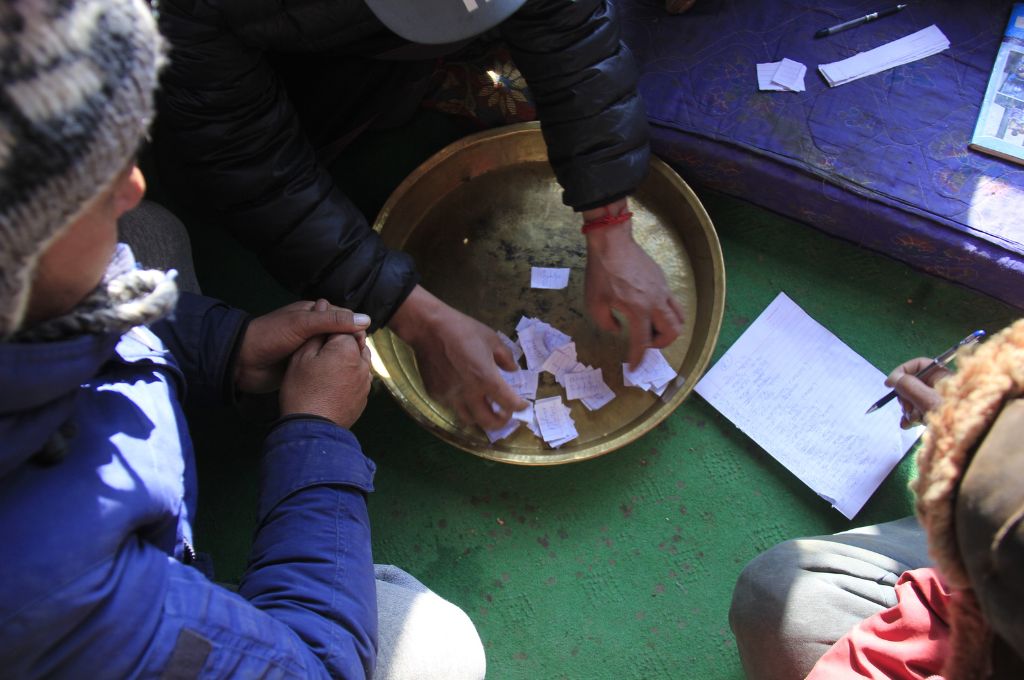 If not for the pandemic, Lobzang Tandup would have been preparing for the civil service exams in Chandigarh. But on January 17, 2021, an unlikely responsibility fell on his shoulders. Kibber would hold panchayat elections, and Lobzang's task would be instrumental in deciding the fate of the Kibber panchayat for the next five years.
Kibber village, situated at 4,200 metres above sea level, is among the highest human settlements in the world. The Kibber panchayat is one of 13 panchayats in Spiti, a subdivision in the remote district of Lahaul–Spiti in Himachal Pradesh. It is scarcely populated by a predominantly agro-pastoral community and remains snowbound for nearly half the year.
This remote village known for its scenic views has a unique election system in which panchayat leaders are decided based on a lucky draw called 'toss'. This emerged as a solution to a local problem. "For many years people used to vote for their relatives. You could win an election if you had the backing of your extended family. Every election split people along party lines. This doesn't suit a small community like ours," says Phuntsog Namgail, one of the oldest residents of Kibber.
I was part of a group of villagers who had gathered to help out with the process this year. The election proceedings started after seeking permission from the devta (village oracle) in the temple. After that, the community members working on the elections shifted to an adjoining room to make a list of names with one member from each house in the village. Chits were prepared with a name on each, and then each chit was deftly stuck inside a sticky ball made from barley flour dough and laid on a plate.
At an appointed time, villagers, mostly men, gathered outside the temple. Everyone huddled together as Lobzang was summoned to pick out the lucky chit from the plate. He chose one and slowly peeled off the dough, as people tried to peep over his shoulders. The chit read, "Tandup Chhering, Gassa." Tandup Chhering (also known as Gassa) was nominated unopposed to the position of up-pradhan (deputy panchayat head) of the Kibber panchayat and a khatak (ceremonial scarf) was wrapped around him.
What did Lobzang feel about the elaborate election ritual? He says, "l last witnessed an election in 2005. I was in class 5. I still remember how uncomfortable the situation had become. At first I thought the chit system was a great way out. Now I think it should happen among those who wish to work for our panchayat, not everyone. What happens when we choose someone who is uninterested? By the time they recognise their responsibility, their term is nearing an end."
Ajay Bijoor works as an assistant programme head with Nature Conservation Foundation's (NCF) High-Altitude Programme in Ladakh; Kalzang Gurmet works as a project assistant with NCF India in Himachal Pradesh.
—
Know more: Learn how climate change killed gossip in a village in Assam.
Do more: Connect with Ajay Bijoor at ajay@ncf-india.org and Kalzang Gurmet at kalzang@ncf-india.org to learn more about and support their work.