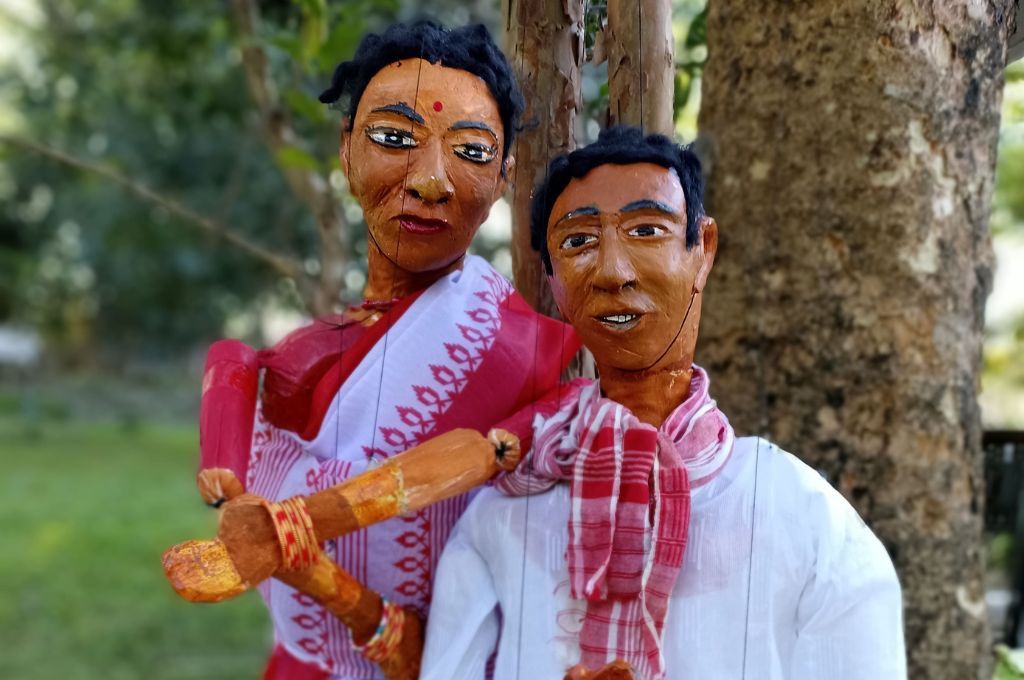 Assam has had a long tradition of puppetry, known as putola naach, which is performed in rural communities during religious festivals. These performances usually involve enacting mythological and folk tales. However, of late, puppetry is being used by nonprofits to spread social awareness in the rural areas of the state.
Drishana Kalita, along with her husband, Manash Protim Neog, runs PuppetPeople, a puppetry group in Guwahati that works in collaboration with nonprofits. She says, "People would rather listen to the puppets than have an outsider preach about sensitive subjects connected to their lives." Most of the audiences for the puppet shows are daily-wage workers and farmers. After their long workdays, they don't want to be lectured by people who don't share their experiences.
The plays focus on issues such as girls' education, early marriage, domestic violence, and the environment. They are usually 15–20 minutes long because the target audience does not have a lot of time to spare. The script is written in the language of the community, and the puppet costumes and props are also made relatable.
The puppets range from traditional string puppets, muppets, and giant head puppets to specially designed body puppets, where the puppeteer wears the puppet on their body while their hands are free to interact with the audience. According to Manash, this humanises the puppets.
Locals connect with the plays because they depict their lives without passing judgement on them. For example, a play about violence in a household would show a father who is a hard-working man but with a tendency for aggression towards his family when he consumes alcohol after a long day of labour.
Manash says, "Children love the plays. People also get emotional. They laugh and some even end up crying."
He gives the example of a puppet play on domestic violence. "The show was over and as I was untying the screens, two young boys from the community came up and started helping me. At some point, they said, 'We liked the performance and what was being said through it.' These small moments are victories for us. Our work is also influencing the next generation, and this is how we will see long-term results."
As told to IDR.
Drishana Kalita and Manash Protim Neog are the founders of PuppetPeople, a theatre group that works on positive storytelling for social change.
—
Know more: Learn how ultimate frisbee is bringing peace between communities in Assam.
Do more: Connect with the authors at [email protected] and [email protected] to learn more about and support their work.