My name is Chanda Anand Anchan and I am the founder of a self-help group (SHG) involved in waste management in the city of Udupi, where I live. I started this journey in 2006 when the Nirmala Nagara Yojana—a scheme to eliminate open disposal of garbage—was introduced in Udupi. As part of this scheme, the Udupi municipality was appointing SHGs for waste collection. Back then, I used to teach ladies how to ride two-wheelers and this was how I learnt about the opportunity to form an SHG. I thought it was a great way to try something new.
Nobody understood why I wanted to do this work—going house-to-house and collecting waste. And it was very difficult at the start, but I wanted to try something different. Before starting this work, I'd run several small businesses, such as taking painting and soft-toy making classes, selling sweets and snacks that my mother had taught me to make, and more.
I started with just one other worker and we used to collect waste from about 160 houses. Then, over time, with support from the municipality and the District Collector's Office (DCO), we grew to 15 workers.

We were dumping so much waste, even though it can be so resourceful.
In 2017, the DCO organised a 15-day training programme on a waste management system known as Solid & Liquid Resource Management (SLRM), by a resource person called Vellore Srinivasan. Representatives from all the panchayats in Udupi district, as well as the SHGs that were involved in waste collection attended. Even though I had worked in waste disposal for over a decade, I only realised how useful waste can be after attending this training. I realised that we were dumping so much waste, even though it can be so resourceful. There are so many varieties of plastic that can be recycled, and wet waste can be turned into compost. I thought that it would be good to start working on waste segregation too and so, with support from the DCO and the municipality, our SHG set up a dry waste collection centre, where we sort dry waste into paper, cardboard, glass, plastic, cloth, metal, and so on. This has also allowed us to provide employment to an additional eight women. We have also been supported by Saahas, a nonprofit organisation that has been building our capacity to manage all the processes involved in segregation of waste and door-to-door awareness on source segregation.
7.30 AM: I receive a call from a field supervisor. He informs me that one of the workers who collects waste has not yet reported for duty. There is a bus stand in Udupi where people who are looking for work gather every morning. I ask him to visit that bus stand, so that he can identify somebody who we can employ for the day. We also discuss alternative arrangements that we will need to make in case he cannot find a suitable worker at the bus stop.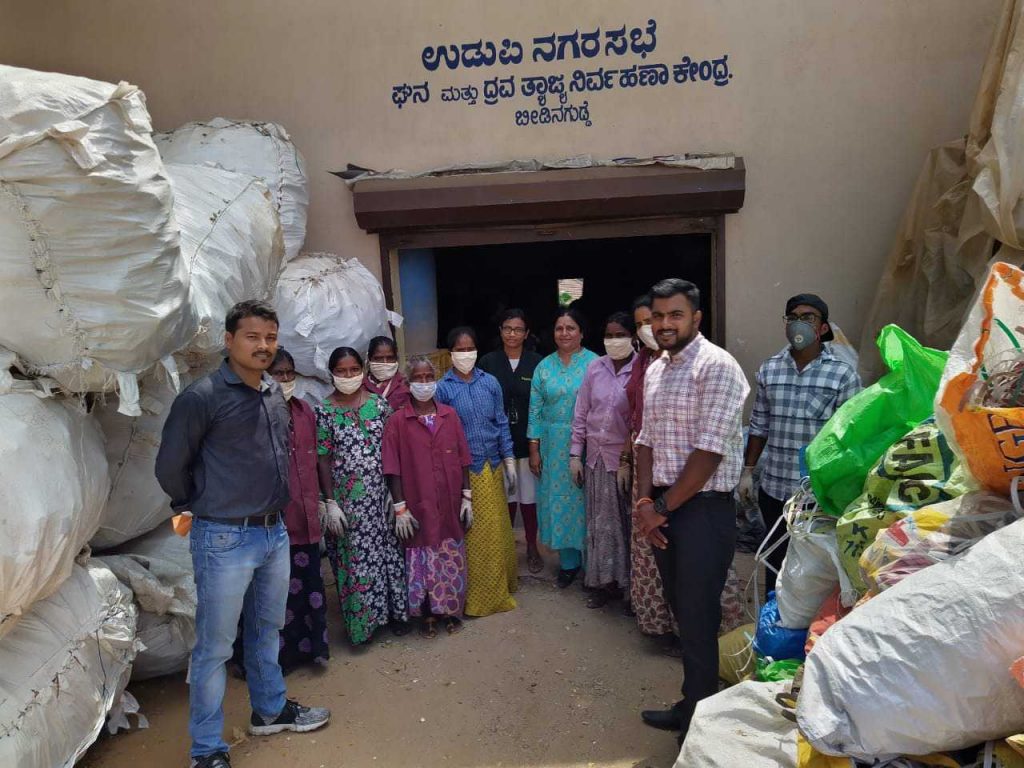 9.30 AM: I receive another phone call, this time from one of the drivers. He tells me that a household on his route has not segregated their waste for the last three days and is refusing to discuss the issue with him. I get onto my two-wheeler and head to this house to try to resolve the issue. The conversation turns into an argument, but we don't back down. I tell them very clearly that they have to comply with the guidelines of segregating household waste at the source itself into wet, dry, and domestic hazardous waste (such as diapers and medical waste). Sometimes, I have to go to the extent of telling people that if we keep dumping waste in landfills then there won't be any land left for future generations.
Why should anybody have to sort through somebody else's personal waste?
It has now been two years since we started asking people to segregate, and so most people do understand why this is important and they follow the rules. But there are still some people who think that since they are paying us a monthly fee of INR 50 per household for waste collection, they should not have to segregate their waste. I explain to them that it is not possible for our workers to untie every plastic bag from every household and segregate it into wet and dry waste. It is not practical as once the waste is mixed it can't be fixed. And why should anybody have to sort through somebody else's personal waste? This is not right. We have also been asking people to spray used diapers and flush the shit before disposal. Most people don't do this, but some have started.
2 PM: After spending my mornings in the field, based on where I am needed, I usually spend the second half of the day at the dry waste sorting shed. This is where we sort all the dry waste that we collect into different categories. Since we don't have a lot of space for storage, we have to sell the dry waste to scrap dealers on a regular basis. I make a few calls to different scrap traders to ask them for quotes, compare them, and then finalise the sale to the trader who offers the best rate. The rates for different materials change frequently and we don't always have the most up-to-date information about these rate changes. While we go with the highest quote that we are offered, there are times when it does feel like we have not received the best rate. When this happens, we have no choice but to sell it at the quoted rate as we don't have a large amount of space for storage.
5.30 PM: All four trucks that we use to collect waste in various wards in Udupi have returned to the centre. We monitor and record various data points related to waste collection on a daily basis and I begin recording the data that the truck drivers and workers have captured. This includes the quantity of dry and wet waste that has been collected, the daily distance covered by each truck, and more. We maintain physical records of this data and also share it on a WhatsApp group comprising all the members of our SHG and representatives from Saahas.
6.30 PM: One of the truck drivers approaches me and asks me for a small advance on his salary. I agree to give him a small advance of INR 200, as he convinces me that he is in need of the cash. I pay the workers on the fifth day of every month, but there are times when they request advances to meet their daily expenses. Sometimes, these conversations involve a lot of negotiation and can go on for a while. I cannot always refuse these requests. It is difficult to find people who want to work in waste collection and in Udupi, it is not difficult to get INR 500-600 for a day's work. So, I have to keep this reality in mind while making these decisions.
This isn't an easy job and over the years it has affected my physical health and fitness. But it is an important job and even though I can no longer spend as much time in the field as I used to, I am proud of my team and our contribution to society.
As told to IDR.
—
Know more