At Dr Reddy's Foundation (DRF), our first experience of working with the government at scale was in 2005 with the Ministry of Rural Development (MoRD). We partnered with MoRD on its first flagship skilling programme, the Livelihood Advancement Business School (LABS). It entailed 90 days of training on domain-specific skills for unemployed youth to prepare them for wage-based employment.
DRF's seven-year partnership with MoRD, and other long-term partnerships with the National Bank for Agriculture and Rural Development (NABARD) and three state governments, ended in 2011-12. These government partnerships resulted in a pan-India scaling of the programme across 18 states and two union territories, and impacted 1.92 lakh youth. Despite the programme's success, three factors kept DRF away from applying for a new government grant, especially for its skilling programmes:
An eagerness to test the idea of making the model financially sustainable, which required flexibility in the operating model. We wanted to partner with private organisations and foundations that had flexible implementation guidelines.
A delay in the disbursement of instalments from the government, which affected cashflows for other programmes. Hence before embarking on another large government programme, we wanted to make sure that DRF received all the grant money from the government. Otherwise, we would have to juggle cashflows to make sure other existing programmes weren't affected.
Section 135 of the Companies Act, 2013 had just been introduced, which mandated that companies fulfill Corporate Social Responsibility (CSR) obligations. As a result, new avenues of funding opened up. DRF undertook pilots and tested innovative models with companies. In many cases the contours of these new pilots (design, operating model, and pathways to scale) didn't always meet the government's implementation guidelines at the time. So, we decided to focus on the CSR ecosystem instead.
DRF did not submit any new grant proposal to the government for its skilling programmes till late 2018. However, it continued to maintain its relationships with government departments—the National Skill Development Corporation (NSDC) and Skill Council for Persons with Disability—by regularly sharing learnings from its skilling programmes. The thinking was that if any of the new models showed promising outcomes, DRF could always take it to the government and request them to scale it up.

In 2018, DRF started designing a new programme that would focus on creating quality 'allied healthcare professionals', especially in regions that had more vulnerable populations. To do this at scale, we would have to work closely with the government once more. We also knew that corporates might not be willing to fund such programmes, since reaching remote populations is more expensive, and outcomes are not clearly visible at the start of the programme.
We, therefore, chose to work with the Tribal Welfare Department (TWD) of Andhra Pradesh and in October 2018 started our new Healthcare Skilling Programme in partnership with them. The programme was quickly scaled up by forming strategic partnerships with the Women and Child Welfare Department of Andhra Pradesh, the Andhra Pradesh State Skill Development Corporation, and the District Mineral Foundation of Gujarat.
Here are some of the key lessons learnt while working with the government:
Be strategic
Our approach to initiating a strategic partnership with the Government of Andhra Pradesh, which was based on combining both our strengths, was very helpful. For example:
Using the government's vast service delivery network in the outreach of the programme.
Accessing government infrastructure and training facilities that were under-utilised.
Customising the programme name as per the preference of respective government departments, to ensure greater ownership by them.
Taking the lead in areas such as setting up skill labs, infrastructure work, hiring competent trainers, quality delivery of training, and placement—where our strengths lie.
Ensure execution capability and readiness
Ensuring that we had the right execution capability before starting the programme, helped us to design and implement the programme better. A key component of this is hiring the right manager to lead the programme. The government ecosystem works differently from the CSR ecosystem. And if you approach both systems in the same fashion, it is likely to fail.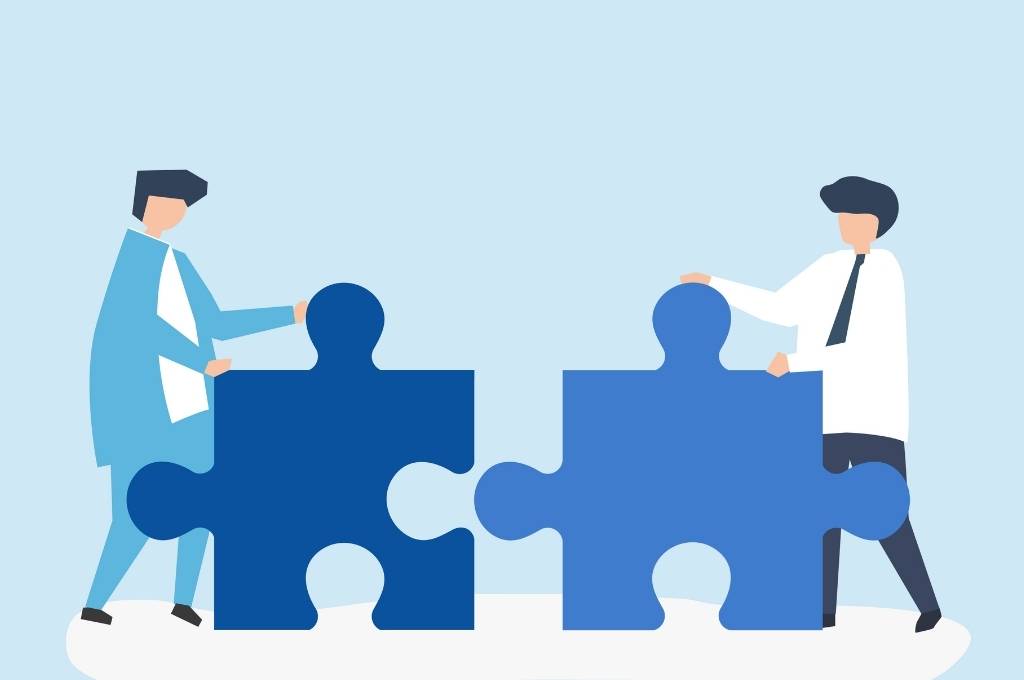 In the case of this programme, it was critical to have someone who understood the government ecosystem and was well-networked within various departments of the government. For instance, although our work was with the TWD, we made sure we kept officials at NSDC updated as well, since it was a skilling programme. We would invite bureaucrats from all the relevant departments (even if they weren't project owners) and sometimes ministers as well. This was done to ensure that everyone knew about the programme and felt invested in it.
This 'always-on' mode is a pre-requisite for managing large government programmes.
Execution capability also means the ability to be present at meetings and respond to the government's demand for reports at all times. This 'always-on' mode is a pre-requisite for managing large government programmes. With CSR, there is some flexibility to reschedule meetings or ask for more time to submit reports. However, this kind of flexibility is absent when it comes to government meetings and report deadlines. If the project lead is used to operating in a CSR partnership environment, they are unlikely to understand and be effective in a government-facing project.
The key learning we had was that ensuring execution capability adds significant value in any partnership, be it government or private. Over time, we have built an 'Execution Capability and Readiness Assessment' (ECRA) tool, which helps us assess our readiness for any project and plan for it in the design stage itself.
Execute well
We have discovered that an organisation should only partner with the government when they are confident that their programme can achieve significant measurable outcomes. Good outcomes will further the relationship with the government, increase their ownership of the programme, and help build trust.
We focused on training courses to develop 'allied healthcare professionals' who were in demand by corporate hospitals and private clinics. Alongside designing quality curriculum and skill labs, we ensured that aspirants received training on core employability skills, hired certified trainers, and conducted extensive employer engagement. This was critical in helping us deliver on the agreed outcomes.
Gratitude will enhance trust and government officials will go the extra mile.
When government officials saw the successful completion of the first few batches, their ownership towards the programme increased and they started promoting it to their peers in other districts, states, and departments. This helped us scale to other locations.
Give credit
The reality is that many partnerships with the government are to enable schemes of specific departments to achieve success. Therefore, when the programme is successful, it is important to give credit to the state officials and others in the government system who were instrumental in starting and taking the initiative forward. Gratitude will enhance the trust and government officials will go the extra mile to support such initiatives in the future.
Approach with flexibility
Given that our experience in the last decade was largely with CSR partners and foundations, our internal systems—operations, finance, HR, and other support departments—were geared towards working with that set of partners. Getting our internal teams to understand that working with the government required a change in mindset, skills, and response times, proved challenging.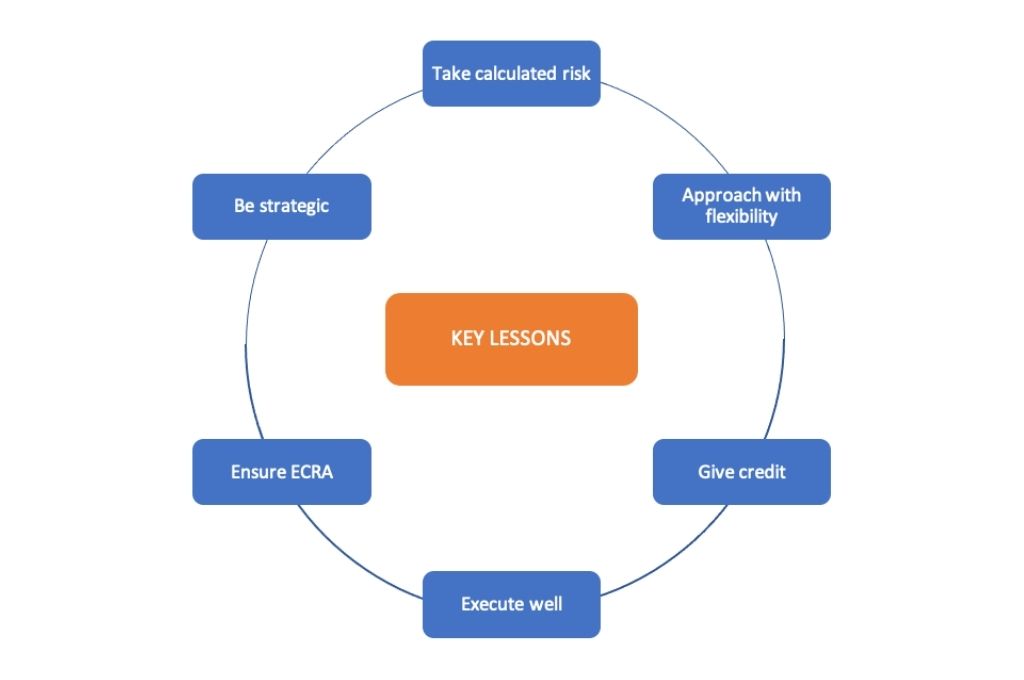 The organisation's leadership must invest in aligning teams to working with government entities. Simultaneously, ensure that the higher purpose of the programme, is always in sight for all team members. This is likely to reduce the friction that might arise at a day-to-day execution level between the team and various stakeholders.
Following a flexible approach with an open mind will help in responding well to challenges without losing sight of the bigger picture.
Take calculated risks
Last but not least, there can be no large-scale government partnership without taking some risks related to delay in grants, transfer of government officials, or sometimes even changes in government. For instance, it is extremely risky for organisations with smaller budgets to work with the government. Delayed fund disbursements are a frequent occurrence, and if an organisation does not have adequate cashflows to help it survive the delay in payments, it may have to close down its programme partially or entirely.
There can be no large-scale government partnership without taking some risks.
For larger organisations, keeping some funds aside while managing such programmes reduces panic in case the funds are delayed by a few months. Before initiating a large-scale government partnership, organisations should do a thorough risk assessment across factors such as cashflows, personnel change, likelihood of policy reversal, and so on.
The second phase of our engagement with government helped us learn and unlearn many things. By following better practices and adapting along the way, we have overcome our own biases about working with the government. Partnership with the government can be extremely fruitful if we focus on some of the principles outlined above.
Disclaimer: Dr Reddy's Foundation supports IDR for research and dissemination of underserved themes in the social sector.