On May 14, 2021, while encouraging farmers to take up organic farming as he released the 8th instalment of the Pradhan Mantri-Kisan Samman Nidhi (PM-KISAN), Prime Minister Narendra Modi had said: "Is prakar ki faslon mein laagat bhi kam hai; yeh mitti aur insaan ke swasthya ke liye labhdayak hain aur inki keemat bhi zyada milti hai (These (organic) crops require less investment. They are good for soil and human health. They also sell for a higher amount)."
Over the last two decades, organic farming has been promoted in India because it leads to improved agricultural income and holds environmental and health benefits. However, women farmers are invisible in the policies and schemes to promote organic farming. Behanbox's investigations based on travels across 18 villages, seven blocks and five districts in Gujarat reveal that this gender skew has constrained the uptake of organic agriculture among women farmers.
Along with entrenched social biases, there are multiple factors that discourage women from taking to sustainable farming: Land ownership as a prerequisite for obtaining organic certification, the labour-intensive nature of organic farming, lack of government support for those transitioning from chemical to organic farming and the simultaneous promotion of both organic and chemical agriculture.

Gender and farming
Globally, sustainable farming is a small-scale, low-input enterprise in sync with nature dominated mostly by women. Women recognise and validate "harmony with nature, decentralisation, diversity, community, quality family life and spirituality" as key elements of sustainable farming. The Working Group for Women and Land Ownership (WGWLO), a Gujarat-based network for women's land rights, too notes in its impact study that "women could identify well with it (sajiv kheti–natural agriculture)".
The International Federation of Organic Agriculture Movement (IFOAM) believes that organic farming can empower women by improving their access to education, strengthening their bargaining power and focusing on their health.
Behanbox, through interviews and discussions with women farmers in Gujarat, tried to understand what motivates women to take to organic farming and what limits their efforts. We found that sustainable farming among women farmers is mostly aimed at raising just enough produce for family's consumption.
Policies for promotion of organic farming
In 2000, India launched the National Programme for Organic Production (NPOP) aimed at the 'focused and well-directed development of organic agriculture'. A year later, the National Accredited Policy and Programme (NAPP) was started to set the standards for organic agriculture in India. The Agricultural and Processed Food Products Export Development Authority (APEDA) was handed the responsibility of managing and operating the NPOP.
All these programmes aim at increasing farmer incomes and environmental gains. But they lack all elements of gender equality.
In 2004, under the tenth year plan, a central scheme called the National Project on Organic Farming (NPOF) for capacity building, financial support and human resource development was initiated. In the same year, India also founded the National Centre of Organic Farming (NCOF) to implement the NPOF. Niti Aayog, India's policy think-tank, has been promoting Zero Budget Natural Farming (ZBNF) since 2018. ZBNF is a kind of organic farming in which no external inputs are needed, instead the cost of raising the main crop is compensated by the earnings from growing supplementary crops. There is also special focus on soil fertility and water efficiency. Niti Aayog has encouraged state governments to promote ZBNF through two schemes—the Paramparagat Krishi Vikas Yojana (PKVY, traditional farming mission) and Rashtriya Krishi Vikas Yojana (RKVY, national farming development mission).
All these programmes aim at increasing farmer incomes and environmental gains. But they lack all elements of gender equality, our research shows. They do not factor in the existing social biases that exclude women farmers from commercial responsibilities such as marketing.
However, there is an exception—Andhra Pradesh has been promoting ZBNF. It has 'women farmer-centred extension of ZBNF as one of its goals and has been utilising the strong presence of women self help groups for it.
Gujarat government defines organic farming or sajiv kheti as "a system of farming which nurtures and conserves natural resources to provide enough and nutritious food as well as basic needs to all organisms including humans living on a unit like a farm, village or an eco-zone". In 2015, the state announced its Policy for Organic Farming with goals for soil fertility, conservation of bio-resources, fostering of rural economy and enhanced living standard of farmers and farm-workers. However, goals of women empowerment or gender equality do not feature in it.
Our research identifies the following blocks to gender parity in organic farming.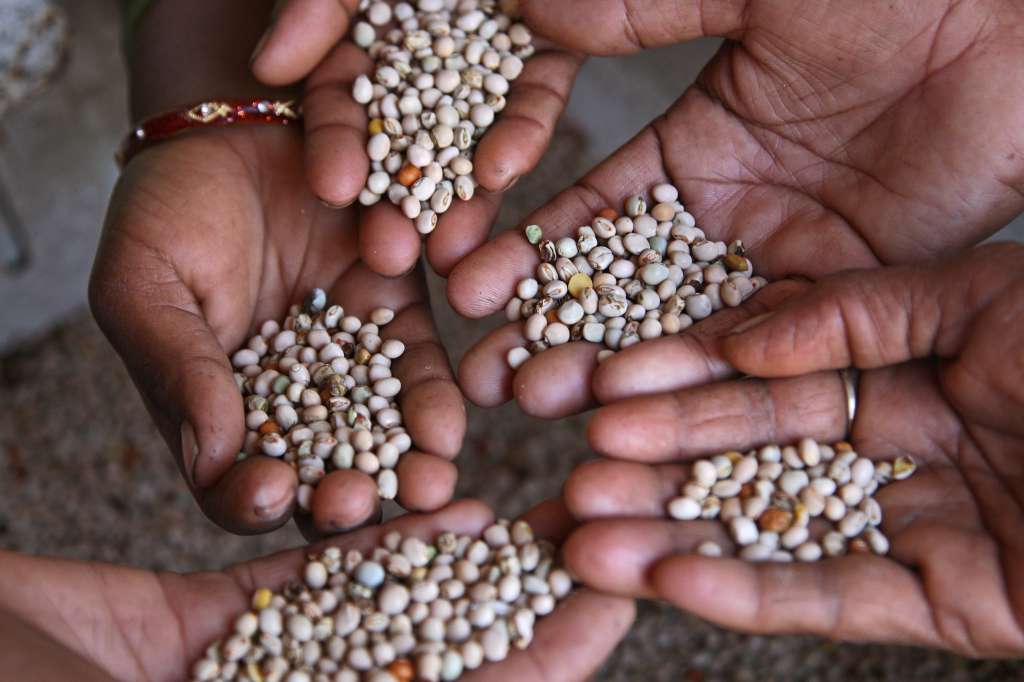 Land ownership, a stumbling block
Land ownership is a prerequisite for obtaining the certification for organic agricultural products, according to Gujarat Organic Products Certification Agency (GOPCA). The certificate allows farmers to label their produce "organic" in the market.
In India, due to the patrilineal system of land inheritance, women, despite being the prominent agricultural workers, do not own land. Only 13.96% of women own land in India and in Gujarat, and only 16.4% have operational land holdings. This limits women's chances of being recognised as organic producers. Of the 195 certified operators listed on the website of GOPCA only six are women.
"For availing jaivik kit (organic kit), a farmer needs to own land," says Manisha Vaghela, gramsevak or farm extension worker in the Patdi block of Surendranagar district.
The Gujarat government has four subsidy schemes currently operational for organic farmers. All are subject to certification, which is reliant on land ownership and thereby gender exclusionary.
Intimidating certification process
Land ownership is not the only obstacle to organic certification. It takes at least three years and a lot of effort to complete the process of certification. It requires the applicant to fill forms, pay fees, organise field inspections, negotiate with bureaucrats and respond to inspection findings.
From among the six women listed as registered organic farmers on the GOPCA website, we spoke to three selected randomly. The phone numbers provided for the women farmers were answered by male relatives in all three instances– two of these were detailed calls, but again, only with the men in the family. It became clear that in both cases men handle all matters related to certification and marketing.
When asked why women were not handling these processes, the men say that "even we find it difficult".
"I had to take help from GOPCA officers to fill up the form. It is a long and generic form for all kinds of agricultural produce. There is no separate form for mangoes which I grow," saysi Dinesh Bhai, the husband of Palak Ben, a registered organic farmer in Junagadh.
Why register women as organic farmers if they were not directly active? "Because the land is in her name," said both men.
NCOF offers another certification system called Participatory Guarantee System-India (PGS-India), which is a group certification program and is free of cost. But it requires extensive documentation and complete transition in two years, which are hard to achieve, notes the 2020 study by Centre for Science and Environment. The PGS-India certification is less popular and not as credible as the APEDA certification among consumers, according to the same study.
Male-centric support groups
The process of certification has multiple stages spread over three years. Farmers frequently take help to get through it, form support groups and also attend special training sessions. Women farmers find it hard to access such support systems.
"The certification takes three years. We get C1 certificates in the first year, C2 in second and C3 in the third year. We must get a soil test done to know what to grow. In the third year, the certification body tests both the soil and the produce," says Ghanshyam Bhai Rasing Bhai Dharwadia from Dhrumad village in Dhrangadhra block of Surendranagar district.
The two male relatives of registered women organic farmers we spoke to had received training in organic farming methods for which they had to travel and attend meetings in distant places. "I went to Anand," says Dinesh Bhai. Anand is 76 km from his home in Ahmedabad and 325 km from his mango orchard in Junagadh.
Arvind Bhai Akha Bhai Solanki, son of Nani Ben, registered organic farmer from Bhavnagar, says a local NGO helped him obtain the certificate. "Besides, the members in the organic farmers' group from my ward help each other," he says.
Dr Bhagwan Das who runs an NGO in Gandhinagar, Health and Nutrition Care Foundation, worked with the GOPCA till 2014. He now helps the farmers obtain the Organic Certification. "My NGO trains farmers, helps them in documentation. The process is tiring. Farmers need help. We have helped more than 1000 farmers so far," says Dr Das.
We wrote to GOPCA seeking its views on women's access to certification, its link with land ownership and the daunting process. We will update the story when we receive a reply.
Access to resources
Women also have poor access to privately-held resources such as land, animals, money, and vehicles which makes it difficult for them to avail subsidies or loans. We look at the example of the Desi Gai Aadharit Kheti (indigenous cow-based farming) scheme to understand how this restrains women farmers. A subsidy of Rs 900 per month per cow is disbursed through the Agricultural Technology Management Agency (ATMA), a registered society that promotes sustainable agriculture by interlinking various research and extension activities in a district. But this scheme requires the beneficiary farmer to have cows registered in his/her name. Cattle ownership is in the name of the head of the household which, in most cases, is a male member of a family. Women rarely have cattle in their name.
Women also have poor access to privately-held resources such as land, animals, money, and vehicles which makes it difficult for them to avail subsidies or loans.
"Cows are not always registered with doodh mandli (dairy cooperative), or they are not tagged. In this situation farmers can't avail the subsidy under this scheme. Even if they are registered, they are in men's name," says Karen Pineiro of the WGWLO.
Further, registration on the i-khedut portal, a Gujarat government web-portal for farmers to avail various schemes and subsidies, requires internet and mobile phone access besides land ownership. Our previous story on women in agriculture reported how the digital divide alienates women in the agriculture sector. Their dependence on male members of the family to access the portal limits their reach to agriculture schemes.
Transition Support Missing
All the farmers we interviewed reported a drop in yield and income after they switched to organic farming, especially in the initial years of the change. But the government offers little support to farmers in this transition.
Shivji Bhai Jaimal Bhai Hareja, sarpanch (village head) of Isadra village in Dhrangadhra block of Surendranagar district, has been growing chana, nimbu, mung and til organically for the last two years. "Production has come down by 25%. Since the price of the produce is the same, it means my profits are cut by 25%," he said.
A report by Indian Institute of Management, Ahmedabad (IIMA) in 2010, notes the initial productivity gap as one of the barriers to the uptake of organic farming and suggests comprehensive support for those making the switch. The Council on Energy, Environment and Water (CEEW) study of April 2021 too advocates transition support. Besides the reduction in yield, certification is costly. An individual farmer spends a minimum of INR 20,000 for certification of a farm of upto four hectares according to GOPCA. Various schemes provide a support of 5 to 10,000 per hectare, according to the Agriculture, Farmers Welfare and Co-operation Department of Gujarat.
Since 2014-15, India has a National Mission for Sustainable Agriculture (NMSA) comprising programmes that focus on agroforestry, rain-fed areas, water and soil health management, components closely associated with natural farming. However, only 0.8% of the budget of the Ministry of Agriculture and Farmers' Welfare is allocated to the NMSA, found the April 2021 study of CEEW.
Moreover, even the limited financial support provided during the conversion period is through the APEDA that is linked with the certification process, which is again subject to the payment of fees and land ownership—all factors that are to women's disadvantage.
In fact, the 2021 CSE study links yield losses to poor training provided by the local-level government officers to farmers for pest and disease control, and soil health management. It recommends strengthening of the agriculture extension system to contain yield reduction and support the transition on the ground.
Parallel schemes disincentivise natural farming
Through the i-khedut portal, farmers can avail subsidies to buy various farm implements such as threshers and pumps. There are also subsidies on the purchase of urea and di-ammonium phosphate (DAP), used as fertilisers in conventional farming. Most farmers we interviewed do both kinds of farming- conventional for sale and organic for domestic consumption. WGWLO notes in its impact study that 5-10% of the total cultivated land of a household is kept for organic farming.
However, areas that are traditionally organic are slowly switching to this combination.
Farmers from the Bhal region to the north of the Gulf of Khambhat in Gujarat store water in talav (local ponds), which the government subsidises. Bhal is a coastal area stretched from Dholera to Bhavnagar in Gujarat that has low agricultural productivity due to its saline soil and water scarcity. Bhalia ghau is a traditional hardy variety of wheat that grows in the region without irrigation. They keep what they need for household consumption and sell the surplus.
But in recent years cumin, a cash crop, is competing for more space.
The talav subsidy has facilitated the conventional farming of cumin for Bhal's farmers. "The use of urea in cumin gave high yield. So some farmers started using urea for the traditional wheat variety too," says Manisha, Mahila Kisan Sakhi (friend of women farmers) from Hebatpur village in Dholera block of Ahmedabad.
Traditional sajiv sukhi kheti (organic dry farming) is now being replaced by piyat kheti (irrigated farming).
Subha Ben Thakarsinh Bhai Kambad from Jhanki village, Dholera, Ahmedabad grows cotton, wheat, jowar and soy without chemicals but she also grows wheat using chemical fertilisers. "Expenditure is less in sukhi kheti (rainfed agriculture). Bhalia ghau gives better rate. But chemical agriculture gives more yield. Sukhi kheti gives 5-6 mann (1 mann= 40 kg) in one bigha (1 bigha = 0.16 hectare) and with the use of chemicals and water we are able to get 10 mann/bigha," she explains.
However, Vaghela does not see this as a problem. She believes that both farming methods need to be promoted. "Farmers can only shift to sajiv gradually. Till then they need support. We too select the beneficiaries for the schemes based on need," she says.
Labour-intensive natural farming
Although organic farming needs fewer inputs, it does require more labour—a role women slip into with ease. Store-bought chemical fertilisers and pesticides have to be replaced with organic home-made ones, for example. And while the purchase of fertilisers is normally handled by men, it is women who take on the preparation of liquid manure, compost and bio-pesticides, we found.
Even if she is actively engaged in organic farming, household chores remain the woman's domain.
However, even if she is actively engaged in organic farming, household chores remain the woman's domain. "Organic farming doesn't challenge the gender division of labour," noted an IFOAM 2009 study. This means increased drudgery for women.
Geeta Ben Premji Hareja, former village head of Isadra agrees that sajiv kheti is labour-intensive. "I have to weed the fields 6-7 times for sajiv kheti but just twice for chemical crops. Hence, I grow it only for consumption within the family," she says as she cooks lunch for her family.
Cow dung is needed to make compost and manure but tending to the cattle adds to the workload for women.
"I had the cattle earlier. But tending to them is hard work. I am old now and can't do that much work so I sold them. When my son marries and we get a daughter-in-law, I will buy cows again," says Lila Ben Sandhui Bhai Parmar, 60, from Piparla village in Bhavnagar.
Despite all this, women still like to do organic farming. "Achha khao, achha khilao (eat well and feed well)," says Reeta Ben from Dhrumad village in Dhrangadhra who grows organic and sells is too. "Also, the soil remains alive when we grow organic."
Women perceived health benefits for their family, especially during the pandemic. "Organic crops are good for health. Woh hamari Corona se ladne ki shakti bhi badhate hain (they increase the immunity against the Coronavirus too)," says Lakshmi Ben Naranbhai Rabari from Vadanagar village in Radhanpur block of Patan district.
Limited marketing avenues
Reeta Ben raises organic produce for sale but its marketing is done by her husband who has obtained a C2 certification. He sells the yield with the help of Vasundhara, a farmers' group, and also through orders on Whatsapp. Her husband hopes for a better price once the certification process is complete. But most farmers complain about the lack of special markets for the sale of organic produce. The absence of these means that they take their yield to APMC mandis and sell them at the same price as regular produce.
A 2005 NABARD study identified the absence of linkages between farmers and the markets as a major challenge for the uptake of organic farming.
If the organic harvest does sell at a higher price, intra-household positions end up excluding women. Here is how.
Organic farming, markets, and empowerment
Women are involved in marketing farm produce only when sales are small and limited to local haat, as we reported earlier. This applies to organic farming as well. Women are unable to get a better price for their organic produce. But in a new trend, women farmers have become the face of organic farming at the so-called 'nature haats' organised in cities such as Ahmedabad. They interact with buyers, mostly urban women, talk about their produce and sell it. But it is hard to tell if this experience enhances women's agency on a significant scale.
"In 2018, at the Srushti Mela in Ahmedabad, women sold the produce. Another festival, Dhara Mitra is going to take place in Surendranagar. If women take a stall there they pay Rs 1500, for men it is Rs 3000. Women from our village will go there," says Ghanshyam Bhai. "But women find it hard to travel on their own so we will go with them," he adds.
Dr Itishree Pattnaik, assistant professor at the Gujarat Institute of Development Research, suggests looking beyond the obvious indicators of empowerment: "Do women have exposure to the outside world? Do they express satisfaction? Do they have control over their income? What role do they have in decision making? These are some of things to look for to know how active women's involvement is and how it impacts their agency."
Women-led Farmer Producer Organisations (FPOs) are another channel for the sale of organic produce. FPOs, through the formation of cooperatives or producer companies, provide the organisational structure for farmers to collectivise. These FPOs enhance smallholders' position to bargain with big corporate buyers. In Bhal, the Bhal Mahila FPO run by Mahiti, an NGO based in Dholera, is one such example.
Vasant Ben, a woman farmer from Jhanki and an FPO member, says she sold about 50 mann of bhalia ghau at Rs 900/mann last year. The rest of the village had sold at Rs 700-750/mann. However, she only does sajiv kheti on the 12 bigha her family owns, on the 60 bigha she tills on bhag (sharecropping), she uses chemicals as the landowners want more yield that can come only with the use of urea and DAP.
In January this year, the Gujarat government announced marketing support for organic produce to turn the Dang district into an "organic farming district". But it is yet to be seen how this unfolds. ATMA too has been providing training for women and organising festivals to promote organic farm material but with limited success.
"ATMA organised the Amrut Ahar Mahotsav at the state level in December 2020. There was no campaign, and social media was not used. There were few customers and the timing wasn't right. We sold at 1.5 times the usual price but only 20-25% of what we took was sold," says Ghanshyam Bhai.
Why big investment doesn't work for women farmers
Women farmers also face the impact of corporatisation of agriculture and private investments in natural farming.
Andhra Pradesh has initiated a zero budget natural farming programme on a mass scale with huge influx of foreign credit. Rythu Sadhikara Samstha (RySS), a government not-for-profit for farmer empowerment, has collaborated with several international organisations. It has turned natural farming into an investment opportunity for agribusiness corporations. The central government is looking to extend this model in other states. The recently introduced three farm laws too will be promoting the privatisation of agriculture. The fear is that this will leave small, marginal and women farmers who do not have the skills to deal with big corporations supportless.
Women farmers like Vasant Ben, who innately identify with natural farming, are already struggling to be recognised as farmers. They cannot upscale their organic production in a gender-agnostic policy environment.
"My husband and I take our wheat together to Mahiti and collect our payment. Other women don't participate in the sale of their produce. They don't go to the mandi. The presence of more women here has made it possible for me to be present for the sale of my bhalia ghau. I like it. I feel like a farmer," says Vasant Ben with a glint in her eyes.
This reportage is part of the WGWLO and BehanBox fellowship on women's land, forest, and farming rights in Gujarat.
This story is edited by Malini Nair.
This article was originally published on BehanBox.