Although not legally recognised, the number of internally displaced persons (IDPs) in India is steadily increasing. It is estimated that, in 2019, there were five million disaster-related displacements in India—one of the highest in the world. According to the UN, IDPs are "persons or groups of persons who have been forced or obliged to flee or to leave their homes or places of habitual residence, in particular as a result of or in order to avoid the effects of armed conflict, situations of generalised violence, violations of human rights, or natural or human-made disasters, and who have not crossed an internationally recognised border". They differ from refugees who, while also forcibly displaced from their homes, cross an international border. IDPs remain within the jurisdiction of their own country, but lack the protection and rights given to refugees.
In India, the government has refused to recognise the Guiding Principles on Internal Displacements (GPID)—which allows foreign countries and international organisations to provide humanitarian assistance to IDPs—on the grounds that it would infringe upon national sovereignty. As a result, there is no law or policy framework that upholds the rights of IDPs in India. The closest national-level law is the Disaster Management Act, 2005, which provides relocation, rehabilitation, and risk reduction support to those displaced by disasters—as seen in the aftermath of cyclones Amphan and Nisarga in 2020 and cyclones Fani and Vayu in 2019. Most state governments have also developed programmes that are adapted to local issues.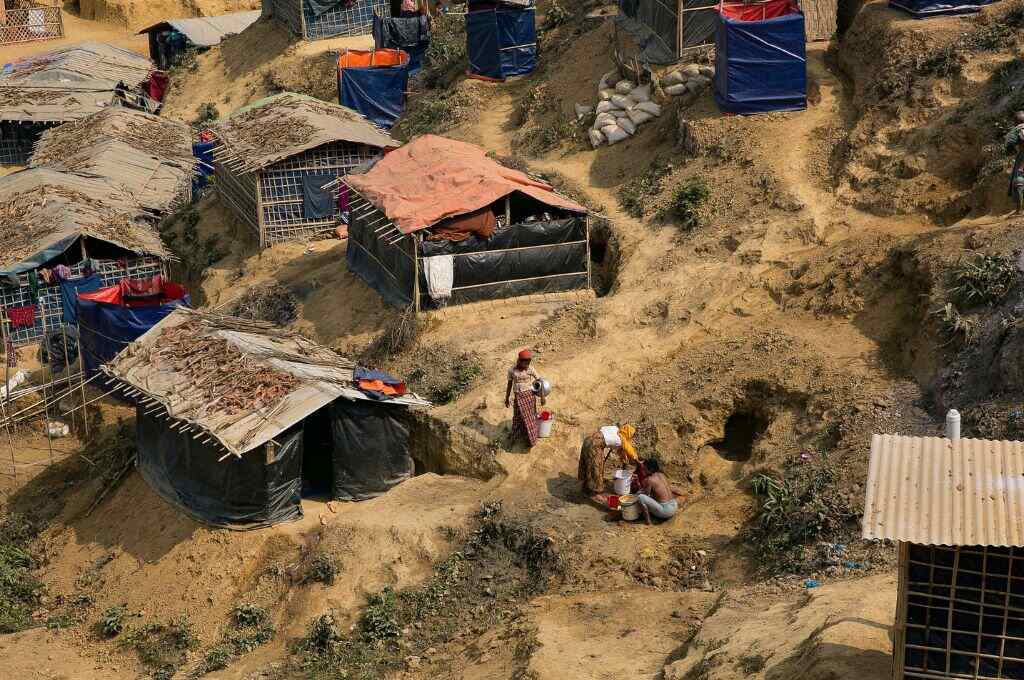 However, the Disaster Management Act remains inadequate for a number of reasons. First, it focuses predominantly on natural disaster response, ignoring displacement due to other factors such as conflict or development activities. Though states intervene in cases of displacement due to development, the response is not uniform across them; it is usually ad hoc and focused only on meeting immediate humanitarian needs such as temporary housing. Second, as we saw during the COVID-19 pandemic, the focus on disasters and disaster management underemphasises the public health angle. Public provision of healthcare services needs to be a crucial part of any support to displaced persons.

Understanding the healthcare needs of IDPs
In India, natural disasters such as floods and tropical storms are the major drivers of displacement. Armed conflicts and violence due to communal and ethnic tensions are other prevalent causes. In 2019, Cyclone Fani displaced 28 million people in India across the states of Odisha, West Bengal, and Andhra Pradesh. More than a month after the cyclone, affected communities continued to suffer from mental trauma, stress, and anxiety. Similarly, in 2014, Assam had the highest conflict-induced IDPs in the world. More than 3,00,000 people—mainly Adivasis—fled their homes in Sonitpur, Kokrajhar, and Chirang districts due to intercommunal violence. Ground reports in the aftermath of the violence highlighted the growing risk of infant mortality, food insecurity, and mental health issues. In the same year, more than 1,48,000 Adivasi people were displaced as a result of conflict over land and mineral resources in Central India. The resulting loss of land, livelihoods, and cultural identity across tribal belts in Odisha, Chhattisgarh, and Madhya Pradesh has long-lasting psychological, social, and cultural consequences on the communities.
It is clear that IDPs struggle with diverse healthcare needs and access issues. They live with the disruptions of leaving their homeland and cope with the realities of their new environment. Beyond immediate humanitarian relief work, there is a clear need to build long-term, durable healthcare solutions for IDPs. Consider, for instance, the fact that chronic mental health issues persist among displaced persons in the Chirang district of Bodoland in western Assam even today. Mental trauma, fear, and depression continue to affect displaced Adivasis; this is a consequence of prolonged exposure to violence and the stigma and discrimination they face in new surroundings.
Not being a homogenous group, the needs of one internally displaced community may be different from another.
Women, in particular, struggle with persistent health problems arising from poor nutrition and greater vulnerability to sexual abuses and an absence of reproductive healthcare. Baiga women, who were displaced from the Achanakmar Tiger Reserve in Chhattisgarh, suffer from poor health, face domestic violence, and experience more hardship than their male counterparts.
Displaced people in India, however, frequently fall through the cracks of existing health and social protection commitments. Not being a homogenous group, the needs of one IDP community may be different from another and depends on a number of factors such as their vulnerabilities, personal circumstances, age, gender, health, and socio-economic status. As a result of this, they often remain invisible for public health programmes. Our research, conducted with displaced communities in Assam and Chhattisgarh, highlights the various ways in which IDPs might be excluded, and what health systems can do to change this.
1. Geography
Health infrastructure in rural India remains poor, even more so in conflict-prone areas. For instance, the Bodoland Territorial Area District (BTAD) in Assam has been the site of recurring conflicts, with some of the most devastating events taking place in 2012 and 2014. While the relief camps that are closer to the main road have some access to government services and relief agencies, there is no official rehabilitation policy for Adivasi communities living in deep forest areas. They are located along the international border between India and Bhutan, nearly 50 kilometres from the closest local hospital, making it difficult for them to access formal healthcare and leading to a reliance on traditional healers.
2. Language and culture
Often healthcare providers such as ASHA workers—who act as a bridge between communities and the public healthcare system—fail to connect with IDPs in their new surroundings. This is usually a result of the fact that local communities speak a different language than IDPs, which creates communication gaps between the two groups.
For instance, in Chhattisgarh and Odisha, ASHA workers found it difficult to reach out to Adivasi women and provide adequate contraceptive, antenatal, and postnatal care on Village Health and Nutrition Days. This in turn created a trust deficit among IDP communities towards health workers. Further, the lack of communication between the two groups led to many IDPs being unaware of the welfare schemes they can access, such as the Janani Suraksha Yojana, adding to the financial burden of displaced communities.
3. Lack of identification and fear of violence
The absence of identity documents is another important factor that stops displaced people from accessing local health facilities. For instance, in Assam BTAD, the distribution of political power among the conflicting parties has an impact on how quickly they are rehabilitated. The politically dominant community of the Bodos has found it easier to acquire land rights. Once land rights are recognised and proof of residence is provided, the government is bound to set up public health centres.
Access to healthcare is politically determined by those who secure land, influence district officials, and accumulate wealth.
However, the politically under-represented community of the Adivasis—who are displaced and live in forests—continue to be landless. As a result, they are unable to access formal systems of identification for healthcare programmes. The outcome of this is that access to healthcare is politically determined by those who secure land, influence district officials, accumulate wealth, and demand hospitals and doctors.
Even once they acquire documents such as an Aadhaar card, many displaced Adivasi communities in the BTAD choose to remain invisible to public health systems due to fear of continued ethnic violence. They prefer to rely on traditional healers instead.
Building a vulnerability lens in health provision
If we want to address the exclusion of IDPs from health systems, it's clear that we need to look at their social, political, and economic context. Currently it is assumed that once health services exist, people will avail of them. But as we have seen in the case of IDPs, not everyone will, and different individuals and groups will respond based on their context. In the absence of a clear policy and national legal structures and institutions to deal with both pre- and post-displacement situations, it is difficult to identify, cover, and include forced migrants and the displaced in national and state health programmes.
To do this successfully, what is required is a 'vulnerability lens' in health programme enrolment and uptake of services. This vulnerability lens is nothing but empirical evidence on the sociopolitical context that impacts identification, coverage, and inclusion of displaced persons within public health programmes. The evidence generated on diverse social contexts will lead to appropriate identification techniques for registration, enrolment, and uptake of health surveillance and protection. Integrating such evidence into decision-making processes in health interventions for the displaced can help mainstream vulnerable displaced persons in health programmes. With internal displacements becoming alarmingly common in India, the government urgently needs to strengthen existing service delivery infrastructure and assist local service providers to meet the increasing demand from displaced populations.
The author would like to thank Dr Samrat Sengupta, Dr Madhulika Sahoo, Dr Sunil Kaul, Ms Jenny Liang, and Mr Nishant Burgohain for sharing their insights and experiences of working among IDPs in Assam, Chhattisgarh, and Odisha, which have been cited in this article.
—
Know more
Read this article to know more about how sociopolitical context impacts inclusion of displaced persons in public systems.
Learn how India integrates disaster preparedness, mitigation, and disaster-risk reduction into plans and policies.
Understand why India needs policies that safeguard the rights of climate refugees.
Do more