Ioene Teitiota and his wife migrated to New Zealand in 2007. Rising sea levels, coastal erosion, lack of freshwater sources, in addition to the poor economic conditions of his home country Kiribati, had forced Ioene to leave the island.
After his visa expired in 2015, Ioene applied for asylum in New Zealand as a climate refugee on the grounds that returning to his country posed a risk to his life. The court of New Zealand rejected his appeal. However, in 2016, the United Nations Human Rights Committee (UNHRC) made a landmark ruling, stating that, just like in a war or persecution, forcibly returning a person to a place where there is threat to life due to climate change was considered a violation of human rights.
Ioene is not alone. In 2020, 14 million people in India are estimated to have migrated as a consequence of extreme weather events. This is merely the tip of the iceberg. Climate change is expected to forcibly displace 45 million people in India by 2050.

Who is considered a climate refugee?
Ioene Teitiota was the first to apply for the status of a climate refugee in 2015. According to UNHRC, sudden-onset events (intense storms, floods, etc.) and slow-onset events (sea-level rise, salinisation, land degradation, etc.) are contributing to cross-border movement of people seeking protection from climate change. However, it is important to recognise that climate change is also triggering internal migration within countries. And while the Intergovernmental Panel on Climate Change (IPCC) and the UNHRC acknowledge the large-scale climate-induced displacement of people, designating refugee status for them has been controversial.
Two factors influence this reluctance. First is the fact that the link between climate change and human mobility is not always explicit. Proving direct causality between the two remains a legal and political challenge for states and intergovernmental organisations alike. Second, associating a legal term like refugee with these populations makes governments accountable under numerous humanitarian legislations, such as the 1951 UN Refugee Convention and the 1967 Protocol. Despite the number of climate refugees being three times higher than that of conflict refugees, no climate-displaced person has been granted refugee status.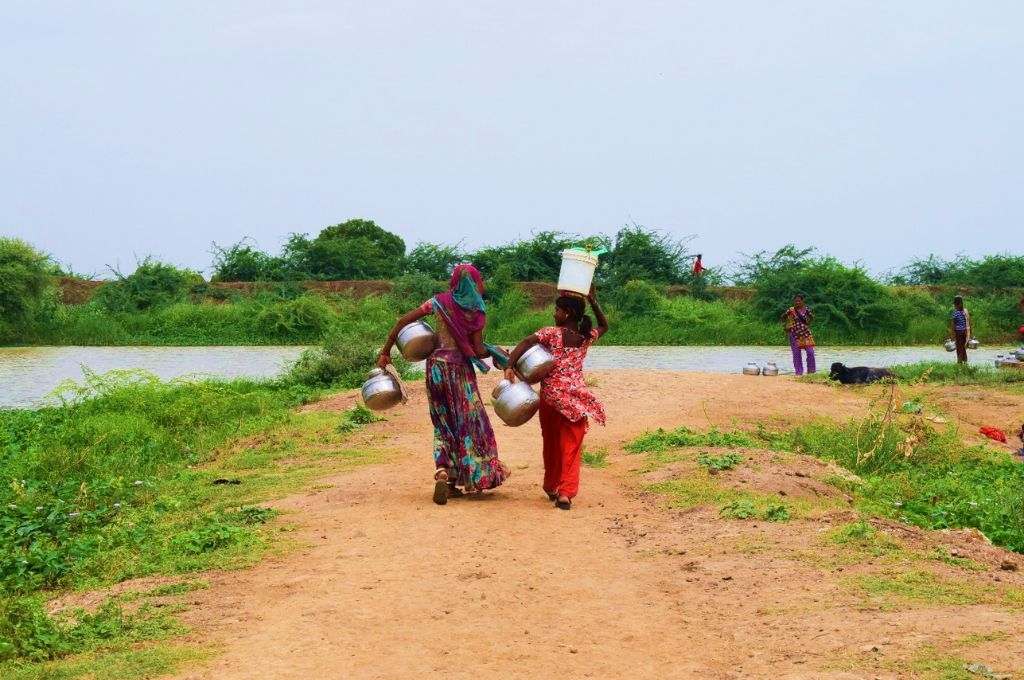 'Environmental migrants', 'climate change–induced migrants', and 'environmentally displaced people' are some of the terms that are used on international forums. But it is important to understand that climate refugees are not migrants. For migrants, pull factors such as better livelihoods and favourable sociocultural or political factors motivate people to move to a new region or country, with an option to return to their place of origin. For a refugee, however, returning to their place of origin is nearly impossible due to push factors, such as war or a threat of violence. Similarly, climate change events like cyclones, salination, sea-level rise, extreme heatwaves, and desertification also act as push factors with long-lasting impacts, such as loss of livelihoods, biodiversity, food, and water. Therefore, 'climate refugee' is the appropriate term to accurately describe the gravity of the situation.
Even though climate refugees are yet to be formally recognised in international governance, the issue of climate change–induced displacement is gaining prominence. In 2018, the UNHRC stated that environmental degradation can be brought within the scope of violation of right to life under Article 6 of the International Convention of Civil and Political Rights (ICCPR). This was one of the most significant rulings in the jurisprudence for 'climate refugees'. At COP 21 in Paris, the term 'climate migrants' was acknowledged in the preamble of the agreement, giving the issue some impetus. Countries like France have also begun drafting laws for climate refugees, recognising the imminent danger of climate refugees arriving in Europe. On the other hand, climate-vulnerable South Asian countries are far behind in recognising the problem for lack of understanding, funding, or both.
India's response to climate refugees
In India, the issue of climate refugees was raised in a recent Lok Sabha session, when Bhupender Yadav, union minister for environment, forest, and climate change, claimed that India was prepared to deal with climate refugees. However, a plan for the same is yet to be presented.
Presently, India does not officially capture data on climate-induced internal migrants. However, according to a report by the Internal Displacement Monitoring Centre, between 2008 and 2019, 3.6 million people are estimated to have been displaced annually due to cyclones, floods, and storms within the country. Rising sea levels pose a threat to 36 million people living in India's coastal regions. Farmers from coastal Odisha and West Bengal, for instance, are migrating as agricultural land turns infertile due to sea-level rise and salination, while fishing communities are struggling to survive due to frequent cyclones and storms. Up north, water scarcity and erratic rainfall is forcing communities from the Himalayan region to migrate to the plains. Annual flooding of the Brahmaputra in Assam and Bihar is causing significant loss to lives and livelihoods.
Policymakers need to start considering pertinent questions around urban and rural planning and access to basic rights such as health and education.
In addition to internal displacement, India needs to think about the climate refugees from neighbouring countries. Cyclones and floods in Bangladesh, deforestation and desertification in the Himalayan region, and rising sea levels are increasingly threatening neighbouring nations. Cyclone Amphan in 2020 killed over 128 people and left millions homeless and impoverished across India, Bangladesh, and Sri Lanka. According to the UNHRC, as of 2011, India had about 2,04,600 refugees, asylum seekers, and 'others of concern' due to various factors from Afghanistan, Sri Lanka, Bangladesh, and Myanmar.
If unaccounted for, mass displacement will have a significant impact on India's already climate-vulnerable communities. Policymakers need to start considering pertinent questions around urban and rural planning and access to basic rights such as health and education, both for internally displaced populations and those from across the border.
To start with, Indian policymakers must initiate efforts towards:
1. Developing a climate refugees' policy framework
Despite UNHRC recognising India as a safe haven for asylum seekers, we are one of the few countries in the world that is not a signatory to the 1951 UN Refugee Convention and its 1967 Protocol. According to the convention, the signatory country has to provide a minimum standard of hospitality and housing towards refugees. In the absence of an internationally binding framework and a dedicated policy for climate refugees, safeguarding their rights and rehabilitation can become a discriminatory practice with the government adopting ad hoc measures such as forced deportation, detention, and selective protection and assistance based on religion, region, gender, and other factors.
However, India has adopted the National Action Plan for Climate Change (NAPCC), which focuses on some aspects of climate adaptation. While most of the plan is still in the development stage, policy frameworks that acknowledge climate refugees as a vulnerable group, with defined criteria for granting climate refugee status, can be thought through under the NAPCC umbrella.
2. Building localised climate adaptation plans
Policymakers must develop localised adaptation plans on two fronts—at the source of migration to reduce outflow of people, and at the destination villages and cities to accommodate the influx of people. At the source, there is a need to build climate-resilient infrastructure and livelihood models. Farmers in flood-prone Bihar, for instance, are encouraged to cultivate water-intensive rice, which effectively utilises the floodwater available. Therefore, based on local demographics, geography and socio-economic factors, each plan needs to be localised so that communities have incentive, support, and resilient infrastructure in the region where they reside.
Given India's geographic diversity, the central government needs to incentivise and support decentralised planning for climate change mitigation and adaptation. For instance, there is a need to build adaptation and resilience plans for destination villages and cities where migration is most likely to happen. If the eastern borders are more likely to experience cross-border migration from Bangladesh and Nepal, the north-eastern states will need to have mechanisms in place to identify areas for resettlement and adopt climate-resilient city planning. Therefore, states need to adopt adaptation plans taking their present and future ecological, socio-economic, and cultural context into consideration.
3. Creating climate refugee funds
A distinct climate refugee fund, independent from the disaster management fund and the PM Cares fund, must be created by encouraging public and private contributions. States should be obligated under the NAPCC to identify climate refugee camps and develop them using funds. Humanitarian aid for climate refugees should be included under the CSR bill, which currently does not account for disaster and related contributions. In addition to this, at a global level, countries must come together to acknowledge, frame policies for protection and rehabilitation, and allocate funds either under existing or new initiatives for the growing concern of climate refugees.
—
Know more