When Manjit Kaur's heart health started deteriorating 2 years ago, she struggled to arrange money for her treatment expenses. She had an arterial blockage, and a stent needed to be introduced to reduce her risk of heart attacks. She runs a small computer and print shop, and most of her earnings go towards her monthly expenses. The little that she had managed to put aside for emergencies was not even remotely enough to cover her medical bills. Estimates suggest that 7% of Indians are similarly dragged into poverty because of catastrophic health expenditures each year. The Public Health Foundation of India estimated this number to be around 55 million for 2011-12 alone.
Access to healthcare coverage can be a lifeboat for low-income families who dip into savings or borrow heavily when faced with a crisis. 64% of the households we surveyed were unable to save for an unexpected expense. In 2020, 50 crore people across India were covered by health insurance, most of which were government-sponsored schemes. 25% of those covered had access through employer-funded or private policies. A vast majority of Indians did not have any insurance cover. The National Family Health Survey (NHFS-5) conducted between 2019-21 shows only 42% of households in rural areas have a family member (or members) covered by a health insurance or financing scheme. In urban areas, this number is lower, at 38%. According to the WHO, out-of-pocket expenditures accounted for 54.8% of India's current healthcare expenditures in 2019. This is significantly above the average for low-and-middle-income countries.
The bottom 50%, about 70 crore individuals, are eligible for comprehensive hospitalisation coverage via government schemes. The largest among these schemes is the Pradhan Mantri Jan Arogya Yojana (PM-JAY). This public-private partnership entitles beneficiaries to cashless and paperless treatment of up to INR 5 lakhs each year. 10.74 crore families have been identified from the 2011 Socioeconomic and Caste Census to receive the entitlement, and about 58% of these families are covered. The PM-JAY covers most procedures not provided at primary health centres, and was expanded in 2020 to also include COVID care.

Lack of awareness
Haqdarshak conducted a survey with 175 households across 6 states to understand how beneficiaries utilise PM-JAY. While all the households had access to PM-JAY coverage, we found a lack of awareness among citizens about its benefits and how to avail them. 56% were unaware of the diseases and treatments covered, and 74% of the households were unaware of claim processes to avail cashless treatment. Despite having substantial healthcare coverage, three out of four PM-JAY recipients surveyed still face the danger of slipping into extreme poverty. Studies conducted in Chhattisgarh and Jharkhand have shown that PM-JAY beneficiaries continue to be charged similar rates at public and private facilities with no reimbursements. NFHS-5 data also shows that out-of-pocket expenditures rose in 12 out of 20 PM-JAY states and union territories.
Vamanrao Bhalerao, who works at a pharmaceutical company in Nagpur, told us that he spent INR 1,95,000 on an orthopaedic surgery since he did not know how to access his PM-JAY benefits through empanelled hospitals. Adding to the lack of institutional support he said, "We have the card, but it is of no use. The hospitals don't support us with proper information at all."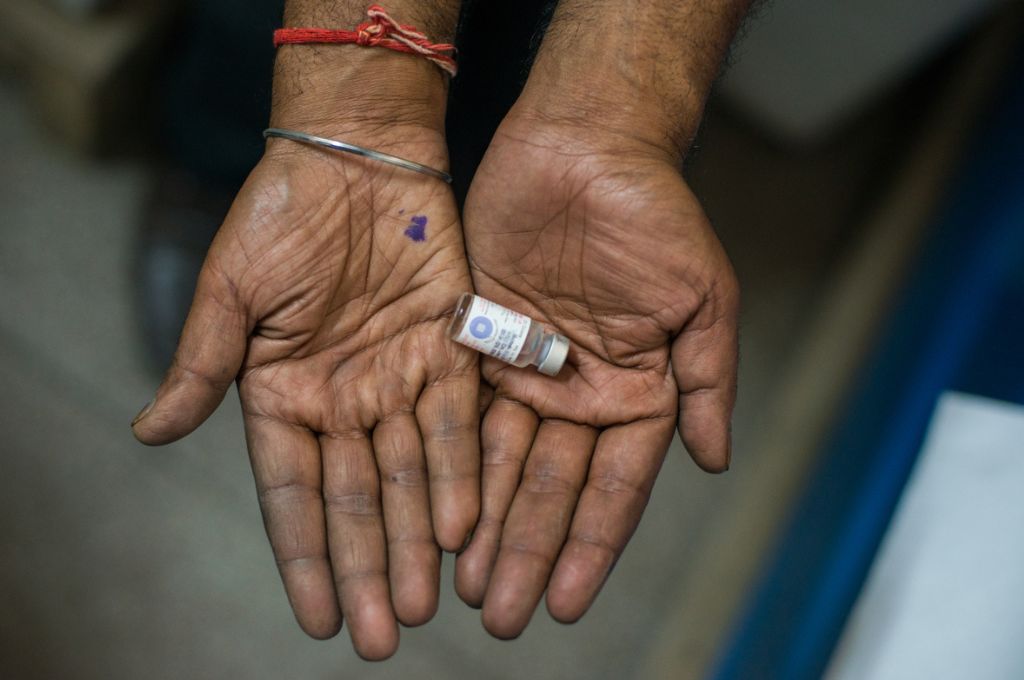 Reducing OOPE (out-of-pocket expenditure)
The success of PM-JAY and reducing out-of-pocket expenditure significantly depends on the empowerment of beneficiaries and improved access to information on availing scheme benefits. Only 15% of households were aware of nearby empanelled hospitals. Guidelines indicate that beneficiaries should be provided a booklet detailing the benefits of the scheme, processes to avail benefits, the policy period, and a list of the empanelled and network hospitals in their district along with address and contact details.
The booklet should also include contacts for the district nodal officer (DNO) and a toll-free helpline number to contact for additional information and grievance redressal. Only 8% of the surveyed respondents had utilised the helpline number listed in the pamphlet they received. However 51% had tried to seek in-person assistance through hospital personnel or their local 'Haqdarshak'. This may indicate a preference for, and greater accessibility of information delivered in–person.
Health insurance coverage alone cannot solve the problem of inequitable access to healthcare.
The National Health Authority surveyed 2700 households in Bihar, Haryana, and Tamil Nadu. They found scheme awareness was higher in Tamil Nadu where PM-JAY was integrated with the existing state scheme. To reduce the cost of registration, they recommended organising camps and outreach events periodically, creating procedures for automatic registration, and involving local Panchayati Raj institutions and ward representatives. They also suggested creating a designated cell and expanding information, education, and communication (IEC) activities to overcome supply-side constraints.
Health insurance coverage alone cannot solve the problem of inequitable access to healthcare. The NITI Aayog reports that 65% of beds are concentrated in Maharashtra, Karnataka, Tamil Nadu, Telangana, West Bengal, and Kerala. The remaining 50% of the population living in the other 21 states and UTs relies on just 35% of beds. The combined expenditure on healthcare by state and central governments is at 1.29% of GDP—the least among BRICS countries and much lower than the global average of 6%. Persistently low spending on infrastructure has constrained the capacity and quality of healthcare services offered in the public system. Overburdened public hospitals often divert patients towards the pricier private sector. Almost 60% of all hospitalisations and 70% of out-patient services are delivered by the private sector. PM-JAY also does not cover the cost of out-patient treatment.
Reducing the burden of OOPE is essential to increasing health-seeking behaviour, especially when the cost of primary health care, diagnostics, and transportation prove prohibitive for families. The lack of support in initial diagnostics may be one of the reasons the scheme is underperforming. While the budget estimate for the last fiscal year was INR 6,400 crores, it was revised down to INR 3,199 crores. Actual spend in 2019-20 was also INR 3,200 crores.
Some success
We have witnessed first-hand the relief PM-JAY can provide when beneficiaries have access to in-person support. One of our 'Haqdarshaks', Vikrambhai, was screening Harkhuben Rabari from Fatehpur for her eligibility for a widow pension scheme, when the family showed him a letter that entitled them to an Ayushman Bharat card. They had applied through a local agent but the card hadn't been issued to them yet. Virambhai decided to step in, and promised to help them procure the card. A few weeks later, when Harkhuben suffered a heart attack, and was admitted to the hospital, her family contacted Virambhai. He put in an immediate request at the Block Health Office. She received her card in time, and her surgery was performed at a designated hospital in Ahmedabad. The upfront treatment cost to her family went down from INR 1,70,000 to zero.
Read more about our findings on PM-JAY utilisation and awareness in our ground report from last year.
This article was originally published on the Haqdarshak website.