---
A breath of fresh air: Children are the new climate educators
South Delhi district, Delhi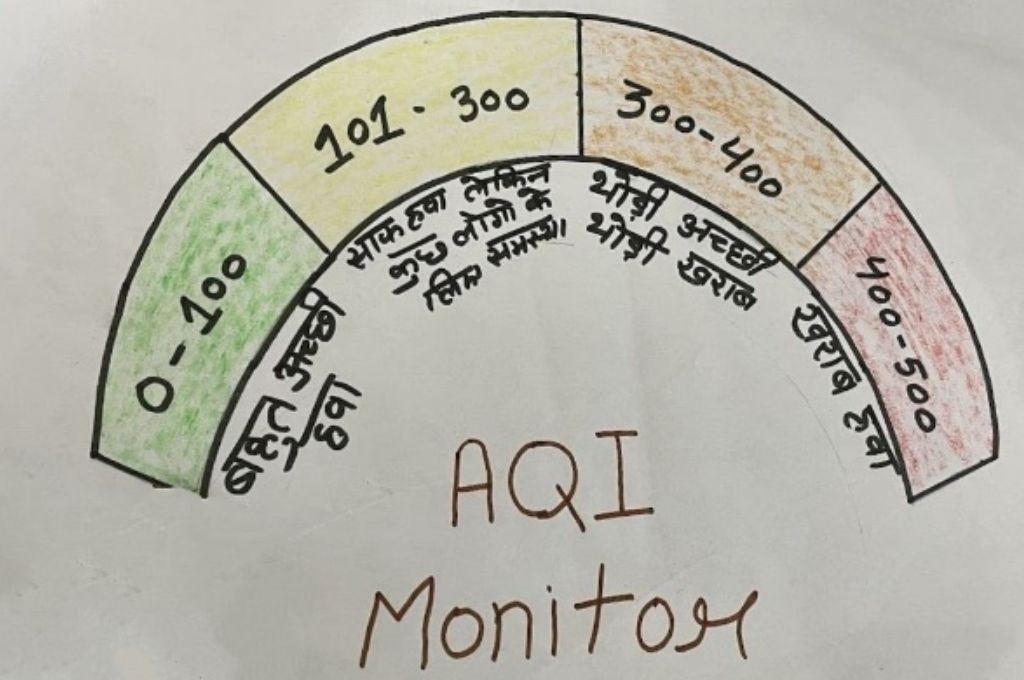 At Chintan Learning Centre, located in a low-income neighbourhood of Delhi's Nizamuddin area, children are taught about the effects of climate change using a comic book titled Hawa Hawai (the Hindi word hawa translates to 'air'). The book features Chamki, a six-year-old schoolgirl, and Hawa Hawai, who represents air. The children know that Hawa Hawai is sad when the air quality is poor because they see her struggling to breathe. They can relate to her because they find themselves in a similar situation while playing outside in Delhi's polluted environment.
For 10-year-old Sameer and nine-year-old Anandi, air is now something tangible that occupies space and carries weight, which they demonstrate using balloon experiments. It is a boon that comes with its fair share of challenges—they can breathe air for survival, dry their clothes, and fly kites because of it, but it also burns their eyes when it is polluted. Inspired by Chamki's uncle who helps her reduce air pollution through measures such as cycling to work, the children go back home and tell their parents about ways to improve air quality.
In this neighbourhood, children have become a medium of spreading awareness about the environment. Their mothers listen when they inform them about the many things they are learning under this environmental education initiative run by Sesame Workshop India, a nonprofit that works on early childhood development. The women then go on to convince their husbands to make small changes in the functioning of the household.
Rani, who runs a neighbourhood grocery shop and whose son Arshan attends these classes, says, "I used to heat water on the chulha, but the kids asked me to stop as it is bad for the environment. We knew that it can affect our eyesight in the long run, but gas is so expensive that we continued using the chulha. Par phir bacche kehne lage toh maine socha, chhodo! (But when the kids insisted, I gave in.) LPG is still very expensive, but how can we say no to our children."
Shahana, another parent from the area, says, "The children tell us what they learn in class—the garbage we burn spreads diseases, and we inhale the smoke it creates. We didn't know all this. Jo humein nahi pata woh bacchon ko pata hota hai, bacche humein aake bataate hai. Chulha jala liya, kooda jala diya, ussey pradushan toh phail hi raha hai. Pata chala toh humne bandh kar diya. (What we didn't know, the kids know now and they come and tell us. Once we learnt we stopped using the chulha and burning garbage, which are causes of pollution.)"
She adds, "Ab sudhaar dikh raha hai, bimari bhi durr ho gayi hai isse. Zyada safaai rakhte hai, sab badlaav hai. Jaise bacchon mein aaya hai badlaav waise hum mein bhi badlaav aa gaya hai. (Now things are improving; diseases are also less and there is more cleanliness. The change in our children's way of thinking is also changing us.)"
As told to IDR.
Rani Parveen is the owner of a grocery shop in Nizamuddin; Shahana works as a homemaker in Nizamuddin.
—
Know more: Learn how young mapmakers are helping Odisha's cyclone-prone villages.