---
Camel crisis and the Raikas of Rajasthan 
Bikaner district, Rajasthan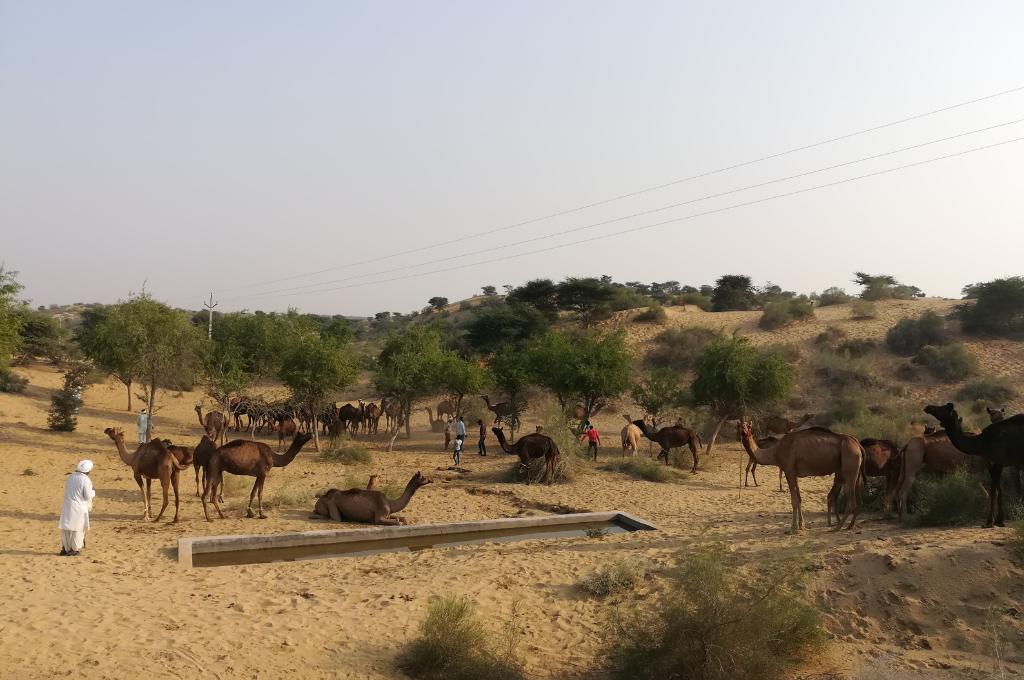 In Grandhi village of Bikaner district lives Ganaram Raika with his fleet of 300 camels. Several generations of the Raikas of Rajasthan have been camel herders. However, this has changed in the last few years.
A law prohibiting the sale and export of camels outside the state was enacted in 2015, and this has contributed significantly to a decline in the local camel trade. With no incentive to retain their animals, numerous herders and traders are compelled to part with their animals, some letting them simply wander off into the wilderness.
With camels no longer lucrative to them, several Raika families in Ganaram's village have opted for other occupations. Ganaram himself farms, but camel herding is still his primary vocation, for camels embody an important aspect of his culture and beliefs. He says he sees the image of Lord Shiva in these animals. In addition to his own flock, Ganaram looks after camels left in his care by others who are no longer able to provide for them. At times, this arrangement involves a financial transaction where camel owners offer Ganaram a small monthly sum in exchange for his service. But when people can't afford to pay him, the camels become a part of his flock at no extra charge.
When Ganaram takes his massive fleet out to graze, he leads them to what's left of the pasturelands around his village. Camel herders in Rajasthan call their pasturelands by different names such as gochar, oran, and paithan. The nomenclature represents distinct areas—grasslands, forests, and water reservoirs—integral to their pastoral lifestyle. But these lands are increasingly shrinking or being repurposed. Much of the pastureland that Ganaram traditionally relied on is now used for illegal limestone mining, which provides a means of livelihood for people in the area.
While Ganaram has made attempts to halt the mining, other local pastoralists who have smaller animals like goats are unconcerned about the shrinking size of the grazing grounds.
In extreme summers and winters, when herding becomes a challenge, Ganaram turns to stock fodder to feed his camels. This is an expensive alternative. The financial strain on him further intensifies when animals fall ill and have to be treated. To assist pastoralists like Ganaram, the government has established an honorarium of INR 15,000 for each newborn camel calf. But claiming this amount is difficult because it requires a birth certificate to be issued by a veterinarian, and vets are scarce in the remote regions of Rajasthan.
Without support from the government, the camel population in Rajasthan is rapidly dwindling. From more than 3 lakh in 2012, it plummeted to under 2 lakh in 2019. This is why Ganaram's efforts to conserve the animal, commendable though they may be, need to be supplemented by institutional support.
Ansa Augustine is an SBI Youth for India Fellow, a content partner for #groundupstories on IDR.
—
Know more: Read this article to understand how human–wildlife conflict is managed in Corbett Tiger Reserve.  
Do more: Connect with Ansa at [email protected] to learn more about and support her work.