Dinesh, a 31-year-old farmer from the Malwa region in Madhya Pradesh grows a variety of crops on his farm. His educational background in agriculture helps him understand the benefits of crop diversification for maintaining the soil health of his farmland while minimizing risks from crop losses. However, growing tomatoes is often a gamble even for well-informed, progressive farmers like Dinesh due to high input costs, sensitivity to climatic variations such as frost, rainfall, temperature, the perishable nature of the crop, and uncertain market returns.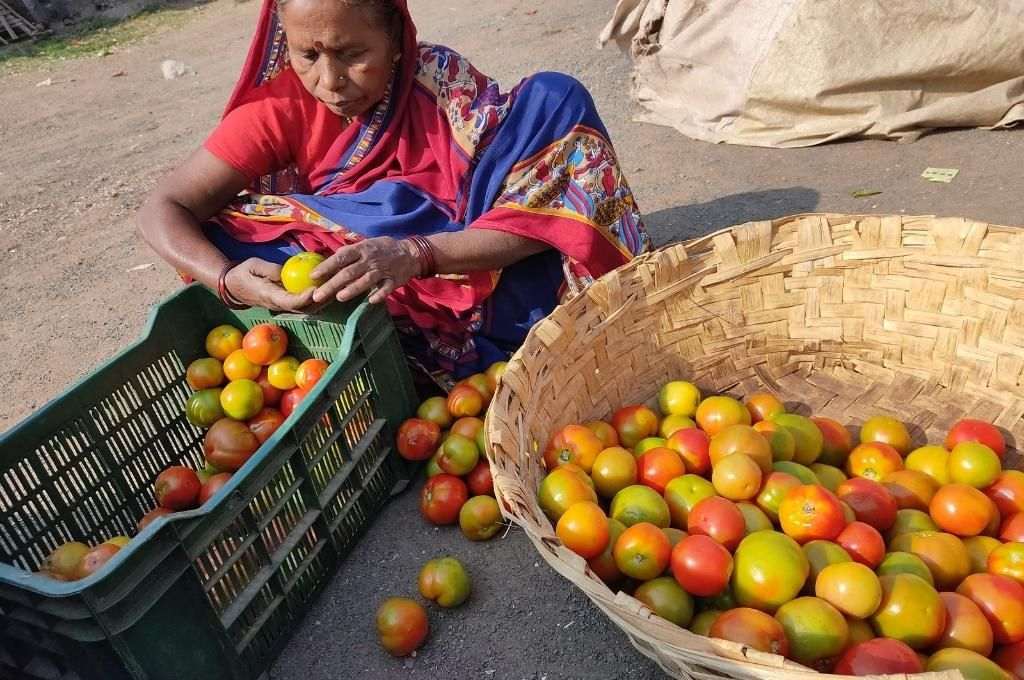 These factors increase the incidence of loss for tomatoes during harvesting and selling. This food loss, which is essentially a decrease in the quantity and quality due to decisions and actions of food suppliers in the value chain (excluding retailers, food service providers, and consumers), makes tomatoes costly and risky produce for thousands of farmers in India.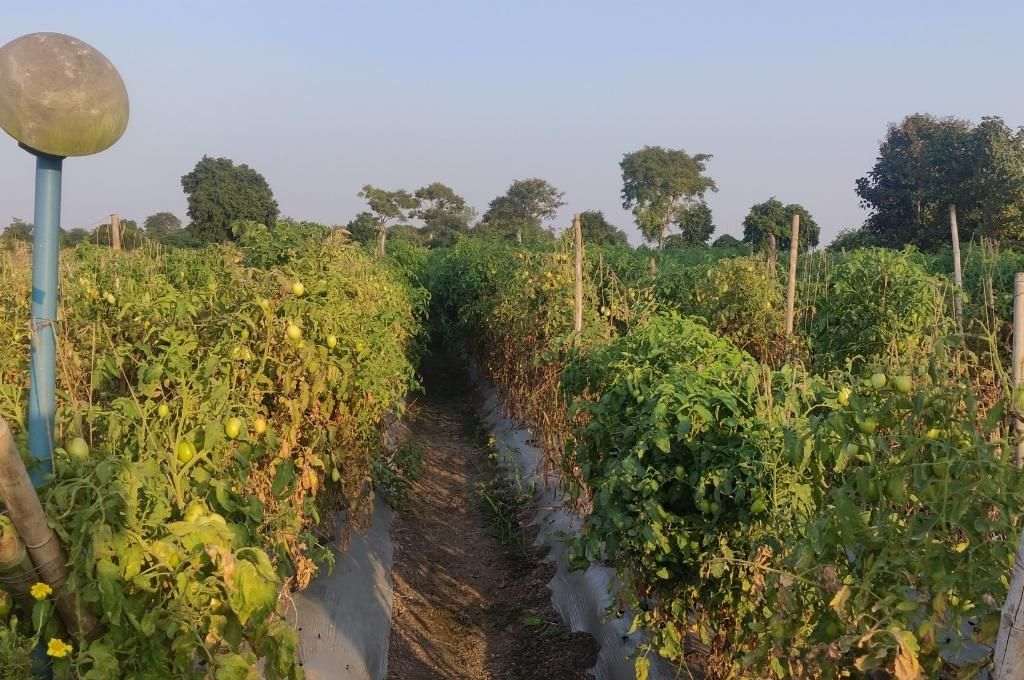 In July 2021, Dinesh transplanted about 7000 tomato seedlings in a one-acre parcel of land and used improved agriculture techniques such as mulching and drip irrigation to ensure a good yield. While these techniques help in improving productivity and quality of products, it significantly increases the production cost. Once the crop is ready, in about 70 days, Dinesh prepares for the harvest.

Harvesting is a continuous and labour-intensive practice and is usually carried out by hired labour with the farmer overseeing the activities or working alongside. The time of harvest is usually decided by market demand and supply. A few years back, when the prices offered were not profitable, Dinesh chose not to harvest his crop to avoid incurring any additional labour costs. He further shares that at times when the prices in the market fall to a level that it becomes impossible for farmers to recover the cost incurred in sorting, grading, and transportation, farmers in his village dump all their produce in the fields or by the road.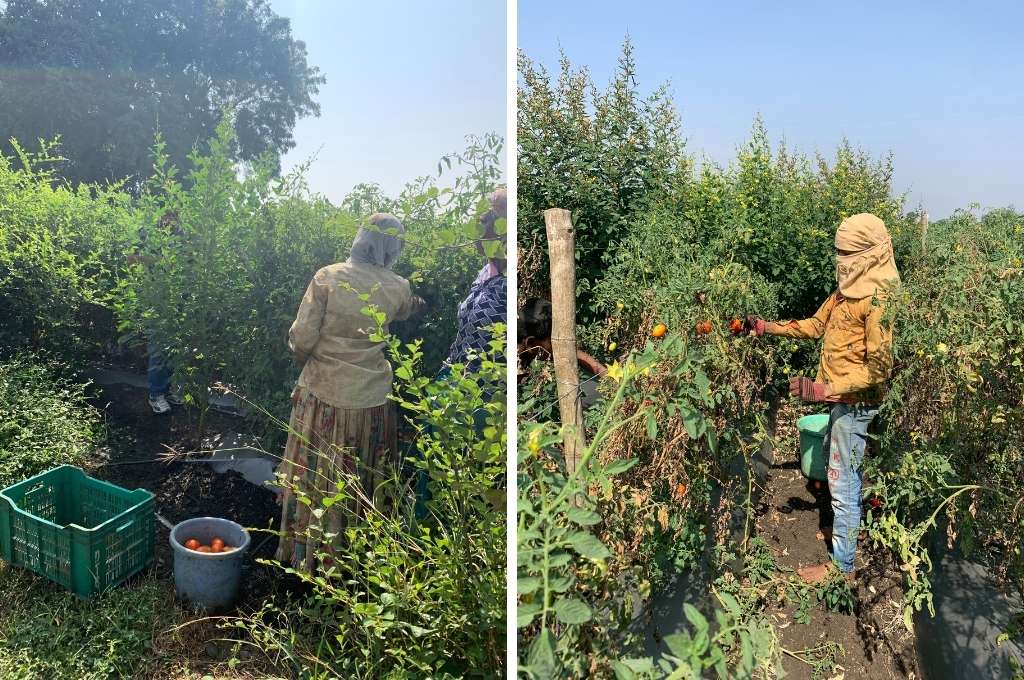 Most farmers in the region, including Dinesh, prefer selling directly to an intermediary at the farm gate. This reduces the added cost of transportation to mandi as well as mandi fees. This also reduces the uncertainty of prices in the market. The trader who buys produce from the farm-gate either sells it locally or transports it to bigger mandis in other states.
Most of the tomato harvest in the region is transported by road; no use of the rail network was observed in the field. Interestingly, no refrigeration facility is used for tomatoes by any stakeholder in the supply chain, even for long-distance transportation. This, coupled with any delay in transit presents a substantial risk of losses during transportation, of both quantity and quality.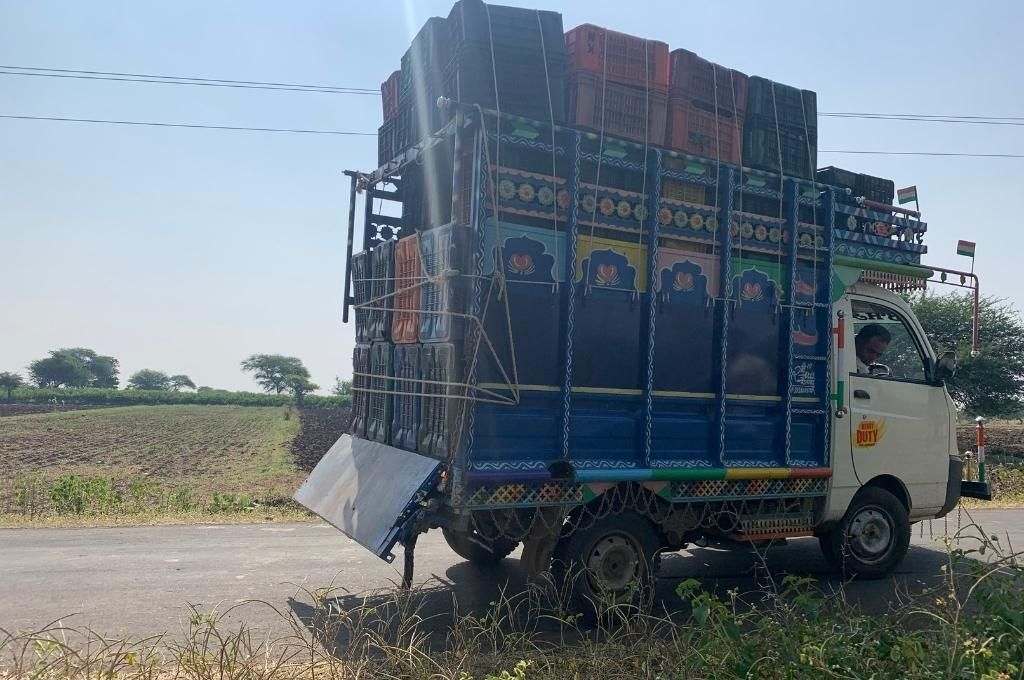 Transportation is mostly carried out during the night as trading in mandis begins early in the morning. Sorting of tomatoes based on physiological deterioration, pathological damage, and mechanical injury is done at each stage of the supply chain. In mandis, damaged or overripe tomatoes are usually discarded to maintain the quality of the remaining tomatoes in the package/crate. This loss may occur due to several reasons, including poor sanitation, long or disrupted transportation, mishandling, or poor sorting and grading practices.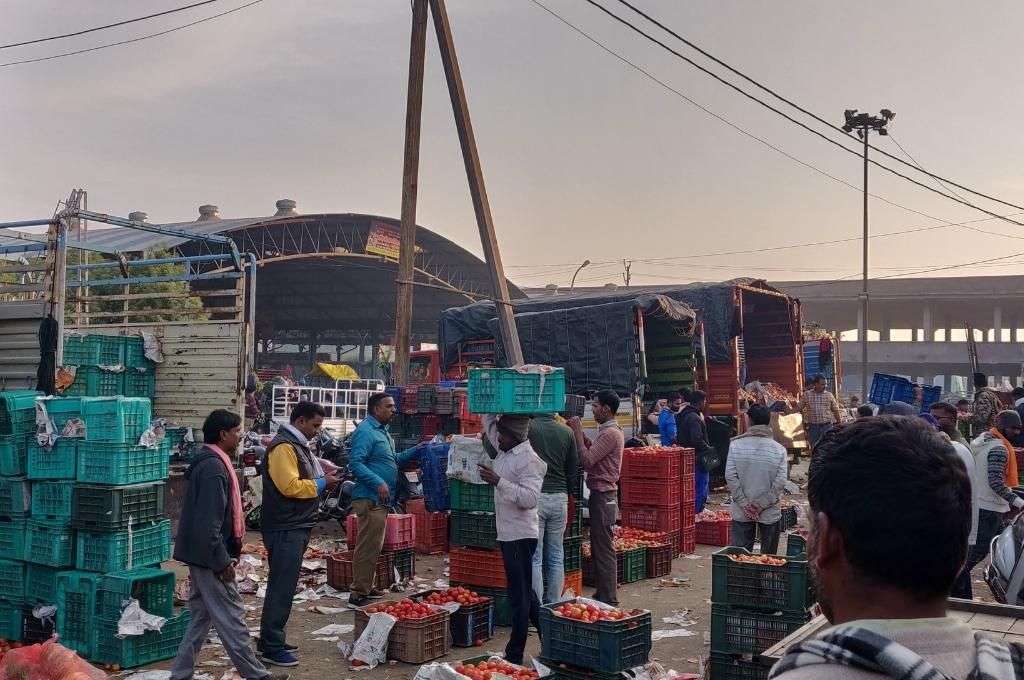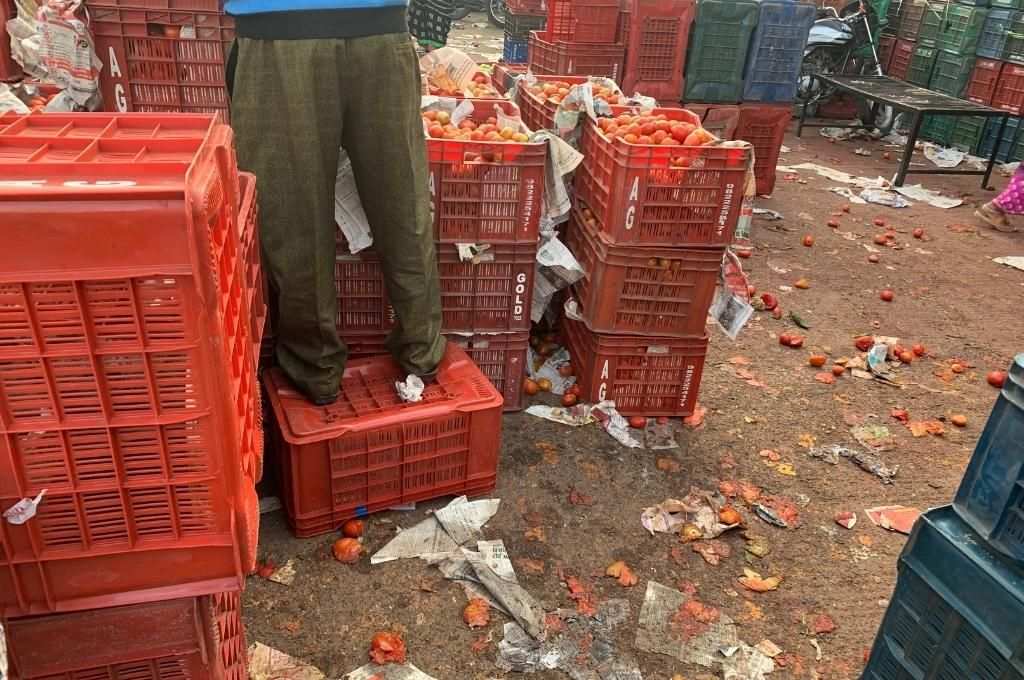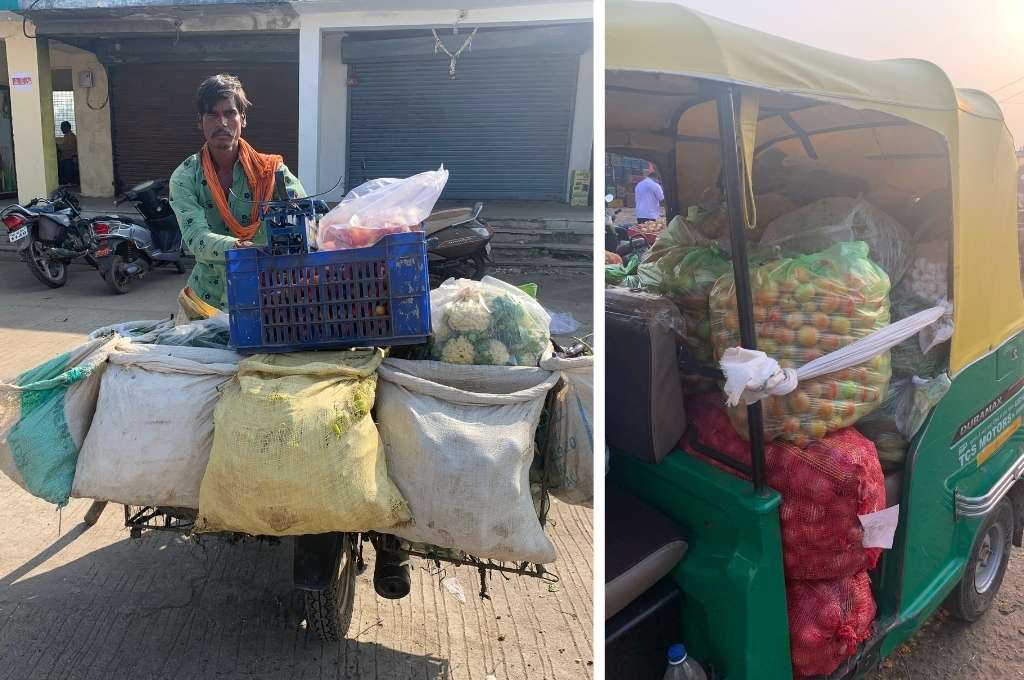 Retailers buying tomatoes from wholesalers were seen using a variety of packaging materials, such as polythene, plastic crates, jute bags, etc to carry their bulk purchases. These packaging options may appear as insignificant actions by retailers, decided by affordability and carrying convenience, but they play a key role in controlling perishability and maintaining the quality of the produce till they reach their end consumers.
As we followed the journey of tomatoes from the farm to our homes, we observed losses at each step of the value chain. Available literature on food loss and waste indicates a lack of comparable or limited data on some actors of the supply chain on food losses which makes it difficult to build systematic evidence for prioritizing action. Thus, it is essential for any study on food losses to track the food item's journey from its production stage to its final consumption and use standard approaches for measuring food loss and waste. This would not only help us identify the nature of losses, causes, and stakeholders at each stage of the value chain, but also design measures for reducing food losses in a systematic and targeted manner.
Also, a strategic approach that can target the right actors in value chains, measure the losses accurately, and develop the right action would result in a sustainable impact. Measuring our food losses and waste would be a pre-requisite step for India to achieve Sustainable Development Goal 12.3 which targets reducing food loss and halving food waste by 2030. Lastly, this needs a collated action by stakeholders across value chains, including government, businesses, food producers, research institutions, and civil society, such as the global network of Champions 12.3 that is dedicated to inspiring ambition, mobilizing action, and accelerating progress on reducing food loss and waste. In India, there is an effort to build momentum on this issue through the 'Friends of Champion 12.3' initiative as the issue is unquestionably critical for India – for food and nutrition security, better productivity and economic growth, and decrease pressure on land and water resources.
Views expressed here are personal.
This article was originally published on the World Resources Institute India website on May 5, 2022.