I was a stubborn child who did not want to follow her parents' plan of a career centred around government jobs, as is the norm in Nagaland. Nevertheless, on their insistence I sat for a competitive exam in 2011, the year I graduated. But I walked out of the examination hall within 30 minutes. I knew I wanted to do something else. I wanted to work for people—in the social sector. But here in Dimapur we did not have the kind of career guidance required to get into such professions.
And so I moved to Bangalore to work in a multinational corporation. I kept at my job for a few years, helping overseas clients. But there was a part of me that felt it was not enough. I wanted to give back to my community.
It was then that I met the current director of YouthNet—a nonprofit that works with young people in Nagaland, skilling and preparing them for the job market. I kept hearing about the organisation's work for several years, and in 2017 I decided to take the leap. I moved back to Nagaland and joined YouthNet as an operation supervisor at its job centre and career development centre. Today I manage these centres. Jobseekers register with us and we train them on various skills such as resume writing, interview etiquette, and so on. We also match them to jobs. We work with a wide range of people—from those who have never attended school to graduates.

10.00 AM: I start my day by checking emails from co-workers, employers, and jobseekers. An enthusiastic colleague has sent the team an email about a new idea she has for self-employment of young people in Nagaland.
These days our efforts are focused on tackling the job crisis that COVID-19 has created. Our team has been thinking out of the box and trying out new ways to create employment opportunities, as the pandemic has shrunk Nagaland's already small job market. Needless to say, it has also changed how we work.
As the Nagaland job market transitions from a traditional space to a more professional one, jobseekers need to adapt to its demands.
Before the pandemic, we used to go to schools and colleges to speak with students, answering their queries and helping them choose a career path. Some students would say, "I don't want to study beyond Grade 12. I want to earn right away." We would counsel them and explain that more opportunities open up with more education.
When the lockdown was announced in 2020, we thought it would last for a month or two. To cope with the effect of the pandemic on employee well-being, we paused our work for a month. However, soon we realised that we would have to work through it. Our office has been open for many months and the team meets in person, but all our training sessions are conducted online.
11.00 AM: I conduct a 90-minute video session with a group of jobseekers to train them on presentation and communication skills. Often I have to explain why learning new skills is necessary, since freshers assume that they are ready for the job market. They want their first job to pay them INR 15–20,000, while most employers here only offer INR 6–7,000 to fresh graduates. For higher pay, employers want more experience. We have found that a middle ground is freshers with skills.
As the Nagaland job market transitions from a traditional space to a more professional one, jobseekers need to adapt to its demands. There are freshers who have done computer courses but are nervous if you ask them to switch on a computer.
I must say that COVID-19 has made our work doubly difficult. When we conducted training sessions online during the first lockdown in 2020, it was a disaster. Training over laptops and mobile phones was new for the trainees and the trainers alike. We also had to cope with Nagaland's inconsistent internet connection. By the end of some sessions, we were left with only one or two trainees. That's when we realised we need outside help. We reached out to Quest Alliance, a nonprofit that enables self-learning and had worked in the digital training space for many years. They helped us navigate this then-uncharted territory. Among other things, we learnt that online training sessions cannot be too long because people have shorter attention spans in virtual interactions. Keeping in mind the state's poor internet connectivity, we started recording sessions. We share the recordings with our trainees over WhatsApp so that they can access them at their convenience.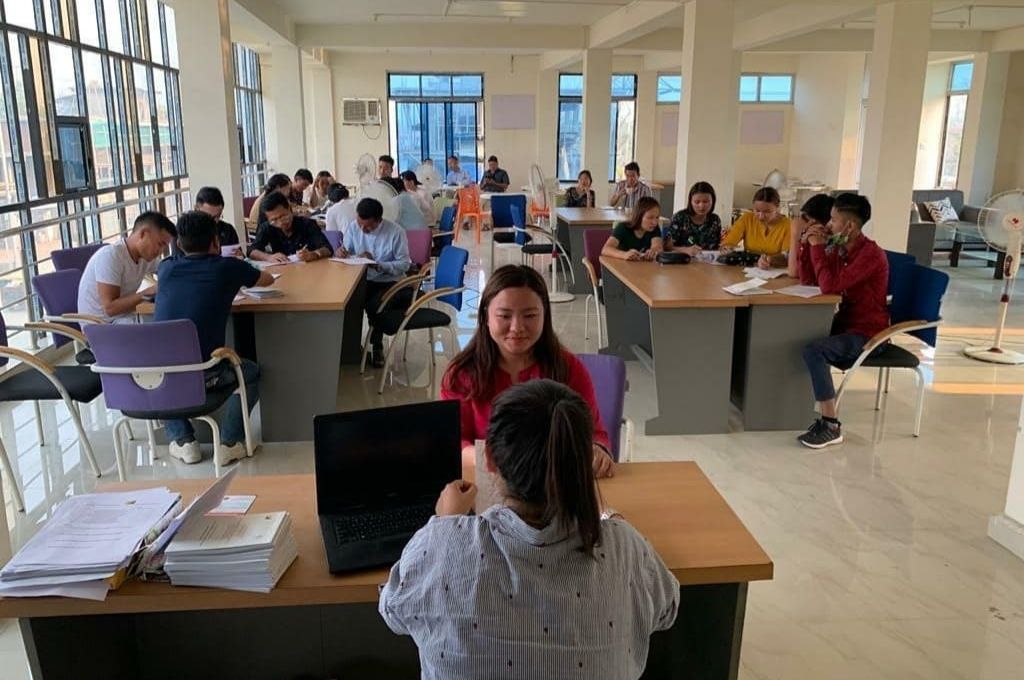 1.00 PM: In the second half of training, which starts after a 30-minute break, I usually facilitate a guest lecture with an industry expert or employer. Earlier we used to take our trainees for industry visits, but now we conduct these sessions online too.
We also prepare our trainees to ask the right questions and make them aware of their rights as employees. I can't stress enough how important the latter is. You won't believe how many times we have placed a person at a company only to learn that they were ill-treated. Employees are underpaid and expected to shoulder multiple responsibilities. We sign a memorandum of understanding (MoU) with the employers that clearly states labour laws and rights. Despite this, there are times when employees are overworked as there is no clear delegation of responsibilities. Last year someone who trained with us was hired as a manager by a restaurant, and at the end of the day was asked to do the dishes. In these cases, we get in touch with the employer and explain why this behaviour is in direct conflict with the memorandum they signed with us. We have to teach professional etiquette to both parties.
Nagaland is an emerging economy, where the organised private sector is a new concept. Most businesses are family-owned and family-run. Poor practices—such as insufficient pay, unaccounted work hours, lack of proper job delegation—result in high attrition rates. We try to teach industry best practices as well as build trust between the employers and employees. With the growth of the retail sector and established players such as Big Bazaar, Reliance Trends, and Westside entering the fray, we have seen attrition rates fall. This tells us that if employers have systems in place, employees do stick around.
3.00 PM: Our weekly team meeting begins and we discuss the performance of a programme that we launched some months ago to help young people become self-employed. Programmes such as these are a necessity now. During the pandemic, many young people gave up their jobs in other states and returned to Nagaland. Though many have now gone back, we are still struggling to find employment for those who have chosen to stay in Nagaland.
Nothing substitutes listening to young people and learning from them, understanding their aspirations, and nudging them towards a better livelihood.
There are 600 jobseekers in our database. We understand that traditional methods will not get them jobs since companies have shut down. And we want to support job creators, not just jobseekers. Keeping this in mind, we conducted a programme—Knockdown the Lockdown—to encourage jobseekers to become micro-entrepreneurs. We ran a contest in which jobseekers were invited to pitch entrepreneurial ideas. We selected six teams and gave them INR 10,000 each for 45 days of business operation. People came up with very creative ideas. One team made and sold dining tables and chairs with locally available pinewood, and we're thrilled to learn that they've earned a revenue of INR 2 lakh in just 45 days!
Such initiatives have not only increased jobseekers' confidence but also boosted the morale of our team.
4.30 PM: I wrap up my day at the office and head home, where I take a break for some time and then prepare for the next day's sessions. I don't want to become complacent or sound like a tape recorder when I train jobseekers, so I spend time in the evening learning about new ways to engage with them. I also make it a point to stay up-to-date with current trends so that my sessions are relevant and relatable.
Nothing substitutes listening to young people and learning from them, understanding their aspirations, and nudging them towards a better livelihood. Even though I now manage two departments, working with young people is what motivates and inspires me.
As told to IDR.