---
Green vs blue
Chhatarpur district, Madhya Pradesh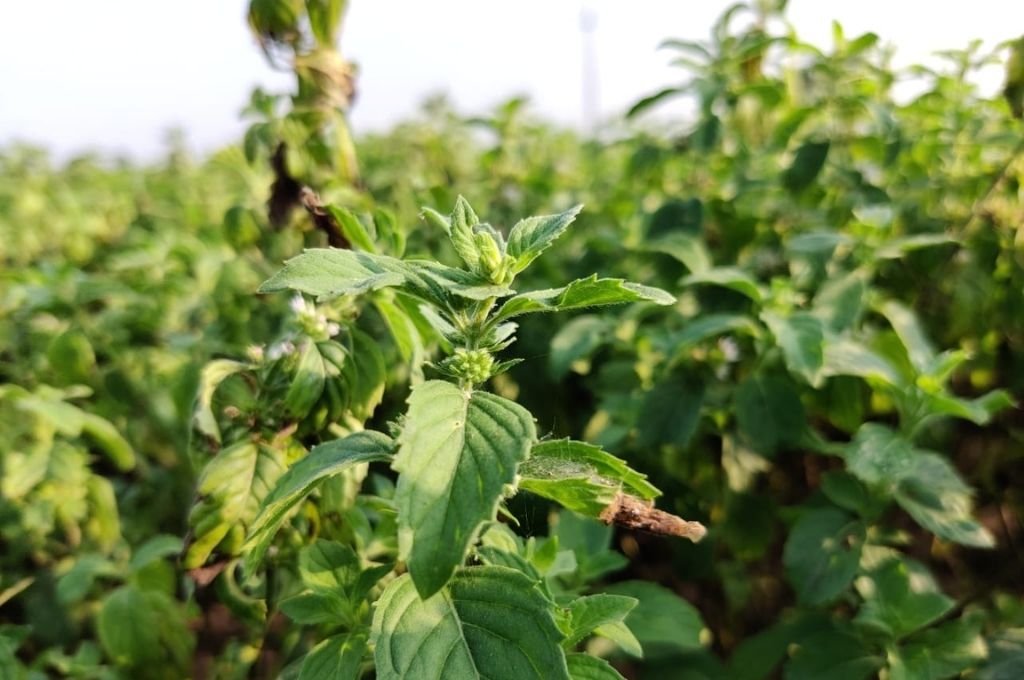 The smell of mint hits you instantly when walking through Agra village in Bijawar block, Madhya Pradesh. All around, one can see small pockets of lush, green fields, amidst dry areas—the sign of another disastrous agricultural season due to uncertain rainfall.
Given the region's dependence on rainfed agriculture, this made us curious about the green patches we were seeing all around us. We asked some of the farmers about how these were flourishing, despite the limited water availability. The reply came, "The rich farmers who are able to afford alternate water sources such as borewells have sown peppermint."
Typically, the winter crop in this region is wheat, which is water-intensive and requires anywhere between four to six rounds of irrigation. But this year, the farmers are uncertain about whether they will have enough water for the next crop. They said that because of the inadequate rainfall this year, it is unlikely that they will have water to irrigate even 50 percent of their landholdings, and that after two or three rounds of irrigation, the water sources might dry up.
A few days later, while conducting a well monitoring exercise in the nearby Nandgai village, we came across a farmer with many hectares of land and a processing unit that converted the dry peppermint leaves into oil. When speaking with the farmer's nephew, we were surprised to find that the peppermint crop requires 12 to 15 rounds of irrigation—at least thrice that of what is required for wheat! He added, "There is a lot of money in peppermint, which is why we have switched to growing it. Last year, the price for one litre of peppermint oil was INR 3,000."
This year however, the price has dropped to as low as INR 900. This was because earlier, only a few farmers were growing peppermint. But due to uncertain rainfall and low yields of existing crops, many more farmers are constructing borewells and switching to peppermint now. He adds, "It is peppermint which is saving the farmers. Otherwise, like Maharashtra, you would have heard about farmer suicides here too."
With short-term gains in sight, farmers shifting to peppermint cultivation is likely to worsen the groundwater levels in Bundelkhand.
Souvik Dhar is an associate project director with Haritika and works primarily in the area of water conservation and livelihoods generation in the Bundelkhand region.
—
Know more: Read more about India's water crisis and 10 things you need to know about it.
Do more: Connect with the author at dhar75@gmail.com to understand more about and support his work.