---
Marrying the solar pump with drip irrigation
Banaskantha district, Gujarat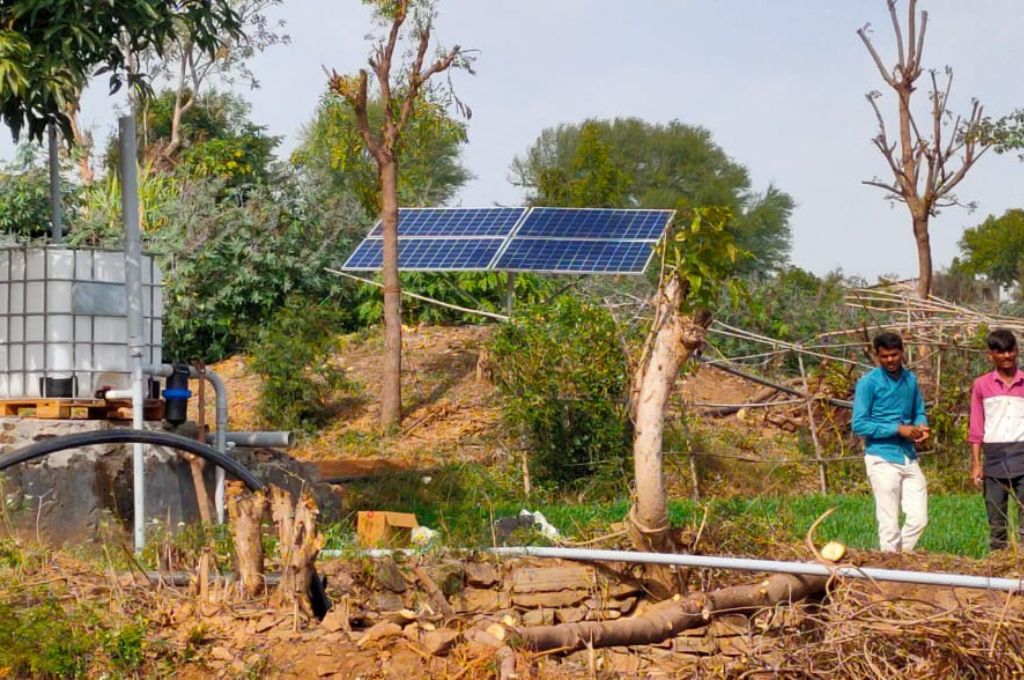 In preparation for Cyclone Biparjoy, the 13 farmers we work with in Gujarat moved their solar panels to a shelter. At the end of May 2023, when there was a smaller cyclone in the area, they had heard that other farmers had lost their rooftop solar set-ups. They suggested we prevent the same situation arising with their panels, which are used to power the drip irrigation systems on their farms. This was a big learning for the model we are fine-tuning in the Danta and Amirgadh talukas of Banaskantha district. As we tweak the model, we will include stronger stems for the panels and a sturdier installation.
For the past two years, we have been helping the farmers in this Adivasi area replace their regular pumps with solar pumps. Reports suggest that most agricultural land in India is irrigated using groundwater pumps that are either connected to the grid or run on diesel. Both are bad for the environment. While the number of farmers using solar photovoltaic–powered pumps has been increasing, these are not often employed for micro irrigation, which is needed to counter the rapid depletion of groundwater. Solar-powered pumps, if used to draw groundwater and distribute it through the drip irrigation system, can help farmers save both water and energy.
But solar pump makers are focused on efficiency and their ability to extract more water for less energy. On the other hand, drip irrigation companies continue to link their systems to existing pumps. The two sides have not reconsidered this arrangement sufficiently. Most small and marginal farmers don't need regular pumps with a capacity of 5–7 horsepower (HP). These may have a capacity to draw one lakh litre, but for the model we work on, 4,000–5,000 litres are enough to grow a vegetable crop on an acre of land.
We designed a set-up where a solar pump of only 1 HP capacity could be used to cultivate a vegetable crop on one acre of land. In the first year, we tried this out with six farmers and had reasonable success with space for some improvement. The drip needed more pressure, which we created by designing a tank where the pump and pipe meet. In the past year, farmers have managed to produce two crops, including a summer crop that they wouldn't have otherwise been able to grow.
The farmers have recommended a couple of changes. We will use a better-quality pipe and a concrete platform instead of the mud structure that could wash away. We will also work to make the solar panels more cyclone-resistant.
In our first discussion with them, the farmers in the area said they were seeing the impact of climate change. Monsoons used to be longer and the rain was more consistent. Now there are fewer days of intense rain. The crop of Neem seeds, used in the soap and pharmaceutical industry, is irregular. The season for the mango harvest has become unpredictable. Meanwhile, they are reporting an increase in the production of wheat. The farmers understand the need to mitigate and adapt to these changes.
Purshottam A Sonagra is the area manager at VIKAS Centre for Development.
—
Know more: Learn why Jaisalmer's farmers are unhappy with solar plants.
Do more: Connect with the author at [email protected] to learn more about and support his work.