For the upcoming financial year (FY 2021-22), the central government has allocated a labour budget that accounts for 260 crore person days, under the Mahatma Gandhi National Rural Employment Guarantee Act (NREGA). This is approximately 100 crore person days less than the current year's approved person days of 362 crore. This is not only a setback in terms of rural employment generation for FY 2021-22, but also a sign that the Centre has failed to recognise the rural distress caused by the pandemic.
It is well known that the unilaterally imposed lockdown caused severe rural distress in 2020 with farm-based livelihoods being impacted due to restrictions imposed on routine activities, markets, and transporting systems. Millions of farmers in the country suffered huge losses due to the late harvest of rabi (winter) crops. They sold their produce at distressed rates, resulting in income losses and indebtedness.
The livestock sector, which contributes a significant share of income for marginal farm households and the landless—and in many ways helps families cope with their emergency needs—was also disrupted. Forward and backward linkages were completely stopped, and markets were closed during the lockdown. It took time for markets to function at full capacity. Small and marginal farmers are still facing trouble accessing inputs and services for agriculture and allied activities. Many rural families have used up their savings to fulfill basic needs and many have depended on ration entitlements, NREGA, and social security pensions to sustain their families. 

Unfortunately, NREGA has been reduced to a programme that creates more pain than gain.
It is important to mention in this context that while the free food grain announced by the central government as part of the Gareeb Kalyan Anna Yojana brought relief to ration card holders, the public distribution system left out millions of eligible households due to its reliance on an old database (based on Census 2011) that was used to identify priority households.
NREGA, therefore, became even more crucial, as it was the only guaranteed employment that rural citizens could seek to fulfill their immediate basic needs. Unfortunately, NREGA has been reduced to a programme that creates more pain than gain. This is due to the numerous procedural complexities that have been added to the scheme over the years, as well as long delays in payments of wages. Despite these hurdles, it continues to be the lone lifeline when it comes to rural employment generation.
The loss of livelihoods has been all-pervasive
A survey conducted by the Azim Premji University in 2020 stated that six out of 10 rural workers lost their jobs during the lockdown. Data from the Centre for Monitoring Indian Economy (CMIE) showed that about 1.1 crore daily wage workers lost their employment during the lockdown.
A rapid survey, termed Hunger Watch, conducted by the Right to Food campaign, pointed out that approximately 43 percent of respondents had no work in the months of April and May 2020. Fifty-six percent of them continued to be jobless until November 2020.
The employment crisis and the distress in the farm sector are evident, yet the Centre pays little heed to it.
The allocation to NREGA for FY 2021-22 is significantly less than the demand
The government has allocated INR 73,000 crore for NREGA for the upcoming financial year. This amount is INR 38,500 crore less than the revised estimate of INR 1,11,500 crore for FY 2020-21. (The initial budget estimate for NREGA in 2020-21 was INR 61,500 crore).
As part of the lockdown stimulus package, the finance minister had announced a supplementary allocation of INR 40,000 crore and thereafter, due to a surge in work demand, the estimate was further revised to INR 1,11,500 crore.
The employment crisis and the distress in the farm sector are evident, yet the Centre pays little heed to it.
In FY 2020-21, the total person days generated so far has touched 353 crore (as of March 3rd, 2021). The government has provisioned for only 260 crore person days (as per the current per person per day average cost shown on the government's website) for FY 2021-22. This will limit the scope of employment.
The People's Action for Employment Guarantee (PAEG)—a group of individuals working on NREGA—has been tracking the progress of NREGA and its performance through the current financial year. It observed that till November 2020, the person days generated under NREGA were 43 percent more than that of the previous financial year during the same period.
The official figures show that while 277 crore person days were approved as labour budget in FY 2019-20, the person days generated so far in this year (as of March 3rd, 2021) are already 27 percent more than last year's approved budget. And, we still have a month left for the financial year to end.
Hence, going by this year's demand, the government should have provisioned for at least 400 crore person days in the labour budget for FY 2021-22. However, it has allocated only around 260 crore person days.
Many households will be denied work under NREGA given the lower allocation
Let us look at the scenario from another perspective. There are 14.93 crore families holding job cards in the country. This is approximately one crore more than what it was a year ago. This means that in 2020, a large number of families have registered for NREGA job cards due to their financial needs.
Out of the total number of families holding NREGA job cards, 9.3 crore are currently active, as per the definitions set by the central government. If 260 crore person days are to be distributed among 9.3 crore active working households, then it will entitle each household to work for approximately 28 days on average. However, this year, the average employment recorded per household was close to 48 days. This means that a large number of active working households will be denied work under NREGA in the upcoming financial year. These budgetary limitations, year after year, are among the key reasons why NREGA never achieves its true potential. It deprives large numbers of families of employment either because work schemes are not sanctioned, or by not acting upon their work demands.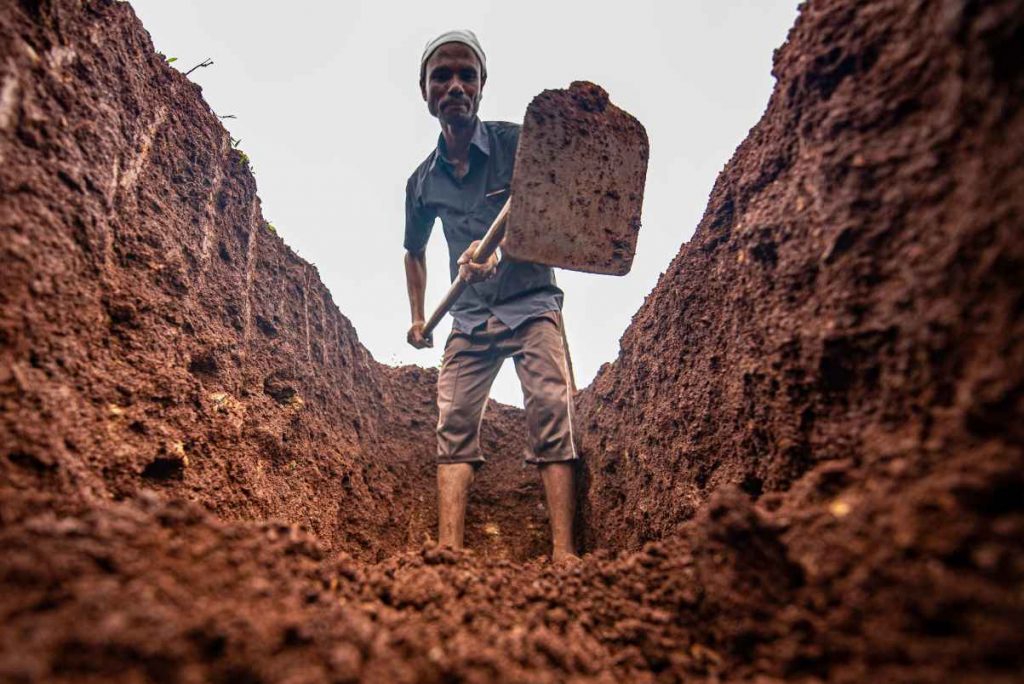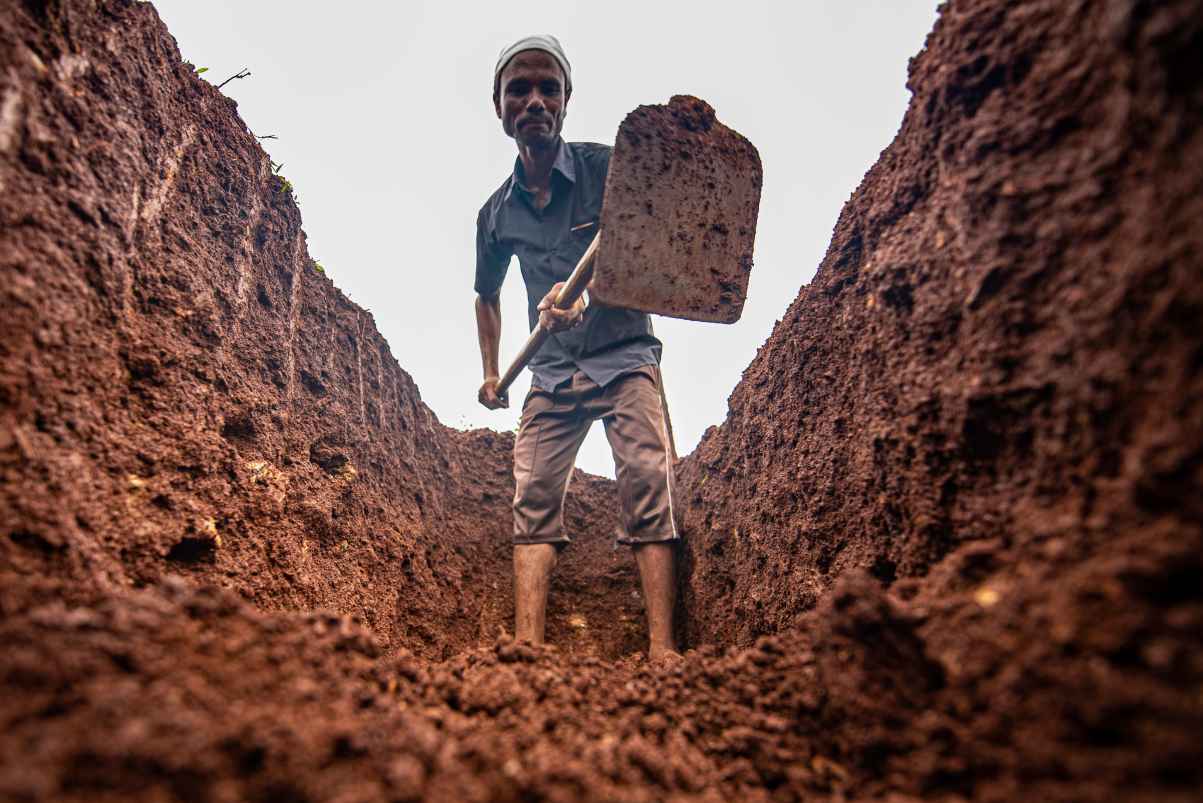 In FY 2020-21, 7.24 crore families that hold NREGA job cards worked on various schemes. This is approximately 1.76 crore households more than in FY 2019-20. If demands for employment had not been suppressed through reduced allocation, non-sanctioning of schemes, long procedural delays, and delays in payments, the demands for work under NREGA could have been many times more than what the official website shows.
According to PAEG, the current pending liabilities for NREGA are more than INR 1,500 crore for wages and INR 11,502 crore for material costs—a total of INR 13,295 crore in arrears. This is likely to be spent from the budget for FY 2021-22, effectively leaving only about INR 60,000 crore for implementation of NREGA.
There should be greater transparency in the allocations
The Centre should clarify the basis on which it prepares the labour budget by revealing the labour budget propositions made by different states. The state budgets in turn are supposed to be a compilation of requirements placed by gram sabhas across the country. The central government is legally bound to honour the plans made by gram sabhas and finalise the labour budget accordingly. However, it is not clear why—despite the great surge in demand and the ever-increasing number of NREGA job cards across the country—there is a sharp difference between the government's allocation for the NREGA budget, and the needs at the village-level.
Agricultural minimum wages are higher than NREGA wages in most states
A recent analysis of 20 states by Ankita Aggarwal and Vipul Painkra showed that there is great disparity in wage rates between agricultural minimum wages in these states and the corresponding NREGA wages. On an average NREGA wages are INR 85 lower than the agricultural minimum wages, leading to exploitation of workers.
Considering the situation on the ground, the government should have done the following to ensure uninterrupted implementation and fair wages for workers:
Allocate at least two lakh crore for to NREGA in FY 2021-22.
Enhance wages to match the agricultural minimum wages of states.
Increase workdays to at least 150 days per household per year.
It is disappointing that the Centre has chosen to ignore the current rural employment distress. The pandemic has shown that there is heavy dependence on NREGA for employment in rural India and the government needed to bolster the scheme by increasing budget allocations. The massive underestimation in the budget allocation will only result in increased distress among vulnerable households and push them further into poverty.
Know more
Do more
Connect with the author at

[email protected]

to explore opportunities for NREGA-related field work.