Nearly 4,000 traditional handicrafts and handloom clusters employ more than 70 lakh artisans across India, especially from rural and remote areas. However, unofficial sources place the figure at an astounding 20 crore, making it one of the largest employment generators after agriculture. India is also one of the largest exporters of handicrafts. In 2021, the sector earned approximately INR 35,000 crore in foreign exchange.
Despite this contribution to the rural economy and export basket, the 2019-20 All India Handloom Census points to the fact that 66 percent of handloom weavers earn less than INR 5,000 per month. Their poor economic situation can be attributed to various reasons including traditional agents and traders who squeeze margins from artisans, thus eating into their profits. To eliminate these middlemen, artisans sometimes turn to direct offline selling at exhibitions or craft fairs, but these are cost-intensive. The pandemic has further highlighted that this option is not sustainable.
E-commerce, or the process of selling goods and services online, can help artisans overcome some of these obstacles. It can unlock additional sales avenues and increase their reach far more than traditional marketplaces can. Additionally, it can allow them to bypass any middlemen and engage with their customers directly.

Since COVID-19, the e-commerce industry has grown at a tremendous rate. Estimates indicate that 22 percent of total footwear sales and 55 percent of total mobile sales now happen online. However, as noted by the Handloom Census 2019-20, the online channel contributes a meagre 0.2 percent of total sales for handloom weavers. Another survey reports that presently less than 1 percent of handloom weavers and craftspersons sell online. Evidently, e-commerce for handicrafts is still at a nascent stage.
What's stopping artisans from embracing e-commerce?
In our recently published report, we attempted to understand the maturity of the e-commerce channel for handicrafts. Our secondary research, supplemented by insights from interviews with industry experts and government officials, revealed that the slow uptake of online selling among artisans can be ascribed to the following reasons:
1. Lack of digital literacy and entrepreneurial skills
A survey by the Digital Empowerment Foundation (DEF), of more than 2,000 handicraft workers across India, found that only approximately 20 percent of artisans have received any training in digital selling. Inaccessibility of digital devices and language barriers also contribute to the low adoption of e-selling tools among artisans. Additionally, lack of confidence and limited entrepreneurial skills hinder them from stepping into the e-commerce ecosystem.
2. High onboarding costs on e-commerce platforms
At present, consumers shopping on an e-commerce platform can only view sellers registered on the same platform. For example, a consumer registered on Flipkart cannot purchase the products available on Amazon without registering on the latter. Thus, registering on only one platform may restrict the artisan's reach. To boost visibility, an artisan must register on multiple platforms and pay registration fees and high commissions for preferential listing. These costs can be very expensive for rural artisans and collectives.
3. Dominance of e-commerce giants
The current e-commerce ecosystem is dominated by a few players, who often impose unfavourable terms on small sellers. These can include lengthy payment cycles and high commissions, which in turn can drive up the seller's costs. The lack of options leaves sellers with no choice and vulnerable sellers like artisans, who cannot afford this, run the risk of being excluded from the ecosystem.
4. Limited logistics options due to lock-ins by e-commerce giants
E-commerce platforms aiming to lock sellers into their ecosystem offer services such as logistics and delivery on unreasonable terms. For example, Amazon India offers three options for storage, packaging, and shipping: Fulfilment by Amazon (FBA), Easy-Ship, and Self-Ship. However, if a seller were to opt for the Easy-Ship or Self-Ship options, the fees then charged by Amazon for each product sold on the platform would be higher. For high-value items such as handmade products, the price would go up further. This leaves artisans with a limited choice—either they lock themselves into the Amazon ecosystem or pay a higher fee to manage logistics and delivery themselves. Since there is little competition to the existing e-commerce platforms, these prices continue to remain high.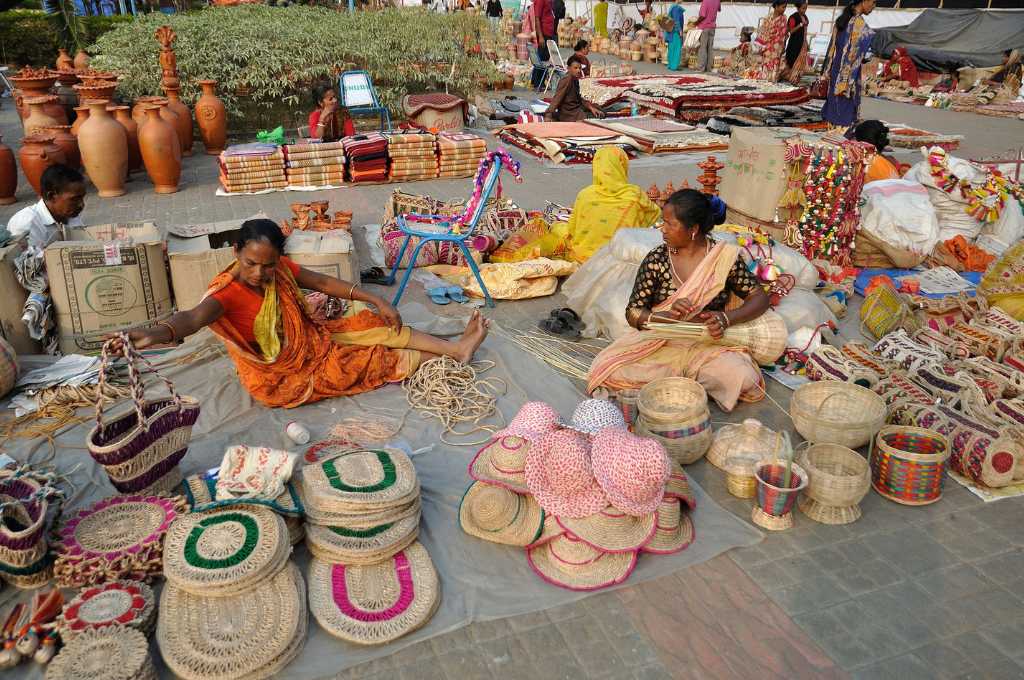 Crafting an e-commerce path for artisans
E-commerce provides an opportunity for artisans to bolster their incomes. It can unlock an additional revenue channel and help them tap into a wider consumer base. However, for artisans to ride this e-commerce wave, it is crucial to make e-selling a more lucrative and less cost-intensive option for them.
The Open Network for Digital Commerce (ONDC) is an initiative by the Ministry of Commerce and Industry to incentivise artisans and cooperatives to explore digital selling as a viable option. ONDC is a market and community-led network that will, in one place, display products and services from all participating e-commerce platforms that are a part of its network. This is especially beneficial for small businesses and retailers such as artisans since ONDC aims to:
Boost the seller's reach and discoverability at a low cost: With ONDC, small sellers don't need to register on multiple e-commerce platforms. ONDC's search and gateway feature allows consumers to discover all sellers in the network, regardless of the platform on which they onboarded. This helps artisans connect with more consumers and increase their reach, without paying high onboarding costs on different platforms or a premium for preferential listing.
Provide affordable warehousing, logistics, and last-mile delivery services: ONDC delinks these ancillary activities from the onboarding platform, thereby encouraging the entry of new service providers, competition, and organic price discovery. This makes it possible for smaller sellers to choose the most suitable and affordable logistics partners and services.
However, while ONDC is a much-needed step in the right direction, civil society, government, and businesses must also work together to create an ecosystem that enables this transition for artisans.
1. Upskilling and improving the e-readiness of artisans
According to the DEF survey, over 90 percent of artisans are interested in learning about social media marketing. Philanthropic foundations can fund such upskilling initiatives by roping in on-ground implementation and knowledge partners. For example, HCL Foundation and Mon Ami Foundation have collaborated with Sharda University to train women artisans in social media marketing and leadership skills through micro-training programmes, aimed at boosting women's labour force participation and incomes in the post-pandemic world.
2. Increasing consumer awareness
For artisans to widen their consumer base, consumer awareness is crucial. For instance, online buyers need to be able to distinguish between handmade and factory-made products. The government can strategically direct its efforts towards marketing and promotion of handicrafts on a global stage by instituting authenticity markers such as Craftmark, encouraging craft tourism, and participating in international exhibitions. Moreover, handicrafts can be positioned as a key to sustainable fashion and eco-friendly home decor to tap into the consumers willing to pay a premium for ethical production processes.
3. Supporting artisans on their digitisation journey through innovative tech-based solutions
The private sector can play a key role in driving innovation such as voice-based and language-support technologies to ease this transition for artisans. For example, to simplify online payments for local store owners, in 2019 Paytm launched the Soundbox, a device that delivers an instant audio payment confirmation (in the language of choice), eliminating the need to check the phone after each transaction made by a customer. The private sector can also provide digital solutions for various services such as cataloguing, digital marketing, and integration with ONDC. Megastores, for example, is an online marketplace that provides complete support to artisans for product photography, product descriptions, and quality checks.
Digital commerce for handicrafts needs a strategic push from all stakeholders. The technological architecture provided by ONDC—a digital public good—needs to be complemented with coordinated efforts by the private sector and the nonprofit sector to encourage the e-commerce integration for artisans, thereby expanding their livelihood opportunities.
—
Know more