In February 2022, the Ministry of Environment, Forest and Climate Change issued a notice declaring a ban on certain single-use plastics, including disposable cutlery, balloons, and polystyrene, beginning July. Although this move is a welcome one, its pan-India implementation and monitoring will be a Herculean task, especially in smaller towns and hilly areas.
Reports from NITI Aayog and the World Bank estimate that the Indian Himalayan Region (IHR) now generates more than five to eight million metric tons of waste annually. Uttarakhand and Himachal Pradesh have witnessed more than 400 million tourists since 2010 and are among the worst-performing states when it comes to solid waste management. Poor waste collection and infrastructure leads to more than 60 percent of waste being dumped, burned, or swept downstream into key rivers like the Ganga, Yamuna, and Sutlej.
The aforementioned World Bank report highlighted that there is not enough data available on the quantity and type of waste being generated in such landscapes. The report also confirmed that waste collection systems exist only in urban areas of the mountain states and that collected waste is dumped in open landfills, which are generally located near rivers. This practice disproportionately impacts marginalised communities. Additionally, waste dumping has an adverse effect on the more than 30,000 species of local flora and fauna, some of which are rare and on the verge of extinction.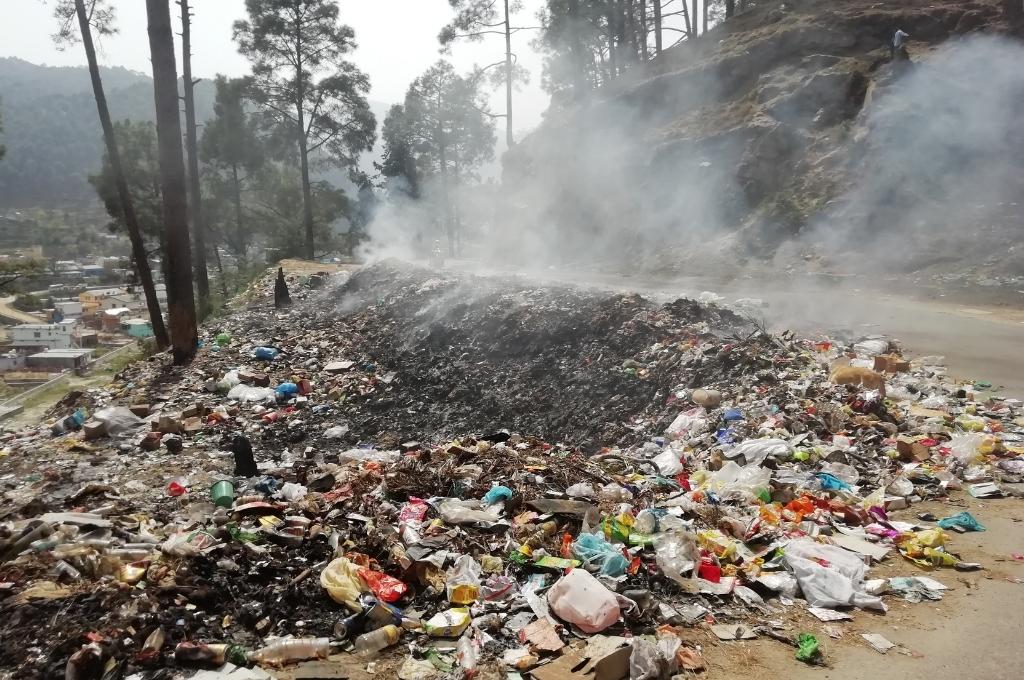 Why is waste such a big problem in this region?
Changing consumption patterns in rural areas
Historically, there wasn't a need for waste management in rural and hilly areas as most of it would be biodegradable. However, in recent decades, both durables and consumables—especially fast-moving consumer goods (FMCGs) in multilayered plastic packaging—have reached most villages in the Himalayas. Household products made of cloth, wood, leaves, bamboo, and other local materials are being rapidly replaced with cheaper plastic products at a large scale. This has led to an increase in non-biodegradable waste generation in rural areas. With no waste collection systems in place, rural residents and authorities are forced to burn waste or dump it downhill and in rivers.
The waste collection data gathered by Waste Warriors, the organisation I lead, revealed that villages with road access to tourist destinations generate approximately 6 kg of waste per household monthly, while remote villages generate more than 2 kg of dry waste per household monthly. For instance, the 5,000+ households inside the Govind Wildlife Sanctuary (a snow leopard conservation area) in Uttarkashi and the thousands of tourists who visit it every year generate more than 15 metric tons of dry waste per month—all of which is either dumped in the forest/river/hillside or burnt. This is equivalent to approximately a truck full of waste dumped and burned every day.
Heavy influx of tourism and single-use products
With more travel options via road, train, and air, tourists are increasingly flocking to Himalayan states. Additionally, they visit more remote rural destinations and trekking routes. Their urban consumption patterns influence local residents to procure and sell packaged FMCGs, PET bottles, and single-use plastics to meet the large demand generated by the tourism, food, and hospitality sectors. This leads to widespread littering, dumping, and burning of waste in and around tourist areas.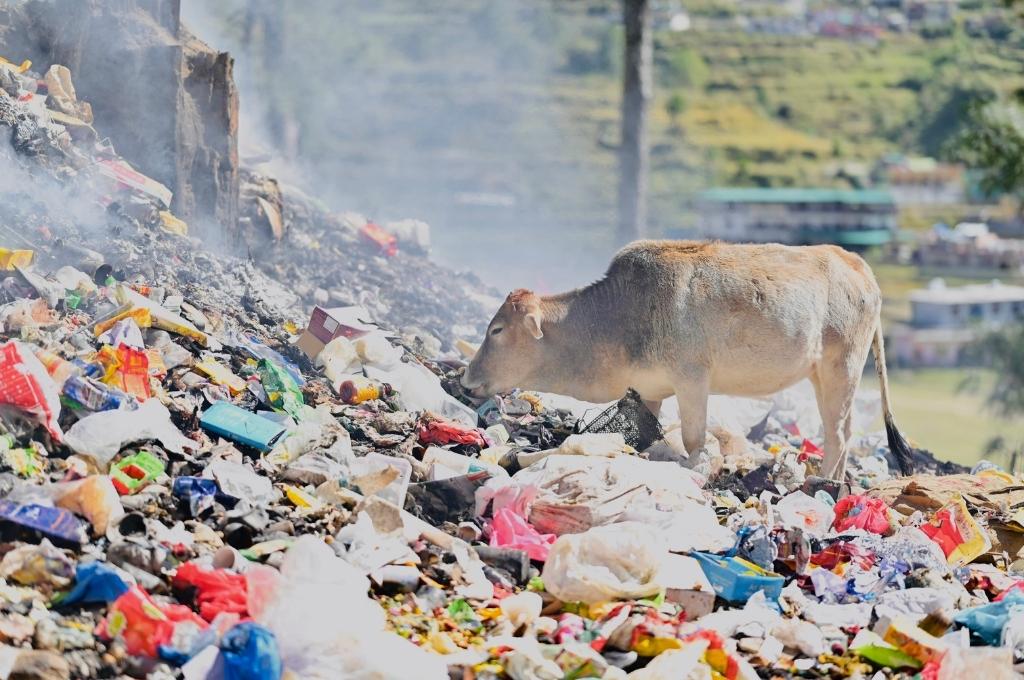 Difficult terrain for logistics and infrastructure
The difficult Himalayan terrain increases the costs of daily operations, complicates transportation logistics, and widens the distance from the nearest recycling factories. The IHR has a dearth of infrastructure for waste collection (vehicles), dry waste processing (material recovery facilities), and wet waste processing (composting or biogas units). The designated informal dumping points are typically near riverbanks so that the waste can get washed away during the monsoon.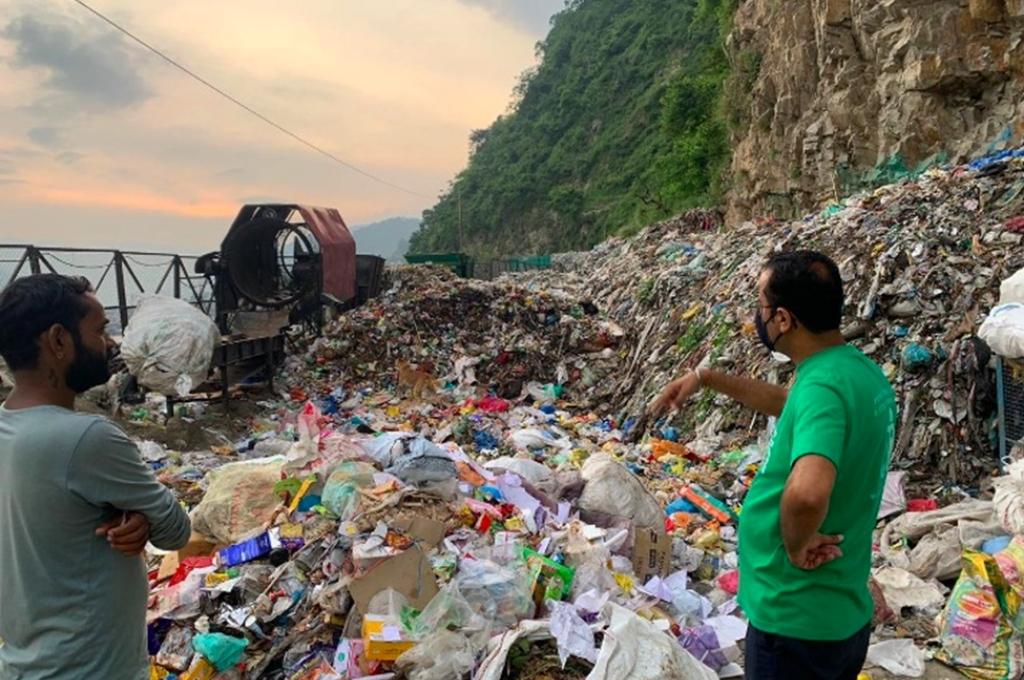 Lack of reach of extended producer responsibility
Even though the Ministry of Environment, Forest and Climate Change has mandated FMCG brands to set up and support reverse logistics for their plastic waste as a part of their extended producer responsibility mandate under the Plastic Waste Management Rules 2016, most brands do not invest in reverse logistics in hilly areas due to the high cost of collection. Moreover, many of the products available in these villages are produced by local brands, which do not have the capacity to invest in reverse logistics. Tourists carry products by the more popular brands with them, and the waste they leave behind does not get collected or recycled.
Lack of policy enforcement and convergence
Waste collection in the IHR is sporadic, and waste is immediately dumped either at designated sites that lack environmental clearance or directly downhill and in rivers. Informal waste pickers and scrap dealers play a major role in material recovery, but only for high-value materials such as PET plastic, metals, cardboard, and glass. Additionally, such waste picking remains limited to urban and tourist areas. It doesn't help that most gram panchayats and village or block development officers are ill-equipped to handle the exponentially increasing waste generation by local and floating populations.
Moreover, while the waste is usually dumped in forest areas, the forest department does not have the mandate to set up waste management systems in village areas. The tourism department invests in setting up dustbins in different tourist destinations, but the collection and processing system is broken.

Another major challenge is the inability of different government departments to collaborate effectively with each other. For example, the Ministry of Drinking Water and Sanitation (through SWAJAL) is in charge of the Swachh Bharat Mission-Gramin, which allocates INR 16 lakh per block for the construction of a plastic waste management unit. Ensuring the optimal utilisation of the funds provided to gram panchayats falls under the purview of the panchayati raj department. However, SWAJAL's mandate is only the construction of the material recovery facility, with little clarity on handover of the responsibility of its operations. Additionally, the gram pradhans are sceptical about utilising these particular grants for day-to-day operations. This is because this kind of activity typically gets approved when there is proof of completion via geotagging. Day-to-day operations, however, cannot be geotagged.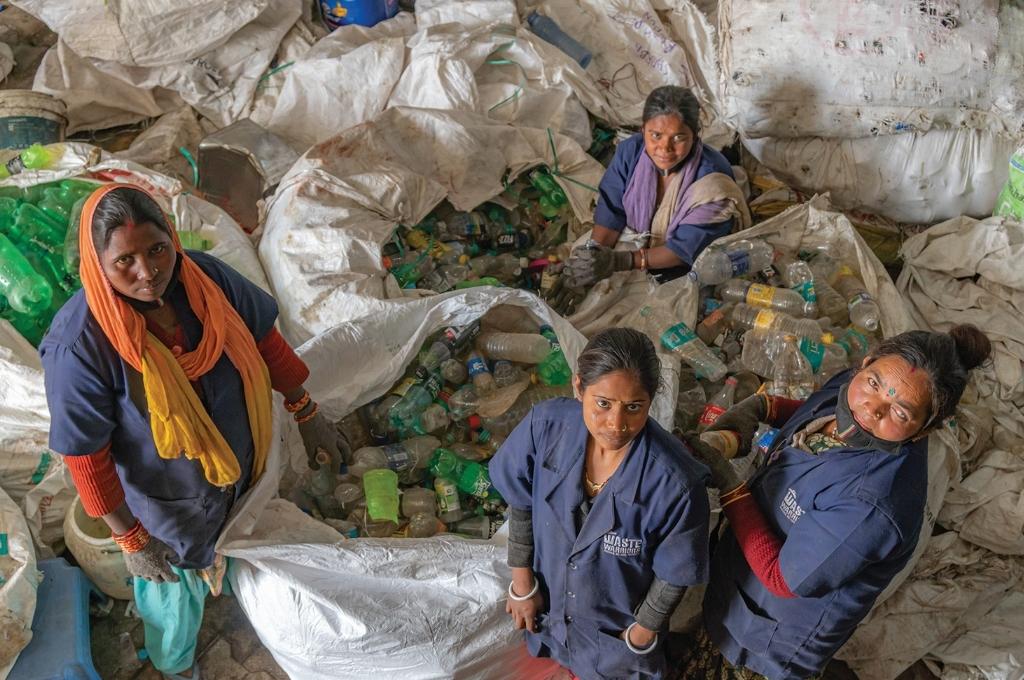 Social stigma and informal livelihoods
There is social stigma attached to working with waste as a means of livelihood. In most urban areas, informal migrant workers are involved in waste collection and segregation. However, rural areas do not attract these migrant workers. In addition to tackling the environmental challenges caused by waste pollution, gram panchayats, village development officers, and national entities such as the National Rural Livelihoods Mission must coordinate and work with rural residents to overcome this stigma and support efforts to generate livelihood opportunities for them in waste collection operations, material recovery, and market linkages for alternative products.
Another important factor to be noted is that the per capita amount provided by the central government to gram panchayats under the Swachh Bharat Mission-Gramin guidelines is insufficient to meet the expenses in hilly areas due to the widely spread-out population and difficult terrain as compared to villages in the plains, which have a much higher population density.
The systemic nature of the problem implies that no singular institution or stakeholder can be held responsible for it. There is certainly an urgent need to solve the waste management problem in the IHR, but the current efforts in this direction are not commensurate with the scale of the issue. Given the significant global investment in tackling ocean plastic pollution, it's time we also invested the required resources to protect the mighty Himalayas.
—
Know more
Read this overview to know more about the work performed by Waste Warriors.
Read this article to know more about solid waste management in the Indian Himalayan Region.
Read this article to understand how plastic pollution is an obstacle to India's net-zero goal.