A recent study by the Institute of Labour Economics shows that while India's working-age population—15 to 59 years old—increased by 9 percent between 2016 and 2019, there was only a 0.7 percent growth in employment. The employment situation has only gotten worse in 2021. The unemployment rate was 32.03 percent in August 2021, which means that nearly every third young person in India is unemployed.
Adding to the problem of employment is the country's low per capita income of USD 1,961. Simple arithmetic tells us that 50 percent of people earn less than this average number. And when you consider the marginalised—women, persons with disability (PWDs), or people from Dalit, Bahujan, and Adivasi communities—many fall below the poverty line.
The issue then of livelihoods, whether it's in the form of jobs or entrepreneurship, becomes paramount if we are to change these statistics. B.S. Nagesh, founder of TRRAIN—a nonprofit that trains young PWDs and women for the retail and services sector—thinks of this as requiring a two-pronged approach of livelihood creation and livelihood enhancement.

According to Nagesh, livelihood creation has a huge impact on families and their income. And first-time livelihood creation for the first person in the family has a still larger impact. For instance, it makes a huge difference to the family of young people with parents who are daily wage labourers, or single parents with no opportunities to earn, when they make their first INR 10,000–12,000. This is particularly true in the case of young women, especially those with disabilities, he says. "When she gets a job, the impact is palpable—because beyond incomes, it gives her independence: the power of not being forced into marriage, the power of allowing her sisters to get educated. This is the true power of livelihood creation."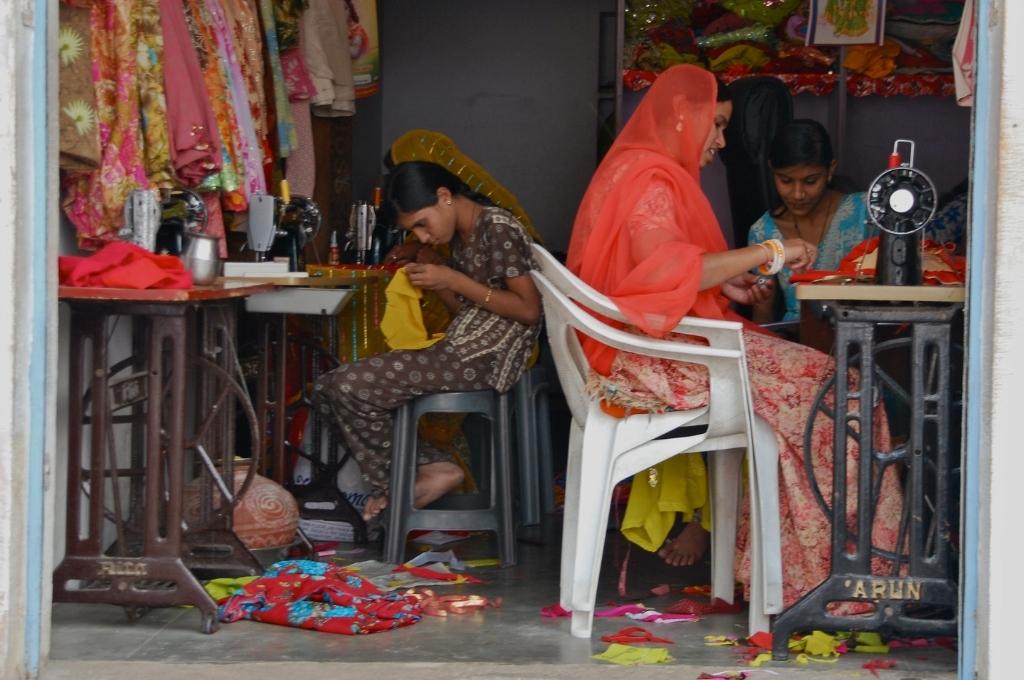 Livelihood enhancement, on the other hand, adds to existing family incomes. "Even though both parents might be earning, it may not be enough to support the family. When one of the children gets a job, it is livelihood enhancement, because in the absence of this livelihood, their situation is likely to become worse than what it was," explains Nagesh.
"The measure of livelihood should therefore consider whether it is a household income creation or enhancement," he adds. And while one has greater impact than the other, both are critical to moving people up the income scale. There are two avenues to do this: formal jobs and entrepreneurship.
The job market does not hold much promise
Even as certain industries are seeing growth—online delivery and logistics, e-commerce, and retail—overall, formal employment has been shrinking, with jobs reducing drastically year-on-year.
Not only do they not have the ability, it is not even their aspiration.
Moreover, many of the new jobs are in areas where there are barriers to entry. As Nagesh says, "If we consider last-mile delivery for online shopping and food services, many women don't like these jobs. Most of our orthopaedically disabled youth cannot take these up, while the speech- and hearing-impaired have challenges working these jobs. Most importantly, though, this is not what young people want to do. Not only do they not have the ability, it is not even their aspiration." Additionally, the type of jobs available today do not allow for much upward mobility. "Their current roles bring in income, but do not help them move closer to their aspirations," says Nagesh.
Youth are becoming entrepreneurs, but not always by choice
More and more young people are therefore becoming micro- and nano-entrepreneurs, not out of choice, but because they have to earn a living. Many of them might start by selling vegetables or fruits from a cart, or tea and snacks. Rajendra Joshi, founder and managing trustee of Saath, a nonprofit that works with the urban poor, says that he is beginning to see larger numbers of people doing this. "And it is not restricted to urban areas; we can see it in semi-urban areas as well," he says.
If this kind of entrepreneurship is increasingly becoming a dominant source of livelihood, what is required to make it sustainable?
We must realise that the goal of livelihoods is to build resilience, rather than just an increase in incomes.
First up is skills. Joshi says, "We take for granted that these young people have the ability to succeed as nano-entrepreneurs. But most of them need to learn skills of communication, marketing, inventory control, and how to manage their accounts. Even in a micro context, how can they build their brand? How can they increase their customer base?" In almost everyone, he says, some of these skills are missing, and that is what stops them from growing.
The focus, he adds, must therefore shift to resilience. "We must realise that the goal of livelihoods is to build resilience, rather than just an increase in incomes." Resilience comprises several aspects—it is not only how much a person is able to earn per day or per month, but is also about updating one's skills, as well as having the right kind of documentation that allows you to access schemes, finance, markets, and supply chains, especially if they are in the informal sector.
One must think beyond incomes
Usually, the most common indicator in livelihoods is how much the income has increased. When incomes increase for the middle and upper classes, they take advantage of an existing ecosystem—one that allows them to get loans and access quality healthcare for their families and education for their children. They take these for granted.
For lower-income families, however, an increase in income does not necessarily mean an improvement in living conditions. Do they have access to drainage and sanitation so that their families do not fall sick often; will they get access to loans; how much time do they still have to spend collecting water?
If they can get what they really want, they may not really ask for income increases.
This income-as-just-a-means-to-an-end thinking is corroborated by Satyan Mishra, co-founder and managing director at Drishtee, a nonprofit that works with rural entrepreneurs. "When you ask people why they need an income and probe deeper, they will say they need it for other things—to pay for their children's education, ensure food security for their families, access medical care, and so on. If they can get what they really want, they may not really ask for income increases. So, the concept of income alone is a little misplaced. Because when we talk of livelihoods, we are pushing them into the mindset in which we are—that they need jobs that will provide them an income. We urban people think of security as being paramount. But this is not necessarily how rural India thinks."
In rural India, entrepreneurship is expanding
According to Mishra, villagers have always been far more entrepreneurial than their city counterparts. They consider what their family's needs are, and what they have to do to meet those needs. Mishra also noticed that most parts of rural India had a range of skills available within the community, they had time, and they had aspiration. And that when you put the three together, you could produce more.
Having understood this, Drishtee shifted its focus from helping entrepreneurs just increase their incomes to the process of production. Mishra outlines this clearly. "We have to think of villages not only as receivers, but also as givers. We have to grow this circle of trust, like a prosumer society where people can be both producers and consumers. Because in the village, every producer is a consumer and vice versa."
This aggregation of entrepreneurs and products at the retailer level, however, must happen organically.
We cannot expect smaller village entrepreneurs to compete with the likes of entrepreneurs who sell on Amazon and Flipkart—in terms of volume, investments, turnaround times, or even understanding of the market. But there is local demand that they can cater to. And one way to reach them is through local retailers. According to Mishra, these retailers can help the producers standardise quantity, assist in packaging and marketing, and, more importantly, reach a customer base much larger than any individual entrepreneur can ever hope to tap.
This aggregation of entrepreneurs and products at the retailer level, however, must happen organically and not be based on pre-existing collective structures, where capability and aspirations might be an issue.
"We have seen people converting self-help groups (SHGs) into producer groups, but that does not work. SHGs come together for a different purpose—to save money. You cannot assume that they are all interested or skilled in making a piece of apparel. The aggregation therefore cannot be physically driven—it must leverage technology to virtually aggregate the produce and sell to local retailers," explains Mishra.
Bring formality into informal systems
Newer forms of collectivisation can also help bring in the benefits of formality. Saath has been working on creating a platform that helps small entrepreneurs build resilience. They call it a business gym, because unlike a traditional skilling programme where all skills are sought to be enhanced, this platform strengthens a particular skill/muscle of the entrepreneur, such as marketing and finance. It also provides them access to documentation, various schemes, customers, and supply chains, and the ability to sell to a wider market.
As a society, we need to understand the importance of the country's informal sector.
This access to documents and the building of a supportive ecosystem will help the informal sector become more sustainable. As a society, we need to understand the importance of the country's informal sector. It contributes to 50 percent of the gross domestic product (GDP), and 81 percent of livelihoods are created here. It therefore requires a change in mindset among policymakers, business, and society, as well as increased levels of investment.
According to Joshi, we must aim to bring in more formality to the sector. "I don't mean absolute formality, because then you will have so many standards in place that most people won't make the cut. But the sector needs to be formalised to the degree required, so that it can become more resilient," he says.
When self-esteem increases, everything changes
When individuals have documents, along with the necessary skills, and their roles become more formalised, they begin to see themselves differently. They say, "I am not just a street-side vendor; I am registered, I have documents, I have skills," says Joshi. And when they view themselves in this manner, their self-esteem goes up, and it adds to their dignity.
Joshi, who has been working with residents of the Ahmedabad slums for several decades now, says that what often holds people from lower-income groups back is the societal gaze, which they internalise. They are told that "there is something wrong with them, 'which is why you stay in slums or work in the informal sector'".
They know that while they may take the support of a nonprofit, or avail of a government scheme, it is they themselves who have been able to change their lives.
"When we work with them," says Joshi, "they begin to understand that there are various structural issues at play that keep them where they are. More importantly though, they realise that they have skills. That while they may take the support of a nonprofit, or avail of a government scheme, it is they themselves who have been able to change their lives. And this makes them realise that they are not second-class citizens of the city. But the opportunities should be available. And these have to be created."
To explain it further, he uses the example of women in Gujarat. "Until a few years ago, women would spend four-five hours a day just collecting water even in urban areas. That is a loss of productive time. When water was provided at a household level, these very women could go out and work and earn a living." Two major changes followed: their family incomes increased, but more importantly, they began to see themselves as contributing members of the family, rather than just people whose purpose was to collect water.
For much of India, livelihoods are intimately linked with the socio-economic factors that go beyond income or the lack of it. To think about them and plan for them requires a deeper engagement that the various stakeholders in livelihood programmes—government, business, civil society—often do not consider. Increasing income has only an interim impact. If they start thinking of what the final impact should be—entrepreneurial capacity, dignity, self-esteem, resilience—and where they should be putting their money, only then will we begin to see real change.
—
Know more
Read about the aspirations of low-income youth and actionable insights on how vocational training can help address some of those aspirations.
Here's why we need to move beyond economic measures if India wants to tackle inequality.
Read about why India cannot achieve the growth it wants without reducing income, gender inequality.