Uttar Pradesh, India's most populous state, is the second worst performing state on the UNDP's human development index. Its eastern region—also known as Purvanchal—is particularly underdeveloped and home to some of the poorest people in the country. Three of its districts, namely Shrawasti, Bahraich, and Balrampur, have more than 69 percent of their population classified as multidimensionally poor by the NITI Aayog.
Given these extreme levels of poverty, a significant percentage of the men in these regions worked outside the state before the spread of COVID-19. And we know that the national lockdown on March 23, 2020, brought many of them back home to their villages.
The first wave led to increasing mental health issues and limited recourse
During the start of the pandemic in April–May 2020, when migrants returned to their villages, the focus was on ration and relief. According to Deo Datt Singh, director of operations at PANI—a nonprofit that works extensively in the districts of eastern Uttar Pradesh—the families and villages of these workers welcomed them even though there was some apprehension of them bringing the virus back from the cities.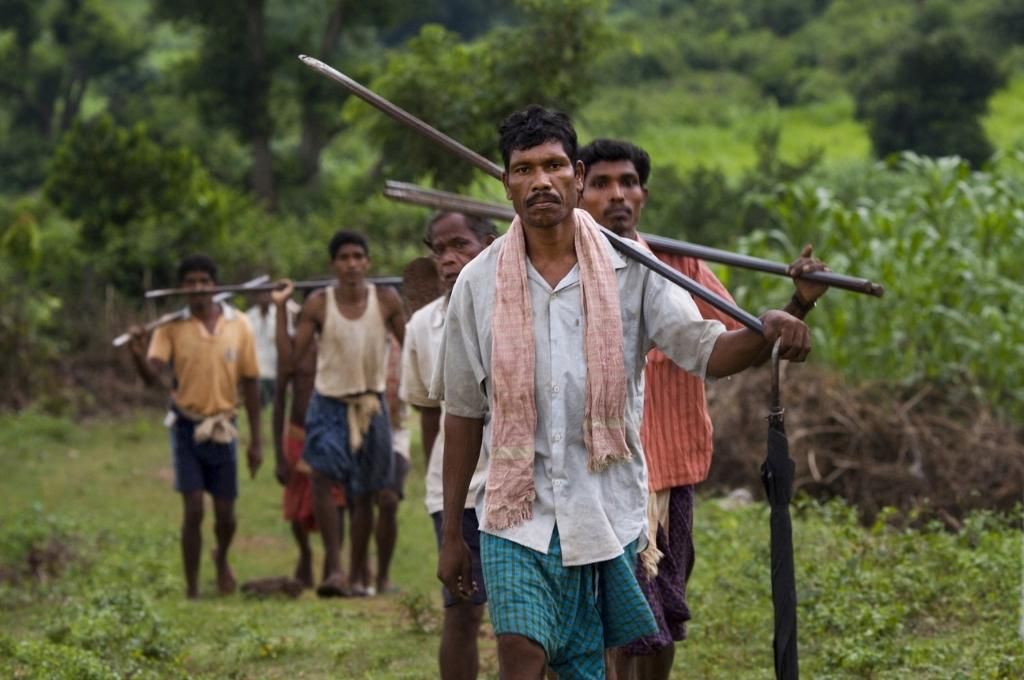 In a couple of months, however, he says, things started changing. "The substantial increase in the number of people in the villages due to the returning migrants started putting pressure on food and work. Locals were afraid that the migrants might start claiming a stake in their properties because they were now staying here. Quarrels broke out in homes and people were worried about how they would produce enough to take care of the whole family on their limited land."
On the migrants' front, the adjustment was equally hard. Of those who had returned, there were two categories: the first included those who were willing to do mazdoori and non-skilled work—they availed of work under MNREGA and got their rations from PDS; hence, they were able to survive. The second segment comprised semi-skilled workers—those who had worked in Gujarat in diamond polishing, saree manufacturing, and so on. Deo Datt says that this adjustment was harder for them, and they started developing psychological issues and mental trauma.
While locals were able to connect to some form of work, and secure rations and entitlements due to the work of nonprofits in the region, there were no facilities or access to mental health treatment in most places in eastern Uttar Pradesh. Additionally, whatever was available was too expensive. Noticing the prevalence of mental health issues among an increasing number of migrants, PANI started arranging for counselling and even clinical treatment where required.
When the workers living in cities and towns returned home, PANI had started creating a database of the migrants—mapping the villages they had returned to—and meeting them individually and in groups. They also organised health camps, primarily to arrange medicine and check-ups for people who might be putting off treatment or medication for their diseases because of lack of money and no access to healthcare facilities at this time. The government health centres were focussing entirely on COVID-19 specific issues because of the lockdown. That's when they began noticing anger issues, anxiety, and stress among people.
"We started engaging psychologists who helped draw up questionnaires that would enable us to identify if someone was going into depression. Then we'd invite them for short individual sessions, some of which were online. We picked out people who were showing symptoms like insomnia, anger, and poor appetite, and gave them help. Critical cases were referred to big cities like Lucknow and Varanasi," explained Deo Datt.
Some went back to the cities; some stayed behind
When the first wave receded and lockdown was lifted in parts of the country, some people were ready to go back but many weren't. These included those who had come back after facing a great deal of hardship and were scared of enduring it again if there was another lockdown. According to Deo Datt, the other set included those who were older, say, above 55 years, who had decided to just stay on now that they were back. The young men mostly all returned.
We observed that those engaged in hard labour tended to age faster due to wear and tear.
He cites PANI data to show the trends. The organisation had worked with 55,000 migrant labourers until 2018 and had kept track of these people since then. From this list, around 7,000 workers had returned to their villages. When PANI surveyed them after three months, 4,000 of these had gone back to the cities. The remaining 3,000 who had stayed behind were all getting on in age and weren't able to do any skilled work.
Deo Datt says, "During those times, we had observed that those engaged in hard labour tended to age faster due to wear and tear. So those who were older, unskilled, and not up to physical labour any more stayed behind. Those whose families supported them after they came back also didn't leave."
Government entitlements increased significantly during this time
Between the first two waves, people got double rations, MNREGA was actively encouraged, and the government started providing Ayushman Bharat gold cards with a health cover of INR 5 lakh. "Earlier the BOCW card gave labourers benefits under 14 schemes. Now under the government's e-SHRAM card there was a promise of getting INR 500 every month. All these became hugely popular and many people approached us to get these immediate tangible benefits," says Deo Datt.
According to him, the driving force for this release of entitlements was election-related. "The state of Uttar Pradesh had panchayat elections in February 2021, and existing panchayats and their members worked hard in the run-up and during COVID in the hope of getting re-elected. However, some of them couldn't recontest because certain seats were reserved for women and SC/ST categories. The new panchayati raj institution (PRI) members who got elected were also committed to working for their communities in these difficult times. They would hold camps in villages where people could come for their entitlements and applications. As a result, the villagers benefited from the efforts of both the outgoing and incoming PRIs, and the uptake of schemes was great."
Nonprofits pivoted to providing social security benefits
With both the state and citizens focusing on government schemes, several organisations working on education, agriculture, livelihoods, and gender also incorporated working on government schemes as part of their core programmes. For the duration of the lockdowns, social security schemes became their primary work.
They did this for two reasons: (a) this was where the demand and urgent need came from (that is, the people ravaged by loss of livelihoods), and (b) work in the nonprofits' core area of expertise had stopped or slowed down, especially if they had been involved in education, water and sanitation, gender training, etc. Most nonprofits being community-centric listened to what their constituents were asking for and adapted their models to address this need for welfare benefits. They were able to gauge and pivot quickly to the needs of the people in distress, and respond to them in real time. They also realised that donors were open to funding this kind of work.
What can funders do?
Support what the people want
With the strong push from the government to deliver welfare schemes to its citizens, people are focused on procuring their identity documents that verify their gender, income, caste, domicile, disability, and so on. These are the first-step documents for anything that people want to access in the government or private sphere.
Most companies want to allocate their CSR funds for vaccination but not for long-term livelihood sustainability.
According to Aniket Doegar, founder of Haqdarshak—an organisation that helps people access benefits and entitlements due to them—the first point of demand from the communities he's worked with is always around documentation. This is because caste certificates help men access their land rights, allow their daughters to avail of a scholarship, and enable their parents to get pensions. "The demand is for Aadhaar and PAN cards, linking of their documents to their bank accounts, and birth and caste certificates. It would help the local communities if funders— philanthropic foundations as well as CSR—could step forward to fund these documentation needs of the people," he adds.
Deo Datt says that philanthropic funding for long-term development of communities just isn't available. Most companies want to allocate their CSR funds for vaccination but not for long-term livelihood sustainability or community-resilience programmes.
Collaborate with banks and the financial system
While there is an increasing amount of collaboration among funders, nonprofits, and governments for specific projects, there is a need for the development sector ecosystem to start engaging with the financial system as well.
This is key because there has been a growing and significant demand for credit in rural India. According to Aniket, be it farmers, construction workers, or someone in the gig economy, the Haqdarshak team has observed that the overarching need among the people they work with is of how to access credit. "Formal credit tends to come through a financial institution, as does money from government schemes, which comes via banks. And there is almost no relationship between the funding ecosystem in our sector and banks. Most of the CSR or philanthropic foundations do not want to collaborate with the big banking systems and really unlock the power of welfare programs. But that is what citizens want," he says.
Invest in training and technology
Aniket also re-emphasises the need for funders and nonprofits to invest in understanding how government schemes can be delivered equitably, especially in districts that have poor human development indicators. According to him, this segment hasn't received as much attention as other sectors such as education, healthcare, water, and so on. "The social security space is nascent in our development sector. There hasn't been enough investment in aspects of building platforms, conducting trainings, investing in technology, and sharing data. We have moved straight to the outcome—of wanting people to get immediate financial benefits without making the necessary investments," he adds.
The need for sustainable financial support is massive in this part of the state, given its multidimensional poverty and the complex intersections of caste, religion, and income. In addition to providing sustainable and long-term livelihood opportunities, it is equally vital that these most vulnerable citizens are onboarded on to government systems, so that they can avail of the benefits they are entitled to.
Know more
Read the ILO's policy brief on protecting migrant workers during COVID-19.
Read this article on the effects of COVID-19 on Indian migrant workers.
Read this article for more information on migrant workers in India.