"Hum ek security guard the. Thekedaar ne humare paisa le liye aur likhit mein humse le liya ki koi paisa dena baaki nahi hai. Shikaayat karne ki himmat nahi hui kyunki usne mujhe jaan se maarne ke dhamki di." (I am a security guard. The supervisor has not given me my wages, and made me sign a no-dues document as well. I am too afraid to complain since he has threatened to kill me.)
—Manohar Lal Kashyap, Jhajjar, Haryana
"Daftar ke bahut saare chakkar kaate, abhi tak ration card nahi bana." (No matter how many times I go to the office, I still can't get a ration card for myself.)
—Grievance from Nalanda, Bihar
"Na toh ration card na awas yojana ki suvidha mil rahi hai." (I have not been able to receive the benefits through the ration card or the Awas Yojana.)1
—Radha Devi Jeevika, Nalandar, Bihar

All of this—lost property, swindled wages, and denied entitlements—gets captured in government and policy terms as 'pendency', that is, the time taken for cases to go through the system. However, an overall lack of trust in the justice system and its related components—the police and the local government—has led to a state where many citizens don't end up approaching formal systems, and millions of justice needs never see any resolution. Such cases do not get accounted for in pendency statistics. This is a real calamity.
This state of affairs is not surprising. What is disconcerting is how we frequently default to believing that all of this can be solved by superior government systems, well-functioning courts, and legal aid. The worst phase of the pandemic showed us the reality of the situation on the ground. When the going got tough, the solutions were mostly local. #CovidSOS and #CovidEmergency became popular hashtags for Indians searching for hospital beds, ventilators, and oxygen cylinders. Responses were flowing in from websites, apps, volunteer groups, and chatbots—all tools that were built almost overnight. While influencers pushed inquiries, nonprofits and ad hoc volunteer networks responded to them. Without any system, structure, or training, citizens organised themselves to fill in some of the gaps in our healthcare system.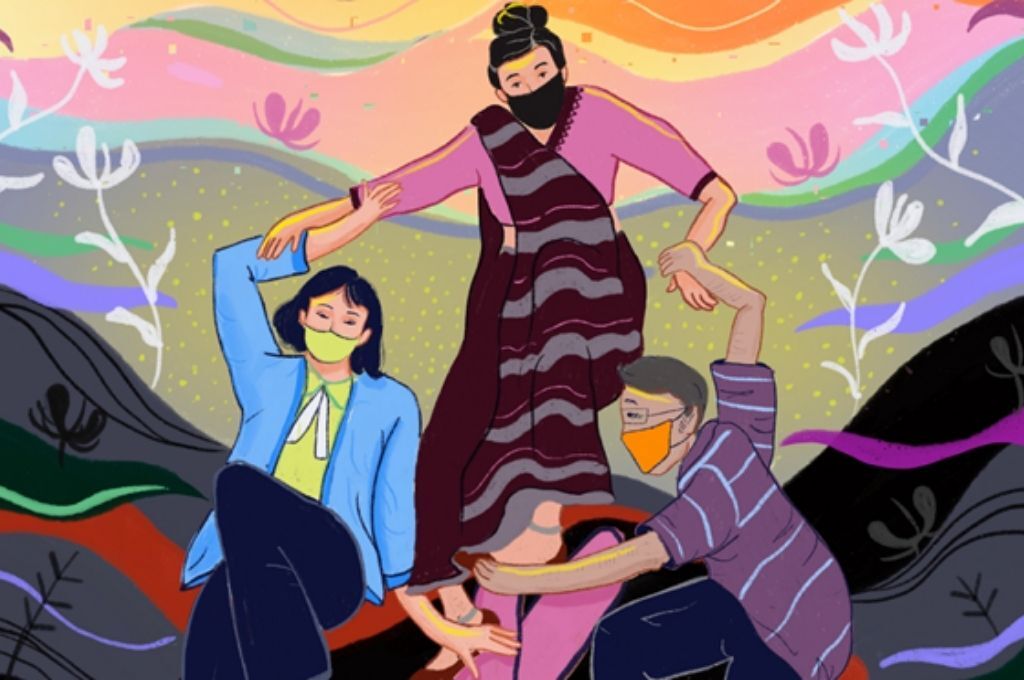 This is not to say that the healthcare centres and government services did not play a critical role. However, we would be sitting on a far greater calamity if the local response, almost entirely from citizens, had not materialised. The same is the case when it comes to issues of justice. If we look more closely, we can find numerous examples of local responses that bubble up and address people's justice needs to the best of their ability with the resources available to them. Some examples include:
1. Hybrid mediations
In West and Central India, Aajeevika Bureau used hybrid mediations to recover unpaid wages of informal workers during the first lockdown in March 2020. They raised claims to employers through the phone, and if they were not resolved, Aajeevika Bureau escalated claims to physical mediations. In the span of two months, they helped recover INR 1.35 crore as compensation.
2. A phone helpline
Mobile Vaani, an IVR helpline and mobile app by Gram Vaani, sends outward calls disseminating information on government entitlements and also allows people to call and register complaints. Once the complaint is registered, a case manager or volunteer trained in grievance redressal and government schemes is allocated to extend support to the caller. The platform also undertakes regular surveys to collect feedback, and understand the requirements and expectations of callers. Mobile Vaani receives more than 10,000 calls every day from districts in Bihar, Jharkhand, Uttar Pradesh, Madhya Pradesh, and Delhi.
3. Volunteer-led support model
In Madhya Pradesh's tribal belt, Zenith Society for Socio-Legal Empowerment's volunteer-led model enabled the organisation to facilitate the travel of 40,000 migrant workers during the lockdown in 2020. It also helped the government provide sewage equipment to workers to prevent manual scavenging and rehabilitate displaced families. Additionally, it helped register thousands of migrant labourers on the e-shram portal, which is a centralised database for unorganised workers. Even after leaving Zenith, many volunteers continue to work in their communities.
4. Grievance redressal
In Bihar the Jan Shikayat (people's complaint)—set up by the Bihar Right to Public Grievance Redressal Act—allows people to file any grievance they have against the state. These are quasi-judicial forums that focus on practical and expedient solutions to citizen grievances based on their needs rather than treating all these as determinations of a legal question. Grievances resolved by the Jan Shikayat range from accessing scheme entitlements to issues with government officers behaving rudely with citizens.
There is a need to identify and recognise local justice innovations, and replicate them across the country.
In aggregate, these solutions address more justice needs every year as compared to our legal aid system, which in the last two decades has dealt with only 15 million cases. Currently there are more than 40 million cases pending before our courts. For example, in the last two years, one private online dispute resolution (ODR) platform, SAMA, alone has processed more than 1.1 million cases across 437 cities in India.[2] Cases resolved by SAMA include insurance claims, loan defaults, domestic violence complaints, and e-commerce consumer disputes. Paperwork, coordination between parties, almost everything related to these disputes is managed by students and law graduates. Cases are resolved by citizens trained as mediators and arbitrators.
Therefore, there is a need to identify and recognise such solutions, and replicate them across the country so more citizens can benefit.
What do we need to make this possible?
1. Partnerships for public purpose
In several situations the government has realised the power of harnessing private innovation for resolving justice needs. In 2020, the Delhi Legal Services Authority collaborated with SAMA and conducted India's first online lok adalat that helped settle cases of approximately INR 46 crore. Several states followed suit, and today more than 24 states in India have conducted online lok adalats.
In other examples of partnerships, earlier this year the Haryana Real Estate Regulatory Authority signed an MoU with the ODR platform Jupitice to digitise grievance redressal systems. Aajeevika Bureau, in collaboration with the Rajasthan government, now runs a toll-free national helpline for workers in distress.
We need more partnerships that combine the power of private and local innovation with public infrastructure and intent.
2. Identifying and supporting local justice innovation
We need to make the search and support for local justice innovation a priority. Foundations and CSR should allocate money not just to scale well-known justice service organisations but also to support the search and engagement of other local responses. One way of scaling justice innovation is impact investing in social business models that charge a modest fee for their services. This includes organisations such as Haqdarshak, a tech platform facilitating economic justice at the grassroots in India, and SAMA. Aajeevika Bureau too has seen some success in the case of paid paralegal work. Lawyers can play a role in identifying, shaping, and enabling impact investment–worthy models.
3. Creating public goods to enable local justice innovation
Public goods are goods and services that are made available to everyone at no cost. While public goods are valuable in of themselves, they can also be preconditions for innovation. For example, open data sets are increasingly seen as a vital public good in many sectors, especially in law and justice. They drive research, policymaking, and innovation. One example of this is the zombie tracker. Created by the Internet Freedom Foundation and the Civic Data Lab, the zombie tracker is useful because it highlights how many times a repealed law is being used to prosecute citizens. Open data sets are also essential for training AI models that could be used to simplify legal work. Justice Hub is an open-source platform that facilitates the sharing of crowdsourced data sets from a community of law and data researchers, practitioners, and enthusiasts.
4. Empowering young people to solve justice issues
Young people can be quite motivated to solve the problems they see in society, but they may be unable to identify clear pathways to solving justice issues. We need to equip them to see law and justice differently—as accessible and shapeable.
Here is where organisations such as Zenith and Reap Benefit come in. Reap Benefit's programme Solve Ninjas directs young people to build local solutions to problems faced by their communities. The ninjas identify local civic issues, collect quantitative and qualitative data on the problems, come up with solutions, and share it all with local authorities. So far Reap Benefit has activated more than 52,000 Solve Ninjas and developed more than 300 civic innovations, such as waterless urinals in government schools or DIY plug-and-play air quality monitors. To date 60,000 civic actions have been executed by the ninjas.
We need to move away from the perception that solutions that emerge from the ground are only worth it if they are adopted by the government or by other private players that can operate at scale. We need to equip our youth with the skills and tools to develop local, innovative solutions.
—
Footnotes:
Grievances received through Gram Vaani's Mobile Vaani helpline.
Statistics provided by SAMA.
—
Know more