I am Ratan Lal Regar, a social worker from Bhilwara district, Rajasthan. I started working with civil society groups in 1998 when I was still a student.
There are many government schemes and policies that do not reach marginalised communities due to various bureaucratic hurdles. As a social worker, my motivation has always been to make these benefits available for the people at the lowest end of the social hierarchy. I visit them, understand their problems, and help find an appropriate bureaucratic channel to solve these problems.
A major part of my learning as a social worker happened in 2003–04 when I worked with the Dalit activist Bhanwar Meghwanshi. I had gone to speak with the family of a person who had met with an accident, but the family was struggling to make a financial claim for it. Once we figured out the problem we went and met the authorities with Meghwanshi's help, and the family got a claim of INR 80–90,000. The experience gave me so much joy that I asked myself, "Why not do more of this kind of work?". There are so many people in need but they do not know where to address their concerns, which officer to speak to, what department to go to; they do not know the correct route. To change this, we kept working as a group of volunteers, visiting families of affected people whenever we came to know of an incident. Eventually, in 2007, I got involved with Mazdoor Kisan Shakti Sangathan (MKSS) through Meghwanshi and met social activists such as Nikhil Dey, Shankar Singh, and Paras Ram Banjara.

Now MKSS is one of the many organisations I work with. I also work closely with the Foundation for Ecological Security (FES) in various capacities across villages in Rajasthan. I mainly help raise awareness about issues such as protection and use of common resources and sustainable agriculture. I support FES in awareness programmes such as Prashasan Gaon Ke Sang, a yearly initiative by the central government aimed at facilitating village communities to hold panchayat-level functionaries accountable. I have also been participating in the Jawabdehi Yatra, a rally across districts in Rajasthan where various civil society organisations and unions gather to demand jawabdehi kanoon (social accountability law) in the state. The law will allow common people to file complaints, participate in the redressal of their complaints, have their complaints redressed within a clear time frame, escalate their complaints in case of unsatisfactory redress through an independent appellate process, and participate in social audits of government schemes and institutions. The first yatra was a 100-day event in 2015–16; I could attend it for only a day. I was more involved in the second yatra which was scheduled from December 20, 2021, to February 2, 2022, but came to a halt on January 6, 2022, due to COVID-19.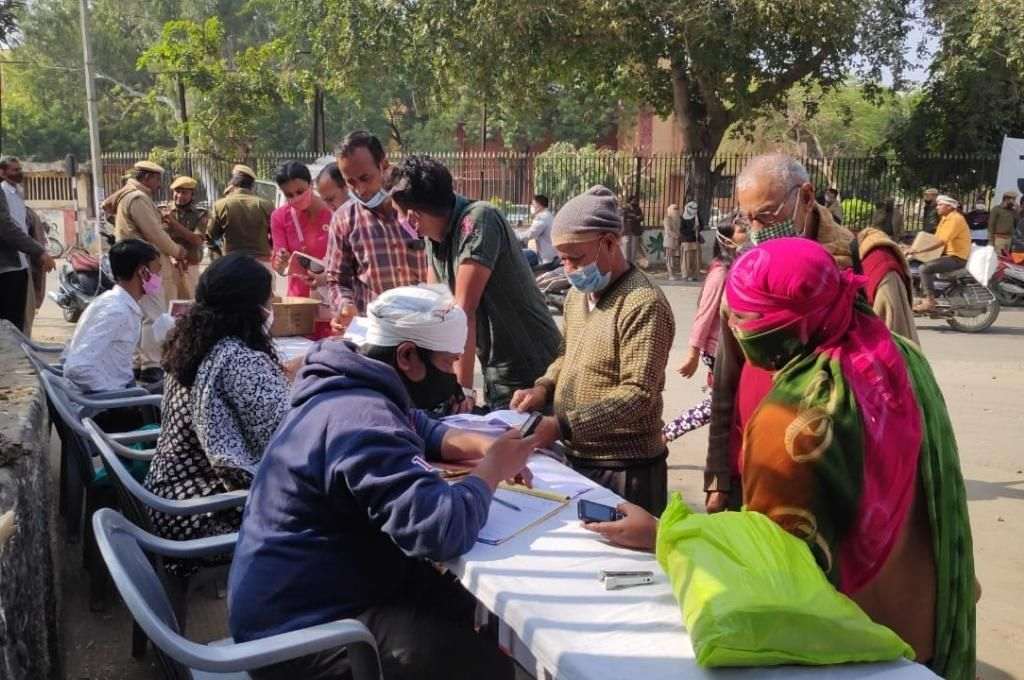 5.00 AM: When I am at the yatra, I wake up early, have breakfast and tea with the group of workers and organisers, and discuss a route chart for the rally. After getting permission from the local authorities, we take the rally out from a particular city in one district of Rajasthan to another in vehicles decorated with banners. The vehicles with yatris (fellow travellers) halt at a site for a day where we organise sabhas (assemblies) where community members register and voice their grievances.
This year I joined the rally when it reached Bhilwara on January 4. In the past the yatra has seen huge participation from community members, with almost 500–700 women voluntarily joining the rally at various points. This time we had to limit the crowd because of a ban on gathering of more than 100 people due to COVID-19.
10.00 AM: There are nukkad naataks (street plays), puppet shows, and songs performed by communities such as the Manganiars and the Bhils. They help in spreading awareness about the jawabdehi kanoon and the problems faced by the communities. Cultural performances are an integral part of the yatra because they attract crowds and make passers-by stop and take notice.
Just as an army has a band to keep the energies up, the Jawabdehi Yatra also has its own band of performers who prepare for a month before the yatra starts. They come from various communities and often from the performer castes. The Manganiar group that performed this year, for example, makes a living from singing at the Jaisalmer Fort. These various communities come together to present their concerns at the yatra.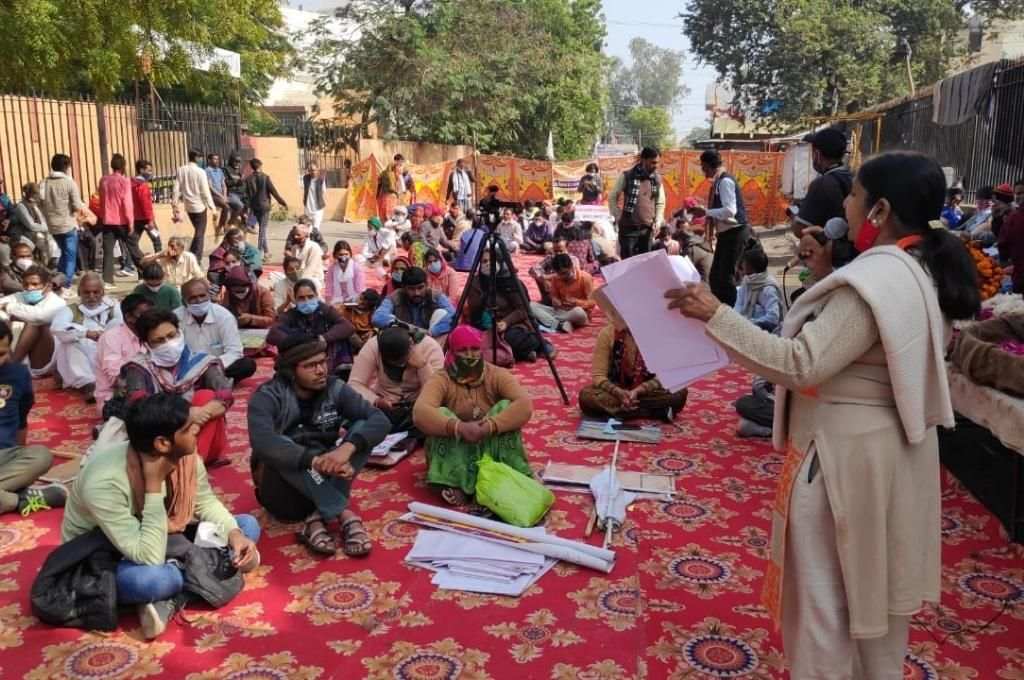 11.30 AM: Our intention is to turn the rally into a sabha wherever we go. As the sabha begins, there are public addresses where volunteers and community members take the stage to speak about a myriad of problems, including delay in receiving pensions, lack of water, and difficulty in getting ration. In Bhilwara district, I was an orator. I spoke about the many complaints I had gathered from the villages I visited. These included cases related to MGNREGA where people had not received money due to mis-seeding of Aadhaar.
In our villages, people are still struggling to understand how MGNREGA works. Just yesterday, we met a construction worker told us that the rural employment scheme is pointless; it has just been devised to swindle money. When we delved deep into the matter, we found out that he had worked at five different sites but had not been paid despite following the necessary process and reaching out to the authorities.
There was another curious case about a land dispute in my village, which will give you an idea about the absurdity of bureaucratic mishaps. A man had three sisters and two brothers, and a single piece of land in their father's name. After their father's death the land should have legally been passed on to the five siblings and their mother. But what happened instead was that the sarpanch or patwari registered the girls twice in the land document—once as sisters of their father and once as daughters. When the family got a duplicate copy of the land document, they realised what had happened. To resolve this I spoke with the patwari, who said it will require a certain amount of money to fix the issue and he will have to pay people above him as well. During the Jawabdehi Yatra, I brought up this issue. If the gram panchayat or the government officer is at fault, why should the people suffer?
12.30 PM: We set up grievance redressal camps in every district to register, track, and bring the grievances of citizens to a logical conclusion. There are dedicated desks for different categories of issues such as complaints related to revenue, MGNREGA, and women's oppression. This year I alone carried 10 complaints and when I went to register them, my token number was 170 in the queue; you can imagine the number of complaints the yatra gets.
The complaints are noted down according to categories in the register; then we visit the appropriate authorities such as sub-divisional magistrate (SDM) or district collector as a delegation to forward these. The authorities take the complaints and provide a receipt which we give back to the community members; the community members can follow up on the status of their grievances even after the yatra is over. In Bhilwara this year I was a part of the delegation that went to meet the authorities; one of the complainants received a call from the patwari later, which shows that there is progress.
4.00 PM: We are done with the day's proceedings by early evening. As we wrap up, we start moving to the place where we will spend the night. Now it is time to decide the course for the next day. Those who work on spreading awareness through music sit down to write their songs and slogans. I work on the banners and pamphlets because I have prior experience in poster design. You can say that pamphlet designing is my hobby. I used to work at a printing press in Jaipur as a DTP operator, but I gave up that job to take care of my family as my parents are growing old now.
There is no stopping when you work for the people.
When I am not at the yatra I take up various jobs to make ends meet, which includes working as a volunteer with the Rajasthan state government's e-mitra project, as volunteer and facilitator with various nonprofits, and also as a farmer in our mustard field.
11.00 PM: We usually spend the night at a dharamshala—a rest house arranged by the local members for travellers; if that is not available, we look for cheap hotels. I am exhausted after the day's work and so are my fellow yatris, but there is still another day to look forward to.
There is no stopping when you work for the people. Initially my family was hesitant about the risk that this kind of work carries. My wife is one of my biggest supporters now; she sees value in the kind of work I do. My parents are still a little scared; they think I will make enemies in our village this way. I understand their fears. This is the same fear that stops so many people from coming forward and registering complaints on their own, which is why we exist as a bridge for them. Villagers are scared that people might cut their water or electricity supply out of spite, which is not unheard of.
However, I have seen changes happen in front of my eyes. There are 500 houses in our village that belong to different communities. When we, our fathers, or grandfathers would go and drink tea at people's houses, we would have to wash the cup afterwards because of the caste discrimination that we face. Now we do not do that. As you can see, there is a mindset change. My own perceptions changed during the course of my work, especially when I was involved with Meghwanshi. When I was young, I remember we would get off our cycles if an upper-caste, Rajput person passed by; now I know my rights. As we continue to fight for and demand what is rightfully ours, the situation will only improve.
As told to IDR.
—
Know more
Learn more about the aims and objectives of the Jawabdehi Yatra.
Read this interview with social activist and the architect of India's RTI Act, Aruna Roy, where she speaks about what it takes to sustain truly participatory movements and why we must fight for our democratic right to dissent.