Read the Marathi version of this article here.
I am Priti Bele, a community resource person (CRP) for my village Murli in the Ghatanji block of Yavatmal district, Maharashtra. I am a single mother of two young children and shoulder multiple responsibilities, including being a parent, homemaker, and provider for my family.
Ghatanji is in the drought-prone Vidarbha region—an area characterised by agrarian distress, which affects rural livelihoods. This crisis has compounded over the years due to excessive use of chemicals, cash cropping, overextraction of groundwater, and degradation of forests. My role as a CRP is to help my community improve their livelihoods, foster collective action for the preservation of natural resources, and work towards increasing community—especially women's—participation in decision-making processes.

5.30 AM: I wake up and spend a few hours on household chores—washing the previous day's utensils, making breakfast and lunch, and getting my children ready for school. I also clean the house, draw rangolis, and do puja.
10 AM: I step out to interact with my fellow community members, either in smaller groups or in meetings, to share information about different social security schemes and other such provisions they can access and benefit from. I recently organised a camp in the village to help community members apply for PAN cards and link Aadhaar cards to their bank accounts. These processes are tedious and require a lot of documentation, multiple visits to government offices, and constant follow-ups. I do all these things for people who can't do it themselves.
On some days, I use this time to visit farmers and assist them in preparing organic fertilisers/pesticides, depending on their need. I started doing this in 2019 when, under the guidance of the Foundation for Ecological Security (FES), I began working as a CRP for my village. I attended several training programmes on organic farming, and learned how to conduct demonstrations on using organic fertilisers and pesticides. At first my demonstrations were met with resistance and even ridicule from the community, but this started to change when a farmer named Santosh Ghotne showed interest in adopting these practices and asked for a demo.
Realising the importance of practising sustainable agriculture, he asked me to help him form a farmers' group under the Panjabrao Deshmukh Jaivik Sheti Mission. We mobilised a few other farmers, and eventually formed and registered a group of 20 farmers in 2021, who now practise organic farming. These farmers have received organic pesticides and some equipment (such as pumps, a tank for making organic pesticides) at subsidised prices from the government.
I have a very keen interest in sustainable agriculture, and I strive to encourage more farmers in the village to adopt sustainable, organic methods of cultivation. Since Yavatmal is drought-prone, we also need to think about how we manage water. For the past three years, I have been conducting the groundwater game and crop water budgeting exercise with community members to raise awareness about the importance of managing water resources. As a result of these activities, some farmers have switched from flood irrigation to sprinkler or drip irrigation, whereas some others have switched to less water-intensive crops or decreased the area under water-guzzling crops.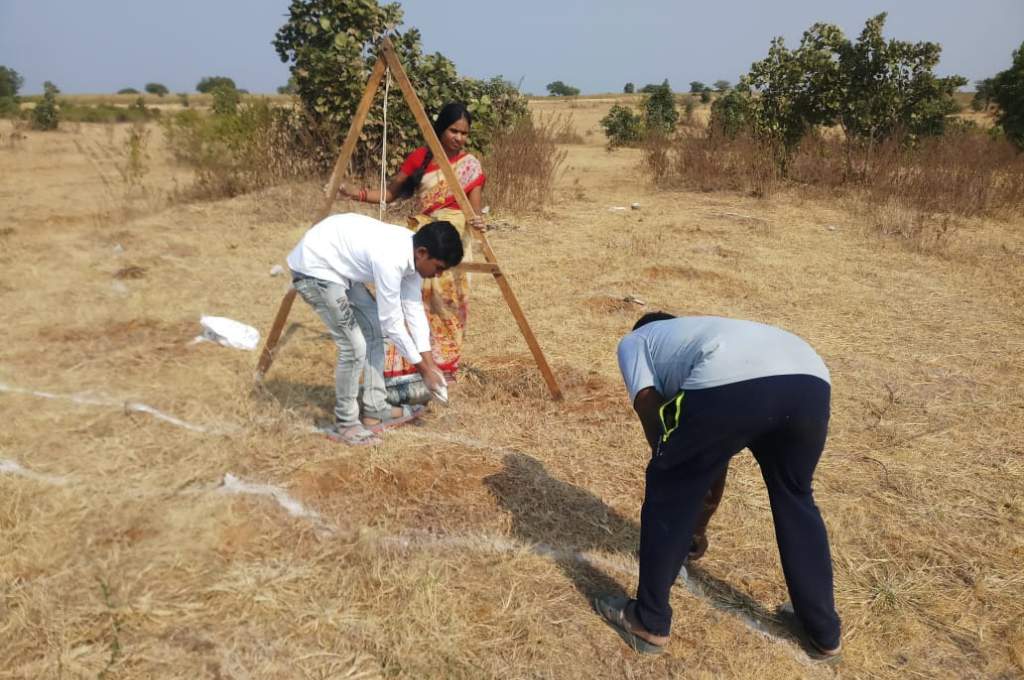 2 PM: I come back home and have lunch. Then I start prepping for dinner and finish other chores around the house. I step out to buy vegetables and groceries if needed, and also help my sons with their studies. It is not easy to look after two young boys by myself.
6 PM: In the evenings, I usually facilitate a meeting with women from the community. In these mahilasabhas, we discuss women's concerns, along with other larger issues in the village. These spaces are extremely important because they allow women to share and discuss problems that might otherwise go unsaid and unheard. We also talk about how these issues can be raised in the gram sabhas.
I first started working with women through the SHG movement. Five years ago, I didn't know what a self-help group was. My family didn't allow me to join an SHG as it would have meant going out of the house to attend meetings, which were sometimes conducted at night. Out of curiosity, I spoke to a group of women who I knew were saving money through SHGs. As their group was operating at capacity, they told me I should start my own. So, I decided to form a new SHG with the help of friends and neighbours—this was in August 2018. Initially, I just went from door to door to encourage women to save INR 100 a month. That's all we did—save money. Gradually, I learned how to document the accounts, and the group unanimously chose me as its secretary. Each of them also contributed INR 10 a month to pay me for the role.
A few months later, in 2019, I heard about a vacancy for the post of udyog sakhi in the Maharashtra State Rural Livelihood Mission (MSRLM). I submitted my documents and applied for the position. I had no formal work experience and was very underconfident, but I passed both the written test and the interview. After my selection, I was asked to attend a training programme at the district headquarters. Around this time, my husband fell very sick and passed away. The training session was scheduled for the sixth day after his passing. I put aside my sorrow and attended the training, and with my mother-in-law backing my decision, I did not care about other people's opinions. Had I not taken up this opportunity, my future would have looked very different.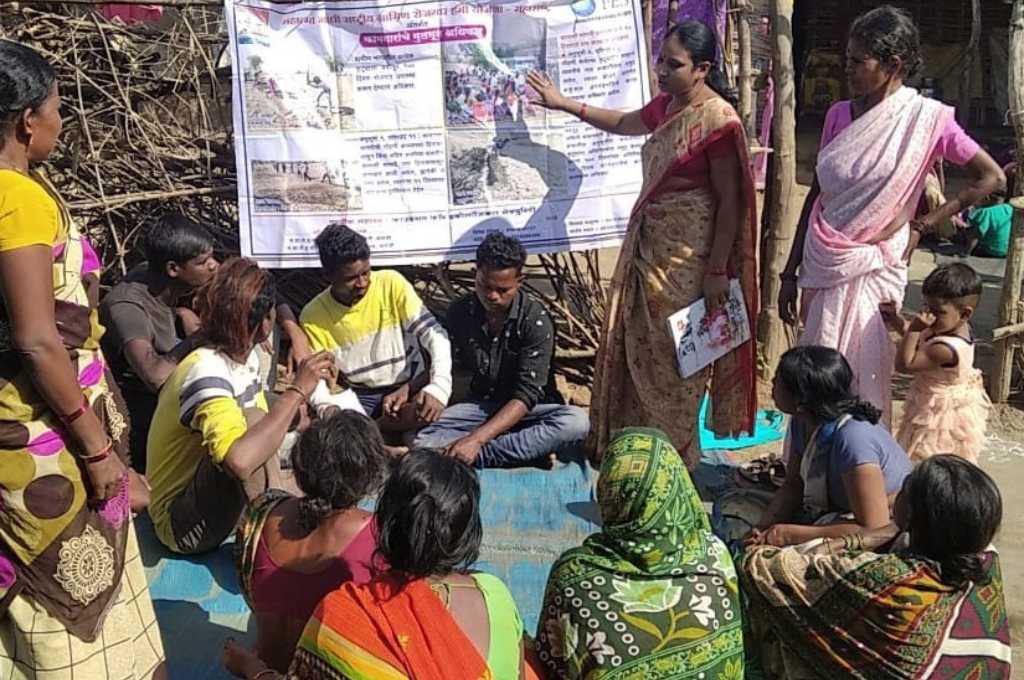 Thus, I started working with MSRLM as the udyog sakhi for my village in January 2020. My first task was to conduct a survey of all the enterprises in the village, such as small shops, eateries, and flour mills, to understand who runs them and how they are run. This was mainly done to analyse the needs of the village and help women get into entrepreneurship.
Then, I formed a group of 14 small and marginal women farmers who were interested in running a business. These women received a loan of INR 2 lakh under the MSRLM programme to kickstart a farm-based enterprise. We decided to start selling vegetables, and would go to the local farmers' market to understand the process of procurement and sale. Eventually, we established contact with some organic farmers from our own village and nearby villages who practise sustainable farming. With the support of MSRLM, which helped us get into a contract with a farmer producer organisation in Yavatmal, we managed to sell vegetables worth INR 35,500 in just a few days. This motivated us to continue making efforts to grow our enterprise. We decided to do farming on our own and used the remaining loan amount to lease four acres of land for community farming. In 2022, we have grown soyabean using organic methods; we now plan to distribute the seeds to those farmers in the village who are willing to adopt organic farming practices instead of buying hybrid varieties of seeds from the market.
I belong to the Kunbi community, and traditionally our women are not allowed to step out of their houses. Now, many of them are members of SHGs and actively participate in gram sabhas. I also encourage them to start their own livelihood enterprises and become financially independent. I have helped at least four or five women to run their own businesses—they sell sanitary pads, sarees, etc. within the village. That's when I realised that many women did not have their own bank accounts. So, I started with helping them open bank accounts to deposit their savings.
I want to create sustainable livelihood opportunities for the women so they have work available all year.
Although it was a tough journey, I was persistent and did not accept defeat. My vision for Murli is that the women become self-reliant, and collectively act for the development of the village. I want to create sustainable livelihood opportunities for the women so they have work available all year.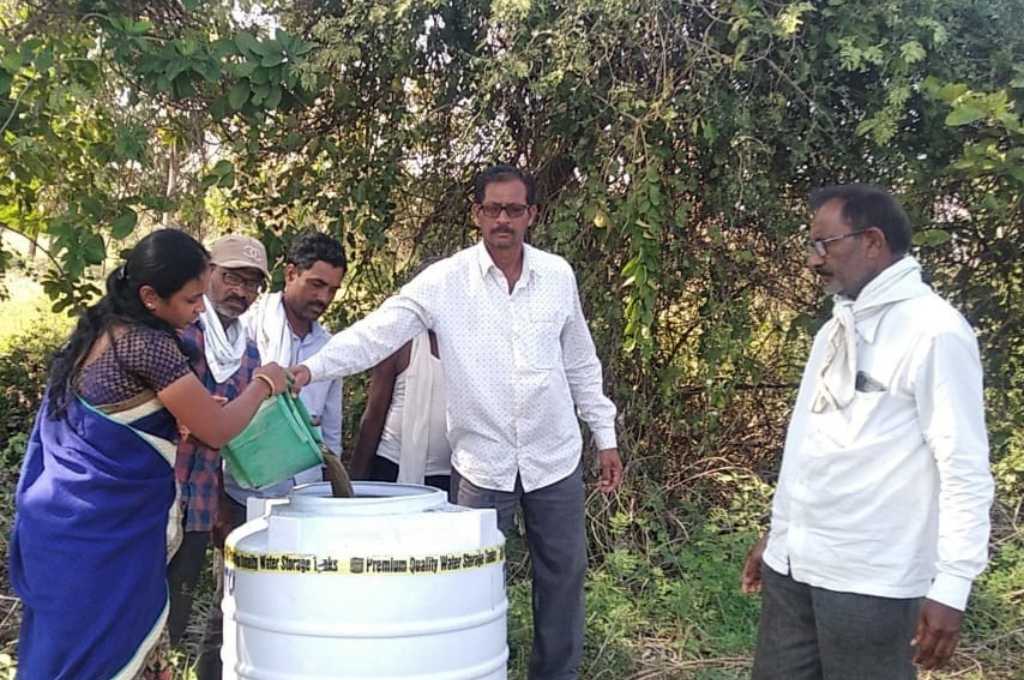 9 PM: I have dinner with my family and wrap up the kitchen work. After that, I finish some of the documentation work, such as writing minutes of the meetings conducted during the day. Before going off to sleep, I also plan for the next day, which includes calling up people to set up meetings. Proper planning helps me in managing my work and multitasking, and gives me some time to spend with my children. As they are growing up, I am trying to inculcate in them the habit of doing their work themselves. They also help out with household chores. Since they are boys, some people laugh at them when they see them sweeping the courtyard or buying groceries. I tell them to ignore such people and keep doing their work. It is very important to be independent, and all this is going to prove useful when they go away for higher education and start living by themselves. I want to prepare them for every situation.
I have a strong network of friends, both within and outside Murli. Due to my work, I have made good connections with people, some of whom have supported me in several ways, even financially and emotionally. My mother-in-law too helps me as much as possible.
As told to Khanjan Ravani.
—
Know more