"Organic farming is our duty," Prime Minister Narendra Modi said, while addressing the nation on the 75th Independence Day on August 15.
Modi mentioned organic and natural farming twice in his speech, as he talked about turning to chemical-free agriculture.
"Today natural farming is also a way of becoming self-reliant," he said. "Today the factories of nano fertilisers have brought new hope to the country. But natural farming and chemical-free farming can give a boost to self-reliance."

While switching to organic farming could counter dangers to the environment—such as soil degradation due to increased fertiliser use—and public health, scientists are still divided on whether India can afford the transition to chemical-free agriculture. That's because organic farming means less intensive agriculture, and in turn, decreased crop productivity. This could put India on the backfoot with regard to food security; altered rainfall patterns caused by climate change are already causing huge losses to farmers, scientists said.
Benefits of organic farming
Today, India has a surplus of foodgrains. This self-sufficiency came thanks to the Green Revolution in the 1960s, which increased crop production—of mostly rice and wheat—substantially. Foodgrain production rose from 82 million tonnes (MT) in the late 1960s to 264 MT in 2013-14.
But along with the increasing area under farming and switching to high-yielding varieties of rice and wheat, farmers were also encouraged to use chemicals—fertilisers and pesticides—to facilitate higher yields.
This caused "unintended but harmful consequences on agriculture and human health", according to scientists Daisy John and Giridhar Babu of the Public Health Foundation of India, Bengaluru. The impacts were many and still persist, they wrote. The use of pesticides and fertilisers led to an increase in heavy metals (such as cadmium, lead and arsenic) in the soil. In many areas, soils turned more alkaline; beneficial microbes died, and soils became infertile. Farmers in some major Green Revolution belts including Punjab also burn crop residue, which is a major cause of air pollution in northern India.
A recent report by the non-profit Pesticide Action Network India found that there is widespread, unauthorised and unsafe use of four pesticides (chlorpyrifos, fipronil, atrazine, and paraquat dichloride) in India. Of these, three are listed as "moderately hazardous" by the World Health Organisation based on their health impacts.
Organic farming is seen as a safer alternative.
Organic farming is seen as a safer alternative. Chemicals do not find a place in this farming technique; farmers use only organic products such as cow dung instead. In natural farming, however, no external inputs—including bio-fertilisers—are used (this includes zero-budget natural farming, which is being encouraged by the Indian government).
In India, organic and natural farming are being promoted through several schemes including the Paramparagat Krishi Vikas Yojana, Mission Organic Value Chain Development for North Eastern Region under the National Mission for Sustainable Agriculture and more. According to one definition, organic food production also includes farming techniques that do not use genetically modified organisms, growth hormones, and antibiotics.
Apart from public health benefits, studies show that organic farming can benefit biodiversity. As per some estimates, organic farming across the world increases local species richness by ~34% and abundance by ~50%. However, this depends on various factors such as the larger landscape that the farms are located in.
Organic farming is catching on in India. India has witnessed a threefold increase in land under organic cultivation: from 5,28,171 ha in 2007 to 1.2 million ha in 2014. India is also home to the highest number of organic producers, as per one estimate. However, this captures only around 2.5% of the total land under cultivation in the country.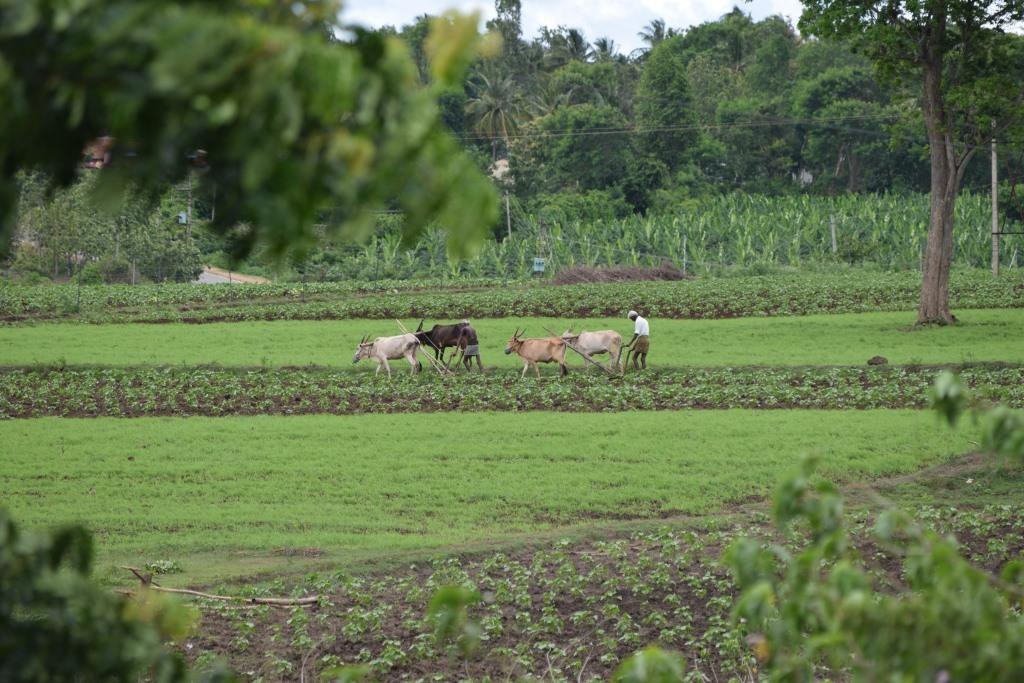 The other side
While organic or natural farming could capture niche markets for export, it cannot be implemented as a nationwide policy, said Sreekumar K.M., an agricultural entomologist with the Kerala Agricultural University.
"It would be disastrous," he told The Wire.
He gave several reasons why.
Converting to organic farming means that we would need to produce a far higher quantity of organic manure, Sreekumar said. And that means more cows. Cattle rearing has been listed as one of the main contributors to climate change, for it produces methane and nitrous oxide, both greenhouse gases. Moreover, conventional farming might be crucial for farmers given the unpredictability of weather with the onset of climate change, Sreekumar said. Altered rainfall patterns and events such as floods and droughts will become more frequent, reports by the Intergovernmental Panel on Climate Change predict.
Studies also suggest that while organic farming is indeed less polluting than conventional farming, it currently accounts for only 1% of global agricultural land. Yields are lower (a recent study pegged this at ~25% lower on average), as is productivity or the money produced per unit of land (up to 44% lower than in conventional agriculture). If a larger number of farmers were to switch to organic practices, it would require more land to be brought under agriculture. This would be additional pressure on existing natural habitats, due to habitat conversion and loss.
More land diverted for organic produce would also mean that the cost of production will rise, making food less affordable for poor consumers in developing countries, the review found. Indeed, organic food is currently accessible only to high-income groups, said Sreekumar.
Switching to organic farming would not be a good idea for India's nutritional or food security.
Switching to organic farming would not be a good idea for India's nutritional or food security either, he added. That's because India's soils are extremely diverse. For example, many parts of Kerala have lateritic soil; high levels of iron and aluminium in the soil make it acidic. Adding lime or dolomite as a fertiliser to make the soil less acidic makes crops more productive. Similarly, if calcium in the soil is low, flower rots are common in tomato crops, Sreekumar said. Adding conventional fertilisers to the soil based on context-specific needs would ensure that farmers' yields are not affected.
According to him, the move to recommend organic farming may stem from the government's move to cut down on fertiliser subsidies that are given to farmers. With fertiliser prices surging internationally, the Union government has over the years been reducing the budget on subsidies. In 2020-21, the actual spending on fertilisers was Rs 1,27,921.74 crore; this decreased to Rs 79,529.68 crore in the 2021-22 Union budget, reported Down to Earth. Though this was revised to Rs 1,40,122.32 crore to tackle the farm crisis it was again decreased by ~25% to Rs 1,05,222.32 crore in the Union Budget 2022-23, the news report said.
Sri Lanka's cautionary tale
When it comes to fertilisers and crop production, there's much to learn from Sri Lanka's sudden move to switch to organic farming. More than a year ago, the Mahinda Rajapakse government banned the import of fertilisers and pesticides out of the blue, hoping to rely on domestic bio fertilisers. It didn't work out as planned. Crop production saw a huge drop. For example, seasonal paddy yields in 2021-22 dropped by half, while maize decreased by 70%, as per a news report. Sri Lanka was not producing enough organic waste to use as manure. In June this year, Sri Lanka planned to borrow $55 million from India to buy urea, reported​​ The Print.
Adopting natural farming in a "knee-jerk fashion"—as Sri Lanka did—should not happen.
Adopting natural farming in a "knee-jerk fashion"—as Sri Lanka did—should not happen, NITI Aayog member Ramesh Chand told Financial Express in June. India can double the acreage of chemical-free farming to 15% immediately, and to 30% by 2030, "without hurting national food security as any resultant loss in output and exports could be compensated by [the] reduction in fertiliser subsidies", he said.
Incidentally, a report commissioned by the NITI Aayog in 2020 found that while farmers perceived natural farming to be climate resilient, less water-intensive and better for soil quality, it could lead to exhaustion of nutrients from the soil in the long run if monocropping patterns are followed.
"NF [natural farming] may not be a substitute for conventional farming for large scale food production. Rather it may be promoted in low-input region for smallholders," the report, put together by scientists at the ICAR-National Academy of Agricultural Research Management, Hyderabad, recommended.
A middle path may indeed be the way out, as scientists noted in a review: "Organic farming is not the paradigm for sustainable agriculture and food security, but smart combinations of organic and conventional methods could contribute toward sustainable productivity increases in global agriculture."
This article was originally published by The Wire Science.