My name is Rina Sethi. I live with my in-laws, husband, and three children in Panchgaon village in Odisha's Khordha district. I work in the leaf-pressing department at a manufacturing unit run by the Industree Foundation. We produce plates and bowls using the leaves of the sal tree and a creeper known as siali. These are an eco-friendly alternative to disposable plastic products that are widely used nowadays.
I joined the unit in August 2021. This is the first time I've been formally employed. This is also the first time I'm working outside my home. Earlier, I used to sell boris (dried lentil dumplings) to grocery shops in our area, but that didn't guarantee a regular income. I also became a member of an SHG group because I needed to apply for loans to procure raw material to make boris.
However, with the pandemic, all that came to a halt. My husband, who worked at a bookstore, lost his job and it was a very difficult time for us. We couldn't even afford basic groceries for our family.

A few months after my husband lost his job, a team from Industree came to our village. They met with our SHG and introduced us to their work. I joined their team soon after and underwent training for a brief period before becoming a machine operator. Ever since I started this job I have had a steady source of income, and the situation at home has been much better.
4.00 AM: I spend the first hour or so of my day on household chores. I then move to the kitchen to prepare food for myself and my family. As we are a large family, I usually cook at least four different dishes. Today I am making dal, rice, a curry, and a tangy mango dish that is a speciality here in Odisha.
8.00 AM: This is the busiest hour in our house. My children are preparing to leave for school and my husband is getting ready to oversee the installation of a tube well in the village. Nowadays, he works closely with our sarpanch and helps people apply for government documents like Aadhaar and PAN card.
I give my in-laws their breakfast first. As my father-in-law is an 80-year-old diabetic with a heart and BP problem, it is important for him to take his medicines right after eating. I then sit down to eat my breakfast.
12.30 PM: At the production unit, we work in two shifts. I work during the second shift of the day, from 1–7 pm, so it's time for me to head out. It takes me about 30 minutes by foot to reach the unit.
When I joined Industree, I went through their '6Y training' in which I learnt about different soft skills that would be useful in my new workplace. I also underwent gender training, where I learned about my rights as a woman.
Since undergoing the training, I have become more aware of the discrimination that I, and all women around me, face.
Since undergoing the training, I have become more aware of the discrimination that I, and all women around me, face. I remember one incident vividly. One of my neighbours, who is an upper-caste man, raped another neighbour's daughter-in-law, who is Dalit. I also belong to the Dalit community. As is always the case, the matter never came to light. Whenever we as Dalits, as women, face problems, they are always overlooked. But my training helped me recognise these patterns, and I wanted to honour everything I had learned. So, along with my husband, we urged the woman who was raped to lodge a complaint in the police station. Eventually, the rapist was imprisoned for three years.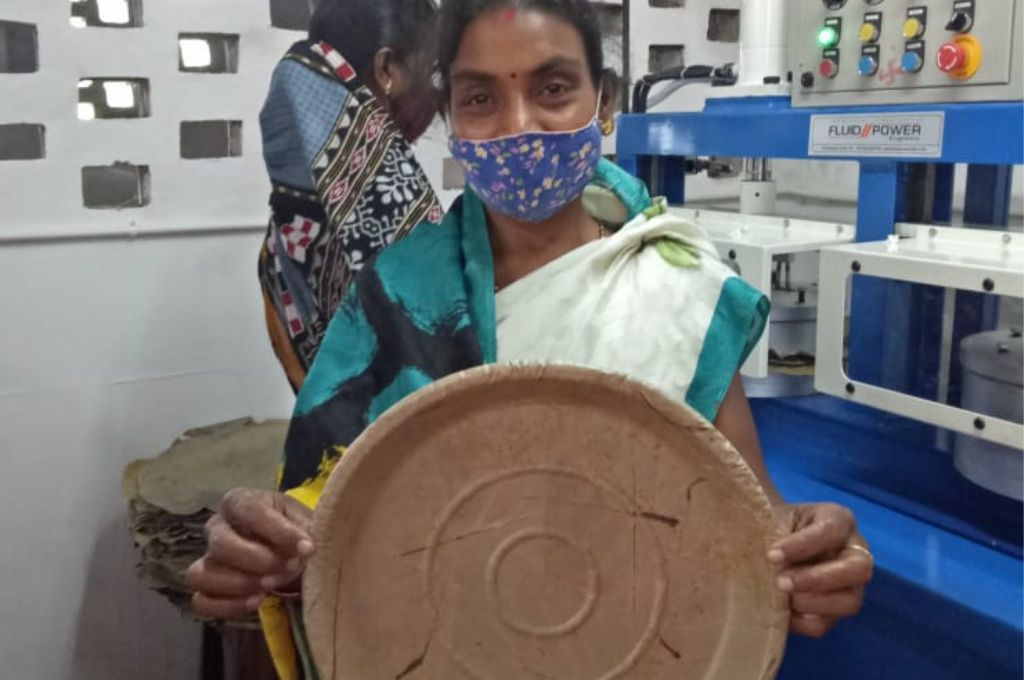 1.00 PM: When I reach the unit, I first check if the raw material (dry leaves) for pressing is available. There's a department that is in charge of fitting dry leaves into the machines so that we can start work. There are six machines in total, with one machine assigned to each machine operator. Every machine has two dyes—one for 15-inch plates and the other for 12-inch plates—and both can be operated simultaneously. Once I've confirmed that the raw material has been loaded, I put on my safety equipment—an apron, a cap, and a mask because of COVID-19—and turn on the machine. The temperature of the machine needs to be at 70–80 degrees Celsius. If the temperature is too high or not high enough, the three layers of the plate won't stick together. It takes about 30 minutes for the machine to heat up. As soon as the machine is hot enough, I insert the dry leaves, which are pressed into plates.
2.30 PM: After working for an hour and a half, we break for lunch. There is an emergency switch that we press to shut the machines temporarily, before stepping out to eat. The machine room and lunch room are different. Not even a drop of water should come near the machines.
There are 12 of us in the leaf-pressing department, with six women on duty in each shift. We usually take our lunch break together and chat while we eat our food. Today I've carried my own tiffin, packed with food that I cooked earlier in the day. Often I forget to carry my tiffin when I leave in a hurry, and have to call my children and ask them to bring me my lunch.
3.00 PM: We return to the machine room after lunch. As one of my colleagues is not feeling well, she steps out to go to the washroom and requests me to keep an eye on her machine. It gets really overwhelming to oversee two machines at the same time, and I'm relieved when she returns to her station.
Since I started working at this unit, I've been trying to make people aware about the benefits of using sal and siali leaf alternatives.
Even though all of us are extremely careful while working, sometimes we make mistakes. If a plate or bowl is defective and it doesn't pass the quality check, we have to rework it on the machine. We create two separate piles—of approved and rejected products. The plates and bowls that are approved are sold in local markets, in small shops, or in wholesale to an export house in Bhubaneshwar. People in my village use plastic abundantly. And so sometimes I take the plates and bowls from the rejected pile and use them at home or give them to my neighbours. Since I started working at this unit, I've been trying to make people aware about the benefits of using sal and siali leaf alternatives. In fact, just the other day I was telling my children that as per the Hindu scripture, sal and siali leaves, and not plastic, are traditionally used in temples. For instance, offerings at the Lord Jagannath temple in Puri are made in sal leaves, whereas the siali leaf is associated with Lord Krishna, who left his physical body on a bed made from siali leaves.
5.30 PM: After a short tea break, I settle down on a chair for the next couple of hours. Usually one has to stand while using the pressing machine. However, I'm older than many of my colleagues and I find it difficult to stand continuously for such long hours. This is why I requested a chair, and after I started using it some of my colleagues teased me, saying, "Rina VIP ban gayi." (Rina has become a VIP.)
8.00 PM: I cook food for everyone as soon as I return home, and we sit down for dinner. This is the only time when the whole family gets together to eat and discuss their day. I catch up with my children, husband, and in-laws. I also tell them about my day.
10.00 PM: I ensure my in-laws have everything they need, and that my children have all gone to bed. After cleaning the kitchen and the house, I call it a night. I really do enjoy the time that I spend at the unit. Initially, when I started this journey, I was apprehensive about being able to balance my work along with my responsibilities at home. However, it's been smooth sailing so far.
As told to IDR.
—
Know more
Learn more about 200 million artisans, an organisation working towards empowering India's artisan economy.
Read this article to understand why donors need to focus on sustainable livelihoods.
Do more
Explore Flourish, a global online marketplace that makes and delivers eco-friendly products.