My name is Nirupama Jana, and I am an artisan from the village of Baliapal in Odisha's Balasore district. My parents were artisans as well. They trained with and produced baskets for Kadam Haat—a social enterprise that supports local handicrafts and artisans. My brother and I would regularly help out my parents with their orders. Because of this, both of us learnt how to make different kinds of designs at a very young age.
I finished my postgraduation in political science from FM University in Balasore. My dream was to become a lawyer and I wanted to study BCom, but my father didn't have sufficient funds for my education. Soon after my postgraduation, I got married.
I started working with Kadam in 2017 with only 20 artisans. Today, I manage a crew of 180 craftswomen across different villages. We handcraft bags, roti boxes, planters, and much more, all with natural materials such as bamboo and sabai grass.

4.00 AM: I begin my day with household chores. I live with my mother and two daughters, who are both in school. My mother is a diabetes patient and the first thing I do is to give her some food so she can take her medicine on time. I then clean the house and prepare lunch. I'm planning a field visit to Karanj and Surudiya villages today, and I won't be back in time for the meal.
7.00 AM: Once I've finished all the housework, I sit down with some needles and sabai grass—to put finishing touches on bags that will be picked up by the production team in a few days. I've been working with a needle ever since I was a little girl. I was studying in class 7 when I started helping my parents with their work. While other kids played outside, I would hide from my mother and work on a bag or a basket she'd left outside. My parents, my brother, and I loved making different kinds of chairs and stools using bamboo and sabai grass. That was the beginning of my journey as an artisan.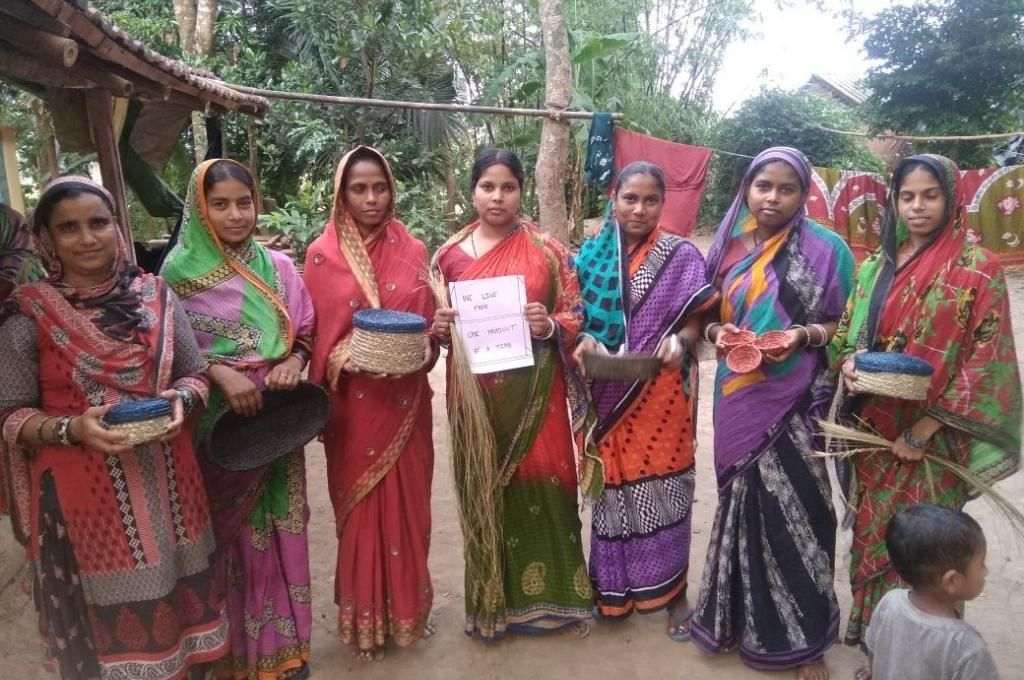 When I got married I started working, without any pay, at a small shop that my husband owns. After my second daughter was born, my husband remarried. When my mother saw the difficulties I was facing—the hours I was working for no money—she asked Payal ma'am (a co-founder at Kadam) to get me some work. That's how I got my first order in August 2016.
As part of my first order, I had to make 1,000 baskets in approximately 30 days. At that time I had only 20 artisans from Surudiya village with me. All of them had worked with my father, and were very happy when I approached them to work with me. Unfortunately, we weren't able to complete that order in time, but our team has only grown since then.
9.00 AM: When I see my daughters getting ready for school, I realise I've been working for two hours straight. My older one senses that I have a busy day ahead, so she doesn't disturb me. She packs her and her sister's lunch boxes, and they both leave for school. I am extremely proud of both my daughters and want to ensure that they get to complete their studies.
10.00 AM: I get ready to visit Karanj and Surudiya. They are close to each other but make for an hour's journey from my house. As a cluster head I work with artisans across seven villages. I don't travel every day, but I do visit each village once a week to check on the progress of the orders. As these villages are at a distance from my house, I travel on my scooty. I bought my scooty by taking a loan, which I've almost paid off now.
Currently, we are working on a large export order of bags. To make these bags, we use naturally coloured sabai grass, which is only available during the rainy season. Usually I buy all the grass at once from a village near Balasore, where they set up a haat (market) annually. I then take the required quantities to the different villages and artisan groups, and we keep some stock for the rest of the year in one artisan's house.
However, this year we didn't get sufficient rain and the colour of the grass was affected. Freshly cut grass is cheaper, but this year we had to wait for some time to buy the grass and it was more expensive too.
11:00 AM: When I reach Surudiya, the children playing outside excitedly announce my arrival with shouts of 'Niru didi aa gayi' (Nirupama has arrived).

I make my way to meet the artisans. For each artisan group across different villages, I've elected a leader. As all artisans usually work from their homes, I inform the leader in advance when I'm coming, so that they can organise all the artisans and their products in one place.
More than 120 artisans are working on producing this export order. Not all of them have the same level of finesse as each of their hands work differently—some work fast, others slowly, and sometimes the colour can get spoilt. The colour of the sabai grass can be a problem—it's difficult for us to maintain its consistency across all products. I'm a little worried about this order because the artisans have to produce coloured bags.
1:00 PM: We all take a short break and sit down to have lunch together. Most of the artisans I work with here have known me ever since I was a little girl. They all treat me like a family member and I too feel very comfortable with them.
When others saw that the artisans in my team were getting regular work and timely payments, they also asked to join.
If any of the artisans is facing a problem, they usually come and share it with me. Sometimes they need money for a wedding or to make funeral arrangements for a family member. While I can't lend them money myself, I do know a lot of shopkeepers in the village; sometimes I request them to lend the artisans some money or essentials. I also accompany the artisans when they need to approach banks for loans.
When I started working, I had a team of only 20 artisans. When others saw that these artisans were getting regular work and timely payments, they also asked to join along with their family and friends. When someone new joins, the first task I assign them is to practice making chotis (plaits) of grass. Then, the next time I visit, if the group leader tells me that their work is good, we allow them to start working on products; otherwise we ask them to spend some more time practising the technique.
3.00 PM: I travel to Karanj to inspect the order produced by the artisan group in that village as well. The bags are in good shape and adhere to the quality check norms as given. So I inform the production team to send staff from the Kolkata office to do a physical quality check in a couple of days. Once the products pass their inspection, they will be taken to a warehouse for packaging and export.
6.00 PM: After reaching home, I quickly cook dinner for everyone. We sit down together to eat and discuss our day. I cherish these moments that I get to spend with my mother and daughters. After putting my daughters to sleep, I resume working on the bags. I continue till I feel tired, which happens between 10 pm and midnight. Once I am holding a needle, I don't get up till I've finished the work. I really enjoy what I do; it's my passion. Not only has my work seen me through some difficult times, but it has also given me a large circle of friends and family—a community.
Through this work, I've also been able to meet other women who are facing or have faced similar problems. I used to think I am all alone in my problems, but now I'm realising that there are many women who are going through a lot of difficulties, and are getting support through this work.
As told to IDR.
—
Know more
Read this story about the last hand-block printer in Gujarat.
Read this article to understand why India's crafts sector is important for the country's economic growth.
Learn about other creative and social enterprises such as Kadam Haat, working in India's artisan sector here.
Do more
Explore Good Market to discover a global community of makers and sellers of SDG-compliant handmade products from more than 67 countries.