---
Isolated by tradition: Helping Bhunjia women speak about their needs
Gariaband district, Chhattisgarh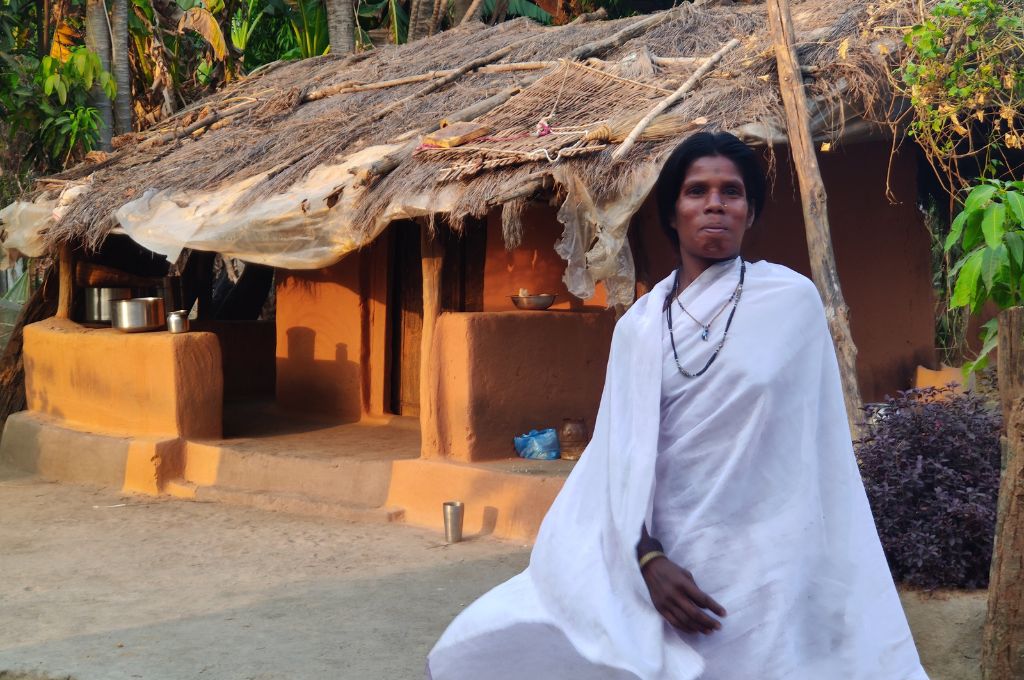 Residing primarily in Odisha and Chhattisgarh, the Bhunjia tribe follows a host of traditional practices that contribute to their isolated lifestyle. The women of the community in particular live solitary lives. Akin to society at large, the balance of power within the community is in favour of men. The women are generally restricted to their homes and only eat within the lal bangla—a sacred kitchen room where the community's meals are prepared. The tribe also speaks a different language, which creates an additional layer of separation between them and other local communities.
When Lok Astha Sewa Sansthan first held a meeting with the community in Hatmauha, a village in Gariaband district, we observed that the Bhunjia women didn't speak at all. They were reluctant to communicate with us as we were outsiders and they had no reason to trust us. In order to work on empowering the women of the community, we first had to involve the men and build their trust in us. We held regular meetings and training sessions on land rights, government schemes, and leadership with the women of the community, which resulted in them opening up to us.
Through speaking with the community, we learned that they have long been struggling for their individual forest rights claims to be recognised. In the 15 years since filing their claim, they hadn't received a response. We understood that resolving their pending claim would serve as a critical pathway to a better life for the community, especially its women. However, we also recognised that in the face of the numerous impediments to their empowerment, access to and control over land should be viewed as a long-term goal that we can make incremental progress towards by first addressing their more immediate needs. For instance, they couldn't access the Public Distribution System (PDS) as they didn't possess ration cards. Many of them also couldn't get employed through MGNREGA as they didn't have job cards. The Bhunjia women were simply unaware of or unable to avail of schemes such as widow pensions that they were entitled to.
We thus encouraged the women to visit their district collector to speak about these issues, and supported them with preparing relevant applications for the same. This was a daunting task for them, as they had never really left the confines of their village and didn't know what to expect. Nevertheless, they mustered the courage to visit the collector's office and talk to him. The collector responded to them positively, and this alleviated a lot of their fear and distrust. The experiences of the women from Hatmauha resulted in them becoming advocates of our work, and they helped convince Bhunjia women in other villages in the district to work with us.
In 2023, a few people from the village received the land deed recognising their individual forest rights claims. But this is just the beginning for the community as women have started taking up leadership roles and demanding their rights, and are encouraging others to do the same.
Lata Neetam is the founder of Lok Astha Sewa Sansthan, a Chhattisgarh-based nonprofit.
—
Know more: Learn how influential community members block women's access to land rights in rural Chhattisgarh.
Do more: Connect with the author at [email protected] to learn more about and support his work.