---
Ducks by the dozen
East Godavari district, Andhra Pradesh; Ongole district, Andhra Pradesh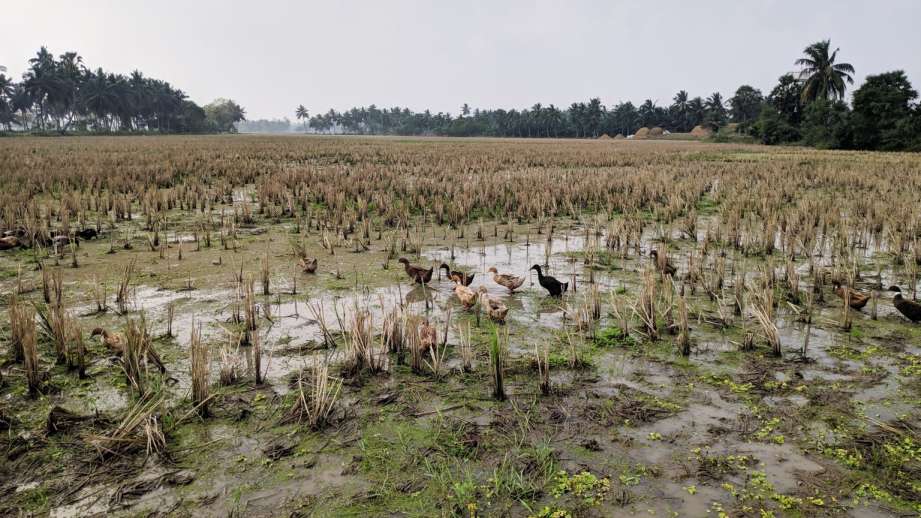 On a hot sunny day, I was travelling for work across the lush green paddy fields of East Godavari district, Andhra Pradesh, when I suddenly noticed three people trying to bring together a large feathery mass of ducks.
The trio is a family of Venkat Rao (40), his wife, Subbamma (30)—both duck farmers—and their nine-year-old daughter, Devi*, who helps her parents take care of the family's ducks. They belong to the Erukula community (a Scheduled Tribe), and hail from Ongole district of Andhra Pradesh. The family is well over 350 kilometers away from their hometown. But, why did they come all the way here? And the hundreds of ducks? Why did they bring them here?
Ducks cannot live without water and the family is constantly moving in search of suitable feeding grounds for them. A farmer with a flock of 100 ducks can easily earn INR 125,000 a year, provided all conditions remain favourable and constant. In addition to the sale of birds, the family also earns a regular income from the sale of eggs. Each duck lays about 250 eggs in a year, which are sold at INR 5-6 apiece, earning the farmer INR 1,250 per year.
Such seemingly lucrative duck farming has its own challenges and constraints. Moving and transporting huge flocks of ducks is not only a laborious task but also needs utmost care and caution. As a precautionary measure against the loss of birds to accidents, farmers prefer to transport their flocks in trucks. However, this is often quite expensive. Truckers usually charge INR 16 per kilometre to transport the flock. Logistics blow a huge dent into the income of duck pastoralists, but it is better than getting the flock run over by vehicles on the road.
"Being a duck farmer is tough," says Venakat Rao. "We lead a rough lifestyle and our survival depends on the wish and whims of the hosting landowners and villagers. We often arrive at villages without any prior relationship with the locals. We then build relationships and make friends with the locals. The relocation, hauling, packing, and unpacking takes a toll on us."
*Name changed to protect the identity of the minor.
Native Picture is a content partner for #groundupstories on IDR. You can view the original story here and more from Native Picture here.
—
Know more: Read about why we need an integrated approach between communities, ecology, and livelihoods.
Do more: Connect with the author at hello@nativepicture.org to learn more about and support their work.