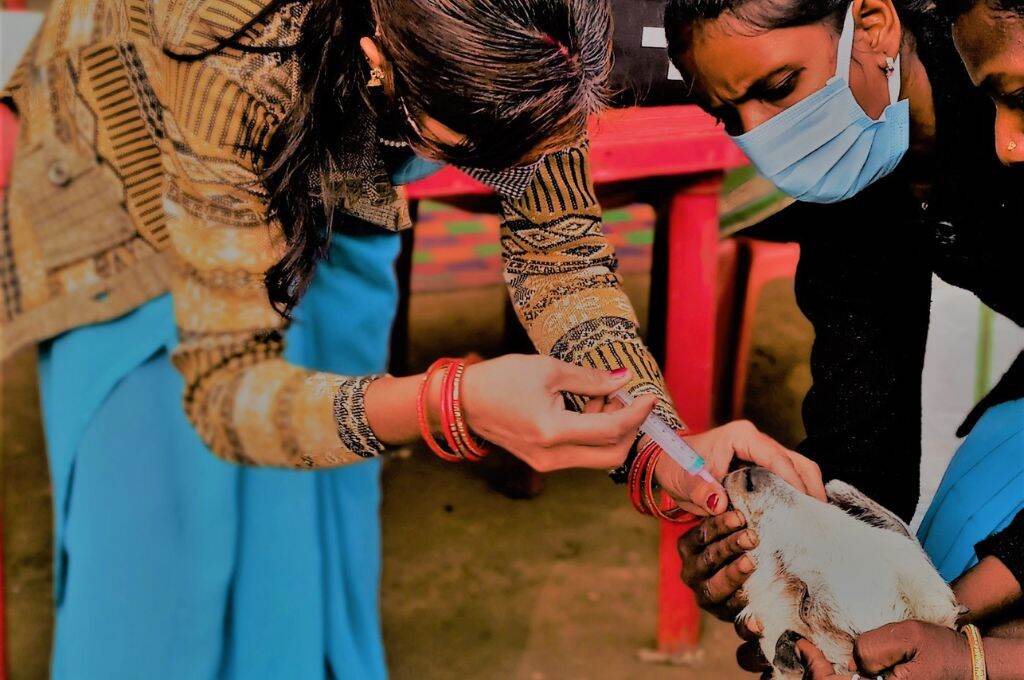 Pashu sakhis (friends of animals) are women in rural areas trained to provide veterinary services, breeding services, and medicines to livestock in their community. They are selected based on basic literacy and communication skills. For their services, the sakhis charge a small fee from the livestock farmers.
However, collecting this fee has been a major challenge. "People ask us why we charge money. They want the services and medicines for free or they don't want them at all," says Bharti Devi, a pashu sakhi from Katariya village. Livestock rearing is a secondary source of income for most households in North India, and thus paying for the upkeep of animals is often seen as an additional and unwanted expense.
Many sakhis are also hesitant to ask for payment. An existing cordial relationship between the community and the pashu sakhis discourages them from requesting this payment. "Defaults are certain if an animal dies during the course of treatment," adds Bharti.
Before the pashu sakhi model, all veterinary and breeding services were the responsibility of men. While veterinary services provided by the sakhis are welcomed, breeding services offered by them are met with notable resistance from the community. Many people from the village find women's participation in animal breeding to be inappropriate. Family and village elders discourage the women by saying that animal breeding is unhygienic and better suited to men.
Pashu sakhis hold monthly meetings to discuss these issues with the nonprofits that train them. Many have raised concerns about being reduced to a free service provider. "Payment is at the client's discretion, and they usually see it as an act of benevolence," explains Sajada Begum, another pashu sakhi from Katariya.
While lack of pay continues to be a hurdle for the pashu sakhis, there are also small gains from the work. Being a pashu sakhi makes the women popular in the community. Some sakhis have also participated in panchayat elections and emerged victorious.
Rohin Manuel Anil is a fellow at SBI Youth for India Fellowship, a content partner for #groundupstories on IDR.
—
Know more: Read why communities refuse to pay female teachers in rural Odisha.
Do more: Connect with Rohin Manuel Anil at [email protected] to learn more about and support his work.