A group of determined farmers from Srikakulam district in Andhra Pradesh is quietly changing farming norms by managing to reap profits while using cultivation techniques that are less labour- and water-intensive and support carbon sequestration. None of them embarked on this journey as environmental stewards—they took the plunge as curious small-landholding farmers who were consumed by the need to coax their land to yield better because farming is their lifeline.
Srikakulam, a coastal district in Andhra Pradesh, is faced with the threat of multiple extreme weather events such as cyclones and flooding during the monsoons and droughts in summer. Forty-one-year-old Pandurinki Simhachalam, a local farmer from Nedivade village, struggled with conventional farming methods for his rabi crop for more than two years. As a last-ditch effort, he decided to opt for what is popularly referred to as zero tillage method (ZTM). Traditional sowing preparation for maize takes about four rounds of ploughing as opposed to the one-time effort with ZTM, so Pandurinki saved on labour and time. He also earned approximately INR 35,000 at the end of that season—this was about INR 15,000 more than what farmers typically make there. It took very little motivation for other farmers from the area to follow his lead, and today more than 3,750 farmers across the district are reaping the dividends.
Pandurinki admits, "While we hear about climate change and are also experiencing weather changes, we had no clue about how to circumvent these problems. I experimented with this new method of sowing because this land is my only source of livelihood and I needed to do whatever it took to get a good crop. And fortunately this did not fail us."

Pandurinki is not alone in his struggle or thinking. In India, 58 percent of the population relies on agriculture as the primary source of livelihood. Of this 86.2 percent are small or marginal farmers with less than two hectares of land; they are especially vulnerable to the amplified impacts of climate change.
The deepening farm crisis in the country poses a serious threat to our food security. Food insecurity in turn impacts our efforts to end poverty, achieve zero hunger status, and make gains across a number of development indicators. So, we need viable alternatives to protect livelihoods. Methods adopted by farmers like Pandurinki are examples of how we can make a start.
Agriculture practices must be sustainable and profitable
Civil society and social scientists have long maintained that despite the urgency to address climate change, without offering viable alternatives that protect livelihoods, the climate debate will remain partisan and even unrealistic.
M L Jat, the global research programme director of Resilient Farm and Food Systems (RFFS) at International Crop Research Institute for the Semi-Arid Tropics (ICRISAT), is one of the lead scientific advisers to the Action for Climate and Environment (ACE) programme.1 He says, "Since agriculture is linked more closely to local climatic variations than to global climate patterns, we need to explore local solutions and adopt a tailored approach that is sustainable and profitable." He strongly recommends identifying synergies with existing farming practices, local seeds, and traditional composting methods and using available water sources. According to Jat, integrating a 'phased adoption of regenerative agriculture' is a viable alternative to traditional farming practices, especially for small and marginal farmers.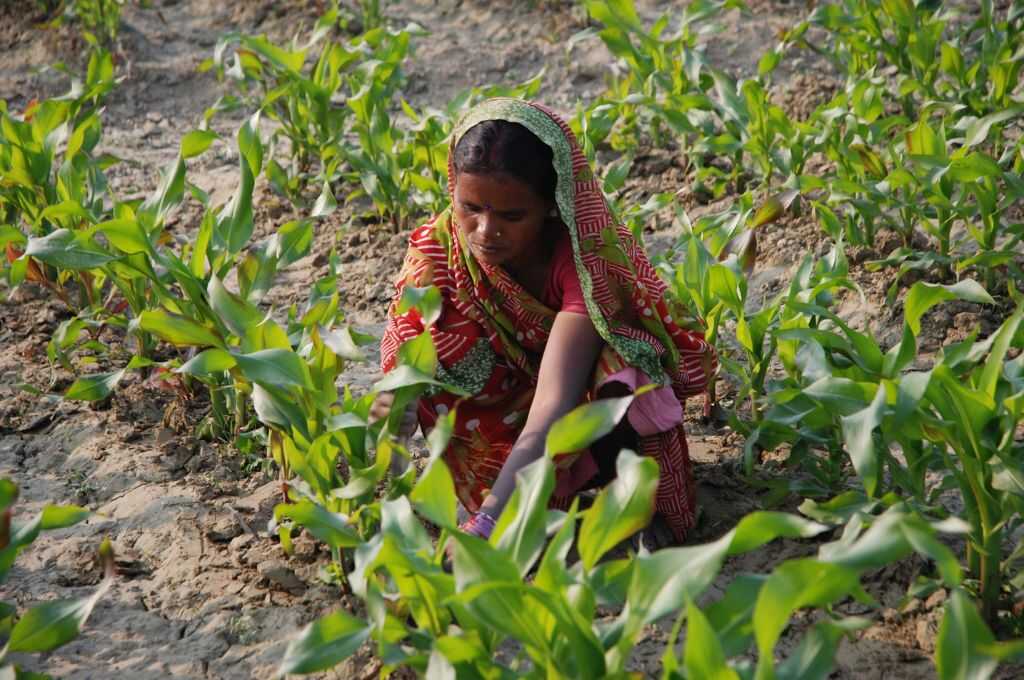 At the core of regenerative agriculture is soil health; practices grouped under regenerative agriculture foster the sequestering of carbon, encourage microbial abundance, and protect biodiversity. This linking of climate, land, and water makes it sustainable as it emphasises composting, rotating of seasonal crops, promoting local seeds, and using accepted fertilisers. These practices pave the way for better crops, healthier food, improved community resilience, and more secure livelihoods. The method has been successfully piloted in Kerala, with the state committing 84,000 hectares of land to eco-friendly cultivation. Cotton farmers in Madhya Pradesh have also adopted regenerative farming practices such as silvopasture (a form of agroforestry that combines trees, forage, and livestock) and cover cropping.
Switching to organic farming needs to follow an incremental approach
Sustainability and profitability need not be mutually exclusive. If we are to place the onus of safeguarding land and protecting biodiversity on farmers, we need to facilitate 'profitable' cultivation and pitch immediate gains instead of just long-term value.
Jat suggests that we adopt a 'phased build-on approach' by adopting practices that are feasible for our small and marginal farmers instead of opting for diverse or drastic measures. He elaborates, "The phased approach can help to immediately integrate the well-tested regenerative practices and build the confidence of the stakeholders while simultaneously working on adaptive research and co-designing new elements."
Further, instead of abruptly banning chemical fertilisers, ensuring safe standards for pesticide use can be a good first step even as we nudge farmers towards biofertilisers. This should assuage their apprehensions about low yields. While the ultimate goal for regenerative farming is adopting soil-friendly practices, taking an incremental approach is vital. There are several examples of unplanned transitions to organic farming not having yielded expected results. These transitions are complex and labour-intensive, which can further burden a small landowner.
The focus must now be on restoring soil and the ecosystem, but with one eye still fixed on yield and profitability.
A gradual approach to adopting new practices seems to be working—when farmers in Srikakulam were struggling with delayed planting, plant stress, and reduced yields, the ACE team cautiously encouraged them to adopt some new, soil-friendly techniques while also explaining how they could save on labour costs and fertilisers and still get better crops.
Helping farmers assess climate risks is important
Climate-smart programmes are intended to help farmers assess climate risks and how to overcome the problem. But to optimise the yield, our small and marginal farmers do need some handholding, which includes guidance from the scientific community to track the weather, tackle pest menace, and access the right seeds and tools.
"The idea that sequestering carbon in their soil is good for soil health is a novel concept for the farmers we work with, but if we incentivise farmers, they will be more motivated to adopt these practices. This will also help India meet its commitments under the international Paris Agreement to stabilise global warming," says Suman, head of the ACE programme. Some of the other practices promoted by ACE include direct seeding of rice, alternate wetting and drying, zero tillage for maize and wheat, intercropping, and borewell recharging. Such practices can achieve multiple outcomes, including increasing productivity, enhancing resilience, reducing greenhouse gas emissions, and saving large quantities of water.
What we need to focus on going forward
While the core practices behind regenerative agriculture have been around for a very long time, these were slowly replaced by other methods mainly because the newer options promised an increase in yield. The focus must now be on restoring soil and the ecosystem, but with one eye still fixed on yield and profitability. Scientists are confident that with the availability of digital tools such as AI, data, and predictive and prescriptive weather advisories, we can plan for better crop cultivation. In addition, we can leverage new imaging tools for early disease and pest detection, optimise site-specific fertiliser recommendations, and even measure and verify the value-add from carbon. Having said that, experts also agree that we need a lot more scientific research when it comes to building evidence around regenerative agriculture practices being profitable and ensuring high yields. While there have been studies in other countries, they have shown mixed results even though the benefits to the natural ecosystem seem to be clear.
However, given the urgency to address climate mitigation, we need to explore all avenues to support carbon sequestration. Despite limited research-based evidence, experts are confident that there is sufficient local experience and expertise available to vouch for the viability of regenerative farming, provided that it is tailored to local requirements and skills. To help farmers overcome their hesitation, local governments, scientists, corporates, as well as civil society need to come together. This should help connect relevant research and available technology with the kind of marketing required to assure our farmers that regenerative agriculture is bankable and is a promising path forward.
—
Footnotes:
1. The Action for Climate Environment (ACE) programme was started in 2020 and is supported by Dr Reddy's Foundation. ACE works in 1,628 villages in five states and has encouraged 68,000 farmers to adopt regenerative farming. It has helped in abating 12,369 tons of CO₂ equivalents and saving 49 lakh kilolitres of water in the last one year.
—
Know more