Prema Gopalan is the founder of Swayam Shikshan Prayog (SSP), a Pune-based organisation that focuses on women-led entrepreneurship and leadership in rural India. Working in areas such as agriculture, nutrition, clean energy, and health and sanitation, SSP has over the years empowered women at the grassroots to solve problems in their communities.
In this interview with IDR, Prema talks about building an ecosystem that enables women to take charge, the role of agriculture in building sustainable livelihoods, and how crisis can be an opportunity to fast-forward development.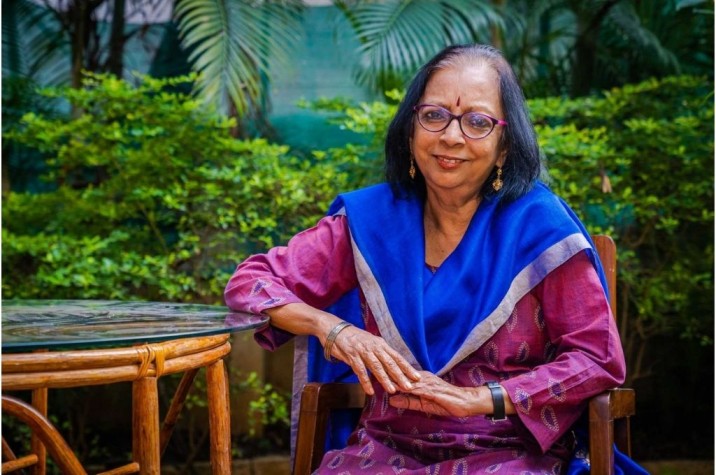 Can you tell us what the pandemic has meant for women farmers and the communities that you work with?
When the first wave hit in March 2020, small and marginal farmers in Marathwada—the region we work in—were badly affected. Most of them could not harvest the produce; those who could were not able to take it to the markets because of the sustained lockdowns and unavailability of transport.

These women farmers in the districts of Osmanabad, Latur, Solapur, and Nanded in Maharashtra are farmers and producers. But typically it's the men in these regions who go to the mandis (big markets) to sell. The mandis are usually located in the larger towns of the district, which means that farmers have to travel to reach there—to sell their produce but also to buy inputs and other household essentials and supplies. Communities didn't permit women to traverse these distances. They would work on their farms but were not allowed to decide what to sell, how much and where to sell.
SSP was able to help these women start, grow, and then venture into collective businesses post the pandemic, because we had already invested in creating a local ecosystem for livelihoods/enterprise for over a decade. We have been working with women farmers in Maharashtra for six years. During this time, we realised that while women were extensively employed as farm labour in Maharashtra—79 percent of all agricultural labour in the state are women—they are not recognised as farmers by the government since they don't have land titles.
Once women became farmers, they also ended up becoming the agricultural decision makers.
We decided to get around this problem by asking the women's families to give cultivation permission on a small piece of the family land to grow food crops instead of cash crops. If they did this, we would provide them advice on inputs, technical training, access to government subsidies for seeds, compost, and water conversation and link them to markets.
Once women became farmers, they also ended up becoming the agricultural decision makers. They would decide what crops to sow and how much to grow, sell, and keep at home. They knew all the details of cultivation; the only missing part was sales. So, even though they had become very good cultivators, they were not able to aggregate the produce and go to the market due to social restrictions. And without aggregation, grading, and processing, there could be no selling in larger markets.
With the lockdown and transport restrictions, the nature of markets changed. They became hyperlocal—with people selling within the villages and, at best, neighbouring villages. This was a massive change. We started looking at how women could take advantage of this new scenario. We encouraged them to look beyond harvesting from their one-acre farms—just enough for their families during the pandemic—and to consider supplying vegetables and grains to the entire village. Many of the women had already started producing and selling seeds. If one has seeds, one can at least sustain the family for several months, while also earning a livelihood. Similarly, they also focused on starting livestock enterprises, especially with small animals such as chickens and goats, since that would give them quick incomes.
To further capitalise on the situation, we collectivised the same farmer groups to start cluster-level businesses. The women formed a cluster enterprise comprising several producer groups with more than 200 women. They would aggregate their produce, sell it in nearby markets, and earn higher prices. Because the markets were now either weekly or within 20 km of their villages, the women's families weren't apprehensive about them going to sell the vegetables and grains.
Having experienced the process of selling, some women became entrepreneurial and started going to more distant markets to sell. There was no stopping them after that.
Prior to the pandemic women would work in the villages but largely in non-farm activities—in kirana stores, beauty parlours, and stationery shops. Two decades of support for self-help groups by rural development and financial institutions had fostered the notion that growth can only come from outside of agriculture—and via non-farm enterprises. SSP had also incorporated this thinking and encouraged women to take up largely non-farm activities. COVID-19 made this work redundant and non-essential.
Food, rations, and healthcare were considered essential, while other businesses weren't. So we claimed this opportunity that the crisis offered us, and started large-scale businesses in the dairy, pulses, and bio-compost value chains. In 2020 alone, we were able to convince over 10,000 women to make the switch from being farmers to becoming market players. With the setting up of milk collection centres, women received updated information about milk prices and payments on their own mobiles, resulting in greater control over their income.
And with them now venturing into agri-sales, the nature of the agricultural value chain in these villages has changed.
What has changed because of the pandemic? And how are the women managing now?
Even before the pandemic, SSP had two decades of experience dealing with large-scale disasters such as earthquakes, floods, and tsunamis in various states across India. And our experience taught us that crisis is an opportunity to fast-forward development. Both men and women are open to doing things differently because they are all more or less equally affected. As a result, a crisis allows women to take up leadership, because they have a stronger sense of action and service towards the community. And while under normal circumstances they would face pushback, during times of trouble their work is appreciated by all the community influencers, whether it's schoolteachers or gram panchayat members.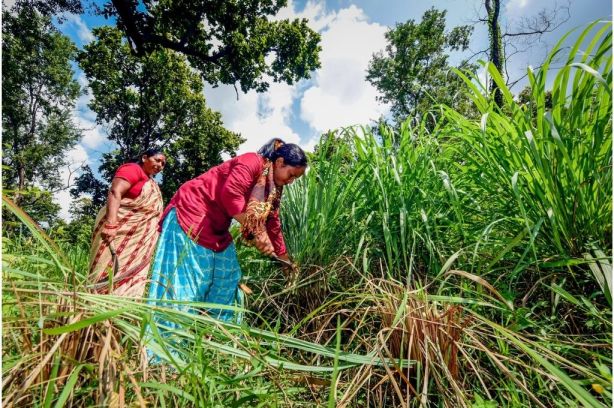 The first and second waves of COVID-19 were no different. They led us to form women-led Sakhi task forces, which worked with gram panchayats for COVID-19 preparedness and economic recovery. We were able to collectivise 5,000 leaders into these task forces in over 500 villages—this was a first because people were open to women taking up leadership.
The pandemic also highlighted the importance of digital technology. While the women were actively involved in COVID-19 relief work, prevention, awareness, and vaccination support, the lockdown helped them see the value of being digitally literate. We had tried hard earlier to get them to adopt digital tools, but they weren't ready.
Ten years ago, we had also created social enterprises—for microfinance, skill upgradation, and rural distribution and marketing. As part of the process, we had focused on building the capacities of these women to become entrepreneurs and leaders. And this investment in economic empowerment and leadership paid off.
Because when the pandemic struck, they took charge. While we were confused about how to navigate it, they were not. These women knew exactly how to assess the needs of their communities, undertake relief activities, access government entitlements for their communities such as rations and jobs via the MGNREGA scheme, and play the role of facilitators. We had built the ecosystem, but it was the women who knew how to use it and take charge.
What does it take to build an ecosystem that helps women take charge?
When we started SSP's livelihoods work, like all other nonprofits we focused on giving women domain skills training such as tailoring, beauty services, and so on. But soon we realised that just providing them training wasn't getting them anywhere—it didn't help them set up enterprises. So, a decade ago, we switched to getting women to recognise themselves as entrepreneurs and started rural business education in their villages. The entrepreneurial mindset is the most important thing, and getting women to adopt and execute on that is what has gone viral in our case.
Moreover, five years ago, when a critical mass of women farmers had adopted the agriculture model, we encouraged the women to go back to viewing farming as a potential enterprise activity and slowly downsized training and microfinance for non-farm activities in rural areas. Most nonprofits and even government agencies like NABARD had become fixated on non-farm enterprises, even in remote and rural areas. They were influenced by this idea that cities are where the money is, urban is where the skills are. So they tried to copy the urban skills and urban enterprises approach and get that to work in rural India. As a result, the agriculture economy was taken for granted; it received limited or no investment. We all know that the agriculture economy is struggling and needs support. But we have found that there are several windows of opportunities once you start looking seriously at women as economic contributors, and agriculture and agri-allied businesses as the mainstay of livelihoods.
SSP was no different. During the Marathwada droughts in 2015, the women told us that they had no food to eat, and that's when our agriculture work with them truly began. We were trying to ensure food security for the families first. But instead of focusing on just kitchen and home gardens, we decided that the women should grow food on the farm, eat from there, and do it in organic, water-efficient, and low-cost ways.
As we kept measuring the impact of the work, we noticed that more than 70 percent of the families had started eating from the farm versus the 10 percent earlier. Families also saw themselves becoming healthier, so adoption became easier and easier year by year. As a result, from 2016 to 2020, we had more than one lakh small and marginal farmer households where women were cultivators.
We must also harness the potential of the private sector, which has infrastructure, technology, and capabilities that are of value to our women farmers.
Our initial objective was food security but soon we understood that once women cultivate for their families, they are able to scale it up and cultivate in the same sustainable way for the market. It is then that we began looking at women as cultivators and farmers in the true sense, and moving them up the agriculture and food value chain. Here they could move from being mere cultivators to producer groups, playing a vital role in procurement, processing, and marketing.
Other nonprofits are now beginning to adopt this approach. They have realised that the effort they have put into collectivising women must be taken to the next level. From there women farmer producer organisations will start leading the work in agriculture and allied value chains such as poultry and dairy.
COVID-19 has sharpened this understanding and division between agri-related enterprises and non-essential work. Those linked to non-farm enterprises had huge business losses and had to shut down. Only agri-related enterprises managed to survive and thrive, because agriculture is not just about food security—it's also about sustainable livelihoods.
We are now at a stage where we have created four farmer producer companies with women at the centre of them. And the women are also setting up processing enterprises to add value to all the local produce such as pulses and cereals. They are even producing agricultural inputs like vermicompost. We are now adding another layer of complexity to this—a water component where they need to ensure that water sources and management is sustainable in their communities. So that's where we are beginning to focus now.
We must also harness the potential of the private sector, which has infrastructure, technology, and capabilities that are of value to our women farmers. At SSP, we have been working with technology companies since 2006 to help women with biogas technologies, marketing of solar lighting, and so on. And while we partner with both established companies as well as start-ups, we prefer the latter as we can co-create products for rural communities, keeping in mind affordability, financing, and product features.
What are the learnings from your work at SSP for other organisations that work with women and livelihoods?
SSP takes an ecosystem approach towards livelihoods. This means that we do not fall into the trap of training women. In our sector as well as in the government, there is an inordinate focus on training. However, organisations should realise that training alone does not work. You need to provide financial and market linkages as well. Without this no entrepreneurial capacity can be built.
Another important step is to provide women access to land titles, so that people can see them as cultivators. This makes women eligible for key government programmes that are only available to individuals with land titles. Women need to be recognised as farmers and cultivators and decision makers on land in terms of what crops to grow, because there's a huge impact of climate change, especially in drought- or flood-prone regions.
Livelihoods to enterprise is a long journey for rural women. They will benefit from a community support system at key touchpoints—which requires the involvement of their families, peer entrepreneurs, and institutions. Donors and facilitators must realise this as they co-create this significant and inclusive ecosystem. It is important so that women are not viewed as mere income earners, microcredit borrowers, or self-employed people, but as tomorrow's economic contributors and leaders. It's time we changed our mindsets.
Upmanyu Patil contributed to this interview.
—
Know more
Learn how grassroots women leaders spearheaded COVID-19 relief and recovery efforts in the villages of India.
Read why experts think women are better leaders in times of crisis.
Find out why India urgently needs an ecosystem that supports women micro-entrepreneurs.