Delhi, India's capital city, frequently ranks among the most polluted cities in the world. According to the World Air Quality Report prepared by IQAir, Delhi's neighbouring areas such as Ghaziabad, Gurugram, and Noida—which are part of the national capital region (NCR)—also feature with it in the global list of the 50 most polluted cities.
Studies have shown that vehicles are a major contributor to Delhi's air pollution. In a bid to counter this narrative, the Delhi government launched the Delhi Electric Vehicle (EV) Policy in 2020. It aims for 25 percent of the vehicles on the city's roads to be powered by electricity by 2024. Since 75 percent of the vehicles on Delhi roads are two- and three-wheelers, there's been a concerted effort to encourage EV adoption among autorickshaw drivers, who are the backbone of the transport system.
E-rickshaws, battery-operated three-wheelers that cover short distances, have been promoted as a viable alternative. They make sense not only because they run on electric motor and battery, but also because they are frequently shared by passengers on a common route, which reduces emissions. The Delhi government has announced subsidies that facilitate buying of e-rickshaws and installed public charging stations across the city. Now, drivers can exchange their discharged batteries for fully charged ones at battery swapping shops.

As Delhi races to become the EV capital of the country, this photo essay documents the hopes, aspirations, fears, and challenges of the e-rickshaw drivers in Delhi–NCR. It attempts to highlight the drivers pivoting the cities' sustainable transport revolution, understand what this transition means for them and their livelihoods, and underline the issues that still trouble them.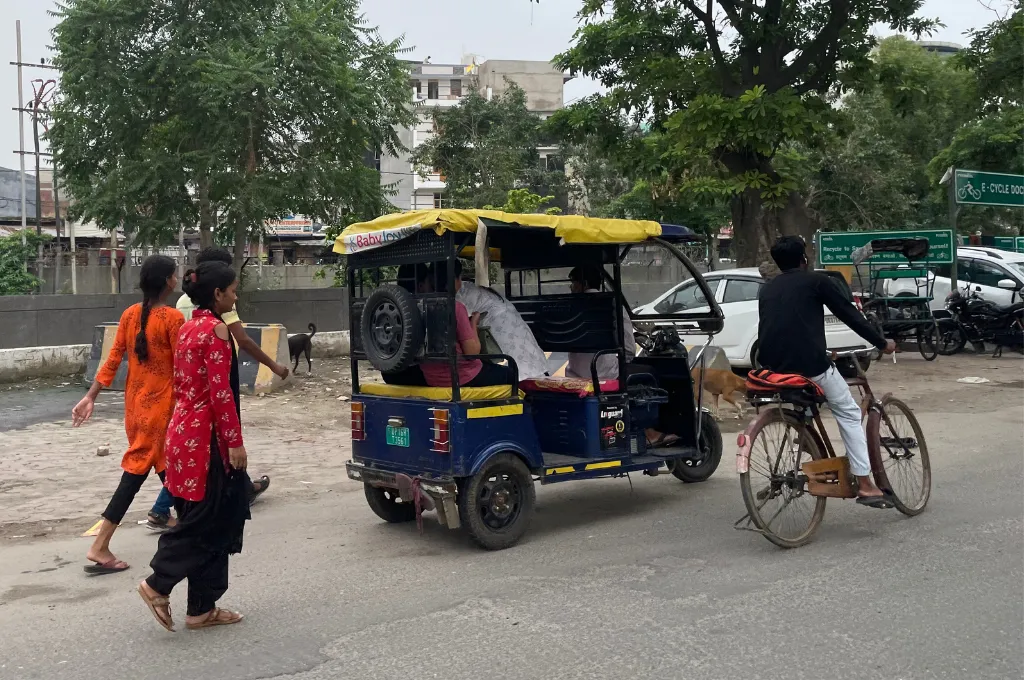 A better life?
We spoke with e-rickshaw drivers in Ghaziabad and Delhi and found that many of them are migrants from rural Uttar Pradesh, Bihar, and West Bengal.
Ajinesh, who has been driving an e-rickshaw around the Indirapuram residential area in Ghaziabad for two years now, moved to Ghaziabad from Hamirpur village in Uttar Pradesh in search of a better livelihood. He says, "I used to drive a rented autorickshaw in the village. I would earn INR 1,700–1,900 a day, and from that I would pay the owner INR 500 daily and fill INR 200 worth of gas (CNG). My uncle who lives in this city asked me to come here and try my luck. I knew how to drive an auto, but there was a lot of competition among autos. There were fewer e-rickshaws at that time, so I rented one."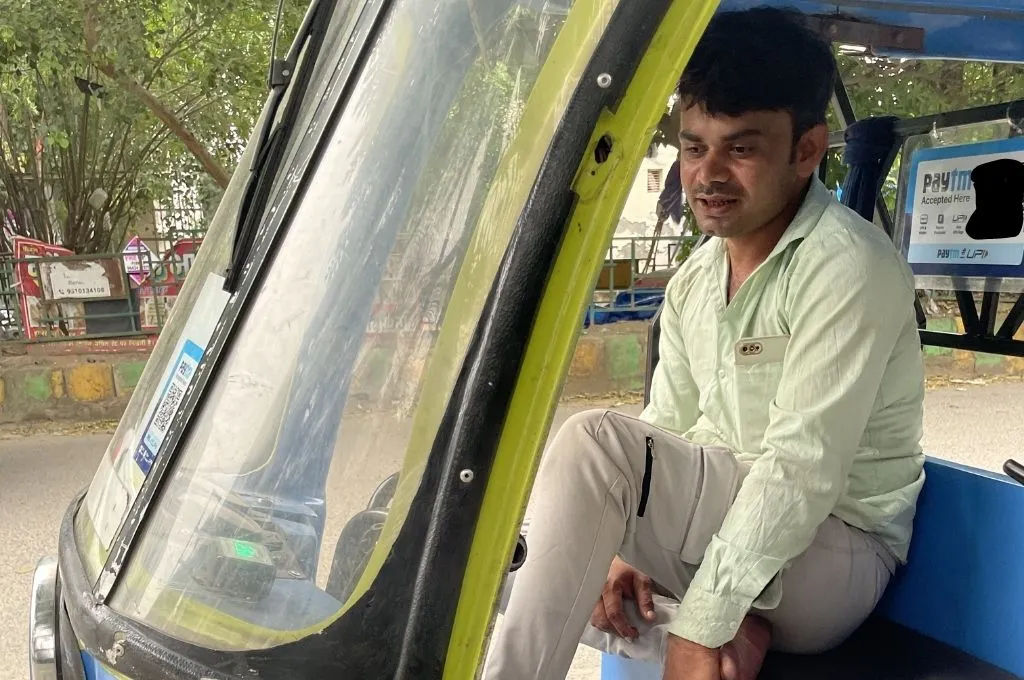 Ajinesh pays INR 300 as rent for the e-rickshaw and spends INR 210 on the rechargeable batteries, which he swaps three times a day at battery swapping centres across the city. He drives his e-rickshaw from Ghaziabad to Noida and ferries passengers and goods too. Initially, this was profitable and he used to make INR 1,500 a day, but as more people started driving e-rickshaws, his income started to reduce. Now, at the end of his workday, Ajinesh is left with the same INR 800–1,000 that he used to make driving the auto in his village. He says, "The e-rickshaws posed a challenge to the auto drivers when they started taking over the road. Now, the e-rickshaw drivers are competing among themselves as their numbers have increased significantly, especially in residential areas and for commuting to and from the metro."
He starts driving at 8 am and finishes work at 10 pm. This 14-hour shift is a marked increase from the eight or nine hours he used to spend driving his auto. Ajinesh admits that he doesn't get enough time to spend with his wife and their 11-month-old child. He is the family's only earning member. As expenses at home are bound to increase, he wants to buy his own e-rickshaw and save the money he pays in rent. "I will buy a metal rickshaw, which is sturdier than the plastic variant I am driving now. They are available for INR 1,75,000 on EMI at the showrooms here."
E-rickshaw drivers like Ajinesh say that the interest on the loan is anywhere between 17 and 20 percent, which is a substantial amount. There's also a down payment of INR 40–50,000. As many people can't afford to pay these amounts, they rent a vehicle. The Delhi government is providing a purchase incentive of INR 30,000 on buying e-rickshaws and a 5 percent interest subsidy on loans, but this is limited to certain brands.
Dilip Ram, an e-rickshaw driver in Delhi's Govindpuri area who migrated from Bihar, says, "There are many brands in the market now and the government doesn't trust the new players. There's subsidy but people who applied for it have been waiting to receive those for two–three years now."
To avail the government subsidies, the drivers must have documents such as Aadhaar card and electricity bills for residential proof, with a no-objection certificate from the landlord in case of rented housing. Documentation is often a challenge for migrant workers. Dilip says, "It is easier to get second-hand lead-acid-battery-operated rickshaws for INR 30–40,000."
In the lead
While the lithium-ion-battery-run vehicle that Dilip drives is a more recent phenomenon, e-rickshaws powered by lead batteries have been plying the Delhi–NCR roads since 2012 when they were launched with much fanfare. However, soon questions started being raised about the environmental and health impact of recycling lead batteries. They have to be replaced as they run out every six to eight months. As a Newslaundry report in 2022 detailed, the e-rickshaw drivers sell these batteries to dealers and buy new batteries. However, the dealers don't often follow proper recycling procedure, which ends up causing pollution every step of the way.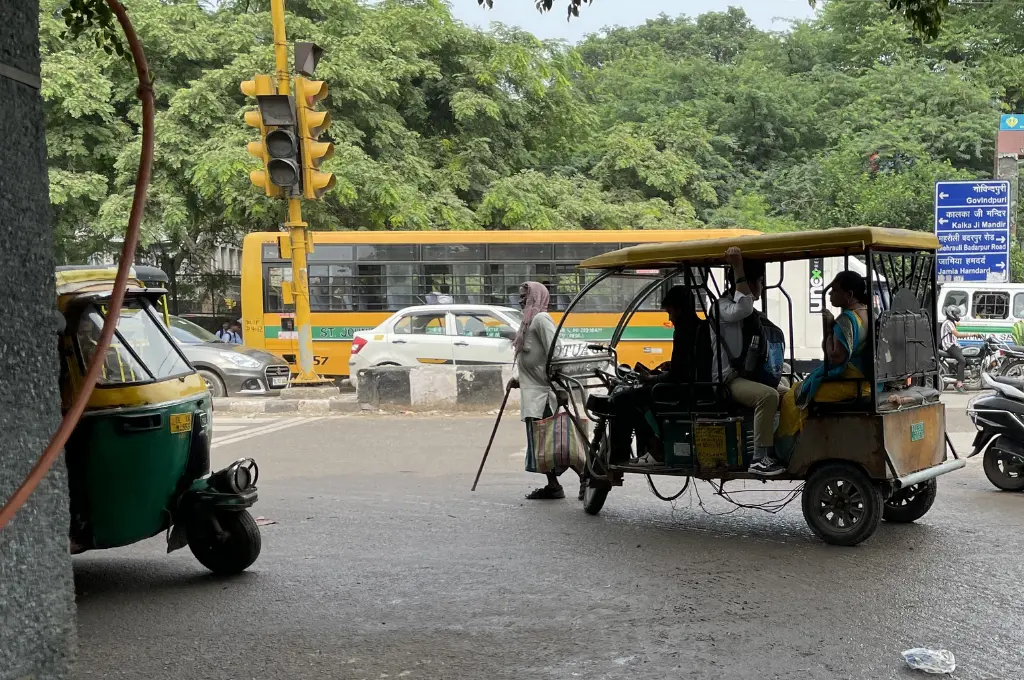 In September 2022, the Delhi High Court banned the registration of new e-rickshaws that use lead batteries. But there's a burgeoning black market and second-hand market, and people without the means to pay the considerably higher price for lithium-run rickshaws will continue to buy lead-battery-operated e-rickshaws even if they have to pay the occasional fine.
Carrying the load alone
Dilip says that if the drivers received some help with documentation, more people could adapt to the change. To understand why they need support, one can consider the example of Chandan,* an e-rickshaw driver in Delhi's Govindpuri locality. He could not avail the subsidies because his disability limits his movement. He says, "Despite knowing about the subsidy, I could not go and apply for it."
Unlike auto drivers, the e-rickshaws have no unions that often help with awareness. Bharat, who shifted from riding an auto to buying his own e-rickshaw during the lockdown, says, "Unless we have a union, no one will listen to us. You need a union to take an issue to the authorities and even to have a conversation within your own community."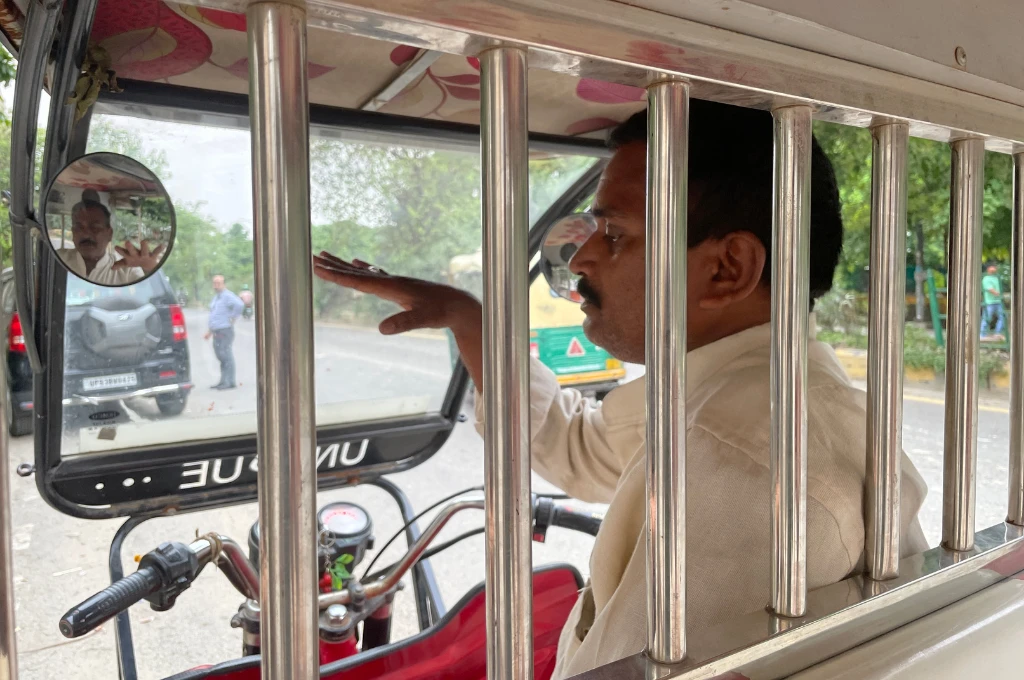 Bharat gives a recent example of how a group intervention helped resolve a conflict. "Some e-rickshaws in the nearby area started taking passengers for INR 5 each instead of the INR 10 that we usually charge. They were carrying more than four people, which is the number of people allowed in an e-rickshaw. We gathered the e-rickshaw drivers in the area and called a meeting, where we also invited the police. We explained how this system won't be beneficial for any of us in the long run. Seventy to 75 percent of them agreed with us and quit the practice, and the rest had to stop eventually."
However, despite multiple efforts, Bharat has not been able to convince everyone about setting up a structured organisation.
Raining trouble
If the routine challenges weren't enough, Delhi's e-rickshaw drivers also had to deal with an unusual monsoon that caused floods and waterlogging in several areas, bringing traffic to a standstill. This affected the e-rickshaws too. The battery compartment of the e-rickshaws is under the seats, and when the water seeps in, the vehicle stops working.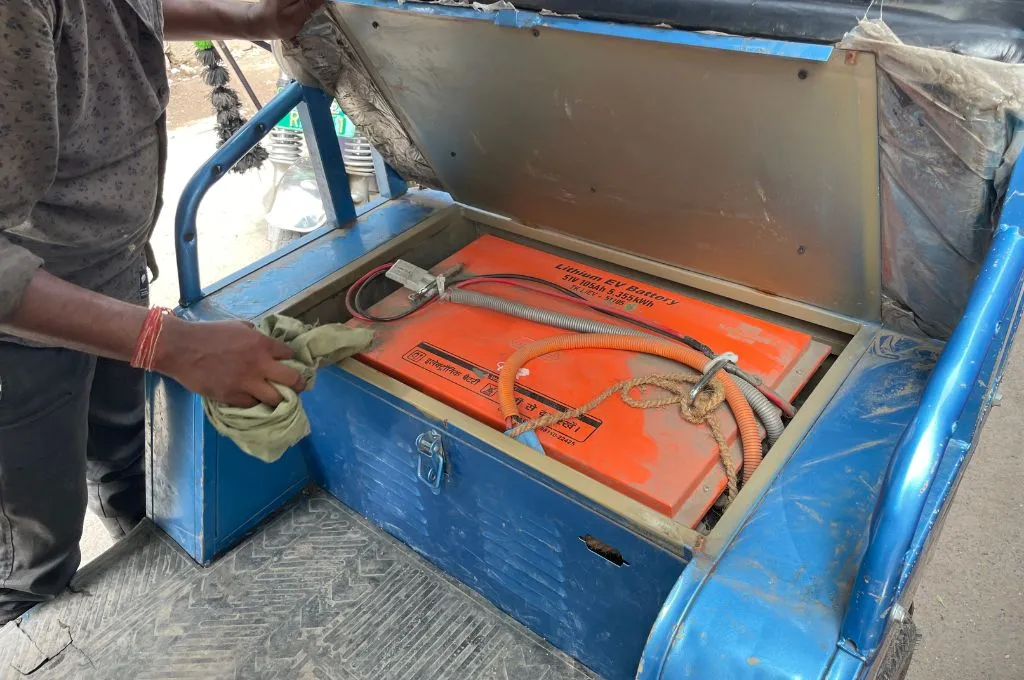 While some e-rickshaw drivers had to give up driving for two–three days during heavy showers, there were others who found ingenious hacks to keep going. Dilip says, "I would just open the plug that connects to the battery, let it dry, and put it back on."
Charging ahead?
Despite all the issues, Dilip says e-rickshaws make more sense because purchasing an autorickshaw costs INR 7–8 lakh. Drivers such as Dilip and Bharat have installed EV charging facilities at their homes. It costs them INR 60 per day for a full charge, which takes up to six–eight hours and lets the vehicle run for 100 km. It helps that Delhi's EV charging tariff for homes is among the lowest in the country.
Those who don't have the means to charge at home can use the multiple public charging stations that the state has installed. However, here they have to pay INR 100 for a full charge. Most of the e-rickshaw drivers park their vehicles at the municipality parking areas at night and take them out in the morning.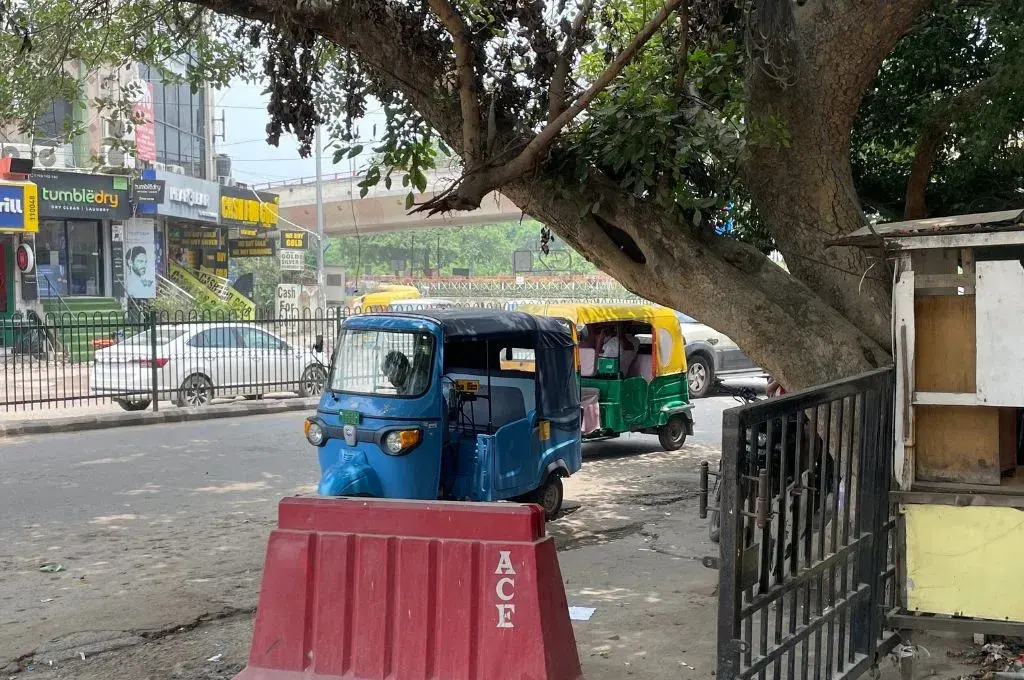 The current cost of charging at the station can still be quite high for many people. Those like Ajinesh, who often travel more than 100 km, prefer swapping their batteries instead. He says, "There have been times when I have run out of batteries on the road. I would immediately take my rickshaw to a battery swapping station nearby. They charge INR 150 for the first battery and INR 70 after that."
The push for EVs has given rise to both private- and government-owned swapping stations. However, there have been safety concerns regarding these since the news of multiple such places catching fire broke out.
In 2022, The Print published a report where many people emphasised cost, fear of the vehicles being stolen, and lack of awareness about government initiatives as reasons for not embracing the e-rickshaw wave.
Vijay,* who drives a CNG auto in South Delhi and also has an electric auto that his father drives, says, "Currently, there's no difference in income between the e-rickshaw drivers and auto drivers for me to want to make the shift. CNG stations are more easily available than EV charging stations, which are mostly concentrated in South Delhi. I might be paying INR 250 to fill the tank, but I don't have to wait for hours to charge my vehicle."
He adds, "E-rickshaws should run for at least 200 km on a single charge and have fast charging. It works for my father because he doesn't go very far, but he struggles with connecting the charger every night."
*Names changed to maintain confidentiality.
—
Know more
Read this article to understand what's holding back e-rickshaw adoption in India.
Read this article to learn how policymakers can enable individual climate action.
Learn more about viable financing pathways for electrifying India's public transport.