The textile waste accumulated in India accounts for 8.5 percent of the global total. One million tonnes of textiles are thrown away every year, which indicates the need for the industry to incorporate sustainable clothing practices.
When they aren't throwing away used clothes, Indian consumers either donate them to charity or give them to brands that have incorporated a recycling unit in their supply chain. While these are positive steps towards becoming a sustainable industry, clothes as a product are still difficult to recycle. The process is labour-intensive and expensive, which makes the end product even more costly for the consumer. Upcycling is a viable alternative, and while there are new, niche start-ups working on it, the concept itself has a long history in India.
For generations now, pheriwalis (hawkers) have been going door to door giving new utensils to people in exchange for old clothes, which they later upcycle and sell at local markets. Many of these women belong to the Devipujak (or Waghri) community, a denotified tribe in Gujarat; they migrate to different parts of the country to continue their traditional occupation. While conversations around sustainable fashion practices have gathered steam even among government departments and policymakers, the original upcyclers continue to struggle to survive.

This photo essay documents the work of the pheriwalis in the used clothes market of West Delhi's Raghubir Nagar. It explores how their upcycling ecosystem functions, and looks at the challenges they face as fashion trends shift and climate change impacts their health and livelihood.
The Ghoda Mandi upcycling ecosystem
For two–three days of the week, the pheriwalis travel to the neighbourhoods of East and West Delhi to collect old clothes. They start early and return by 8–9 pm. Once they have the clothes, they spend the rest of the week selling them at the market in Raghubir Nagar.
The Raghubir Nagar market—also known as Ghoda Mandi because of the adjacent temple, Ghode Wala Mandir—is operational from 4 am. The pheriwalis reach an hour or so in advance to grab their spot. The market is a hub of various vendors who form the upcycling chain. There are people who wash the clothes and those who do the darning and stitching that makes the clothes look new. There are also utensil shops opposite the market that cater to the pheriwalis.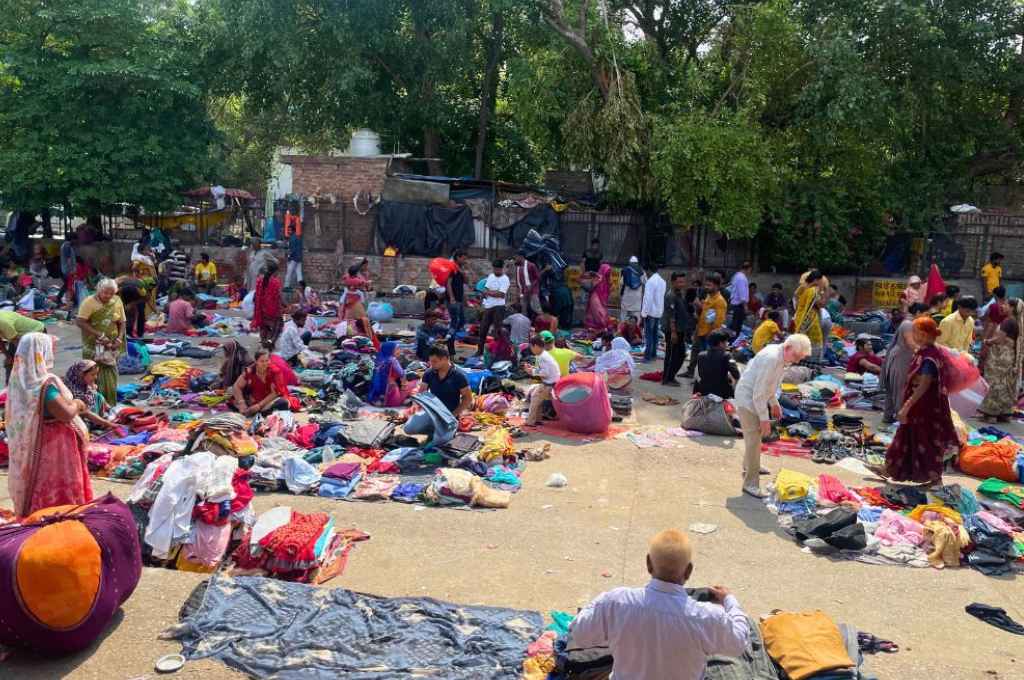 Kankiben, who has been a pheriwali in the area for 35 years, says, "The shopkeepers give us utensils at a cheaper price and we can even return the utensils that we can't barter. There are some fancier shops in the area that keep crockery and glassware, but they don't let us in."
The market also has vendors who sell buttons, zips, and brand labels that appeal to consumers looking to keep up with the latest fashion. Rajkumar, a tailor who shut down his grocery shop to join this market, finds it more profitable in comparison; now, even his son has started assisting him. His customers include the pheriwalis as well as individuals and merchants who visit the market. If they want their clothes stitched, he does it for them. Otherwise, they just buy the products from him at a cheaper price. Rajkumar says, "I get everything from Seelampur [in North East Delhi]. I sell 15 brand labels for INR 10, three packets of buttons with around 1,500 pieces for INR 10, three thread reels for INR 10, and so on."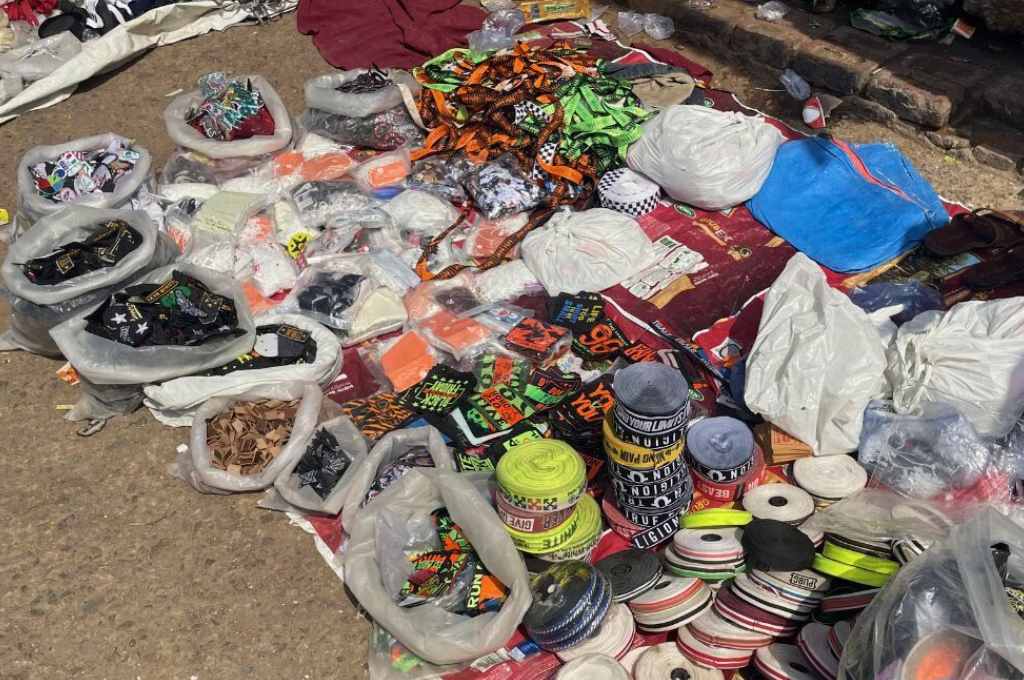 How the pheriwalis' work has changed
Living close to this ecosystem eased the pheriwalis' work in the past. They had in their vicinity everything they needed for their work. However, in 2001, a large part of their basti (slum) was demolished by the Delhi Development Authority (DDA). Many of the pheriwalis were moved to Bakkarwala, which is 15 km away from the market. Since the pheriwalis carry heavy loads of clothes and utensils from the neighbourhood to the market, the shift has increased their labour, travel cost, and work hours. "We try to carry at least 10 pieces of utensils with us on the pheris, but have to reduce the number to two–three pieces to travel via metro or bus," says Savita, a pheriwali.
Fewer people are open to giving clothes to the pheriwalis now, which means that their income has reduced considerably.
The consensus is that the business has taken a hit. Fewer people are open to giving clothes to the pheriwalis now, which means that their income has reduced considerably. Moreover, not as many people are buying old clothes because new clothes are considered aspirational. There isn't enough money to pay the bills, house rent is going up, and there are no alternative sources of income. Kalyani,* a pheriwali and resident of Raghubir Nagar, says, "People give us clothes worth INR 100 and ask for utensils worth INR 500 in return. We pay INR 6,000 in rent plus electricity and we don't even get free and clean drinking water. No one wants to give other jobs to people from our caste."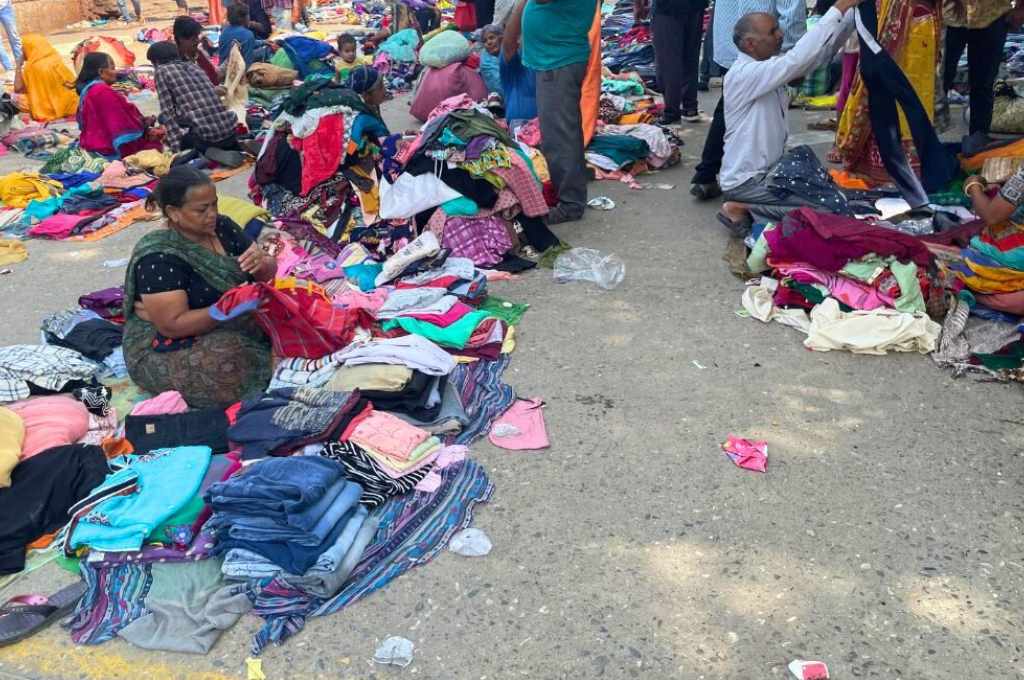 When Kankiben's family was moved to Bakkarwala, they were allotted a 107×160 square feet plot with no amenities, and were charged INR 7,000 on top of that. They had to build their house from scratch. Despite the many difficulties they faced in their work, this shift away from Raghubir Nagar, where everyone identified the pheriwalis with their caste and occupation, allowed her to get her son educated. She says, "They have a school in that area so I was able to educate my children." But despite being educated, her son is still unable to find a well-paying job. "The recruiters reject my son once they find out that his parents are in this profession. So now he teaches children as a private tutor."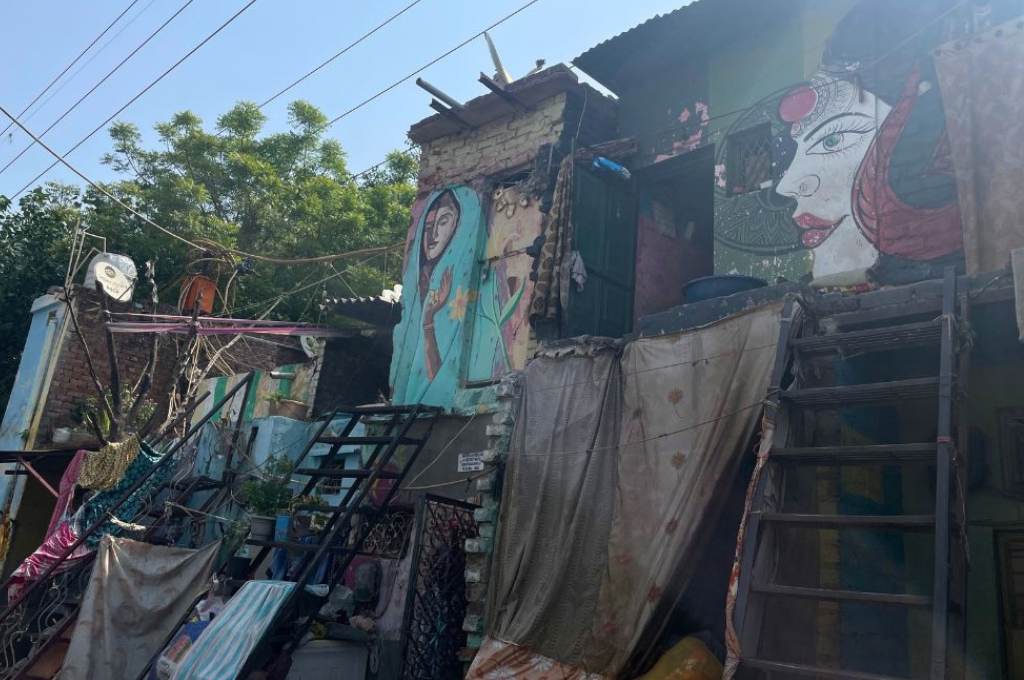 Apart from the dwindling income and lack of alternatives, pollution and unpredictable weather due to climate change are also making the pheriwalis' work more difficult to sustain. "We are unable to do the pheris for long because of the scorching summer heat. The pollution has made it worse for us. We have developed lung diseases, breathing issues, and eye infections because of the polluted air," says Kankiben. She adds, "During winters, we line up outside the market from 2 am waiting for it to open. We aren't allowed to light a fire and sit around it because it causes pollution." The rain also completely halts their work as the market gets flooded. There is a damaged shed that partially covers the market area, but it does not bring much relief.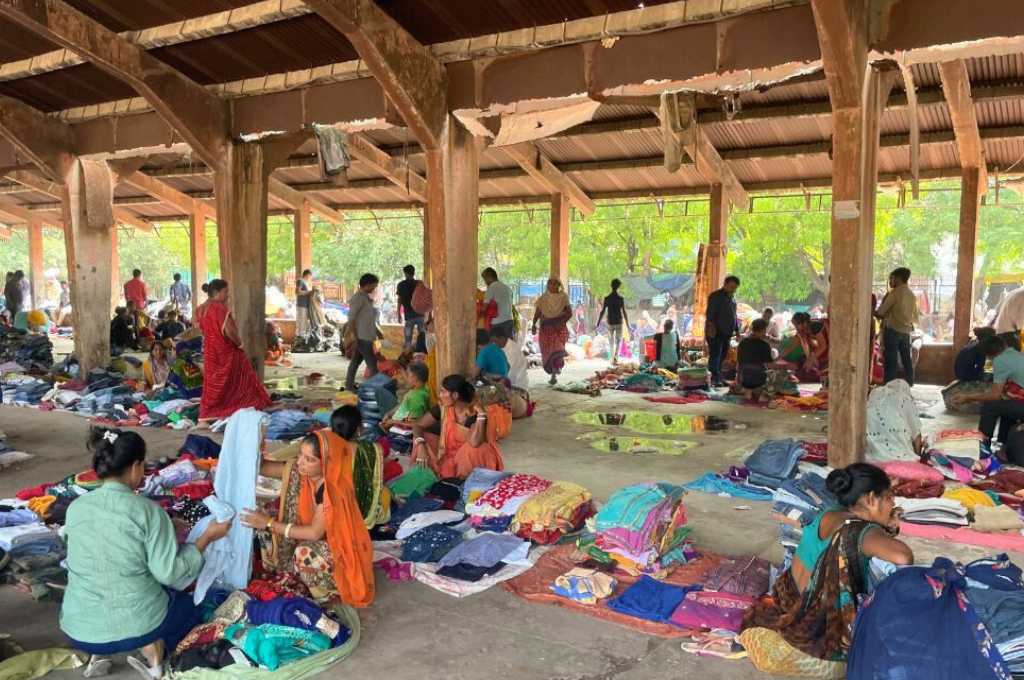 Where is the support?
In times of need, they have only the decades-old relationships they can fall back upon. Savita says, "During COVID-19, when the market wasn't functioning, we had no source of income. The residents who give me their clothes regularly helped me in that difficult time. They would transfer money to me online so we could buy food for ourselves."
Support from nonprofits has also been hard to come by. "We've had organisations help us build toilets in the Bakkarwala area, but no help has been provided to us in the Raghubir Nagar market," says Kankiben.
As governments, policymakers, and nonprofits work on reducing textile waste and promoting upcycling and recycling, will they also focus on the pheriwalis who have been doing exactly that for generations? Their network and knowledge could be crucial in building a waste-free India.
—
Know more
Read this article to know about the Waghri community, urban India's invisible recyclers.
Read this article to learn about the kantha stitch, Bengal's traditional upcycling technique.
Read this photo essay to understand how Ghazipur's waste management site functions.