---
Why give a dam? A 40-year struggle for education in Jharkhand
West Singhbhum district, Jharkhand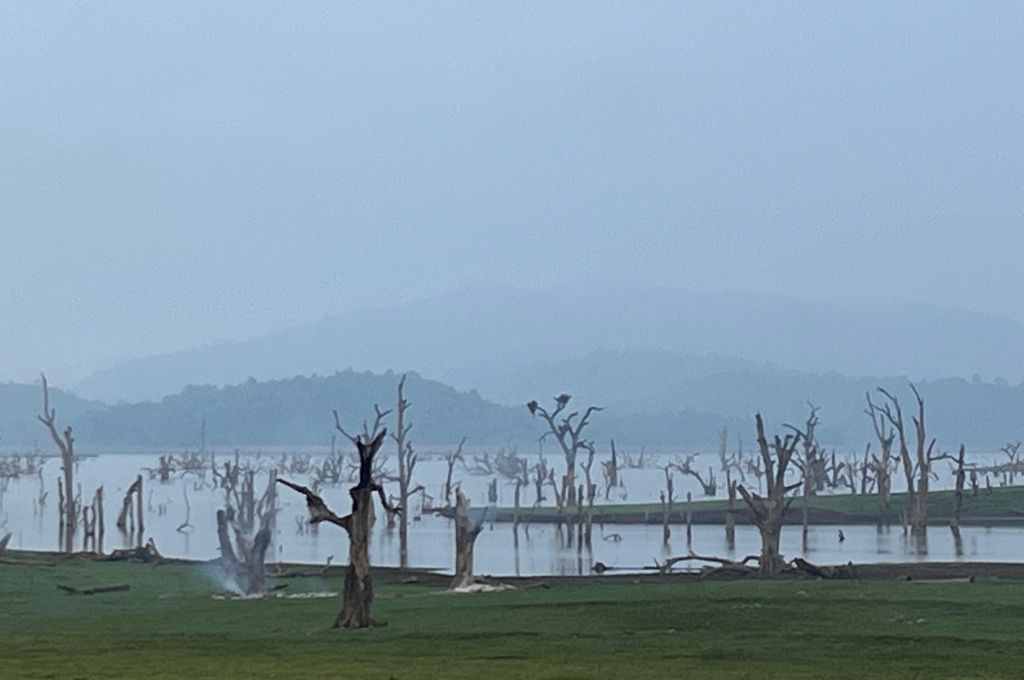 The Pansua dam was built in 1982 in Sonua block, Jharkhand, causing the adjoining low-lying forest to submerge under 50–60 feet water over the next three to five years. According to the elders of the surrounding villages, the massive sal, tamarind, teak, jamun, jackfruit, kusumi, and kendu trees were now more than 50 percent under water, and slowly died leaving behind a surreal landscape.
Five villages—Pansua, Mujunia, Munduri, Banskata, and Kutipi—and three hamlets of the Boikera panchayat were affected by the construction of the dam, and people resettled along the edges of the reservoir on the upper reaches.
In Meralguttu, one of the hamlets that mainly comprises the Mundari, Ho, and Koda tribes, the elders related the history of the Pansua dam, and how it changed the ecosystem and their lives. After the land was submerged, the government did not fulfil its promise to the residents of the affected villages—more than 35 years later, they have received only a fraction of the compensation. Many families continue to pay taxes for the land under water.
The residents of the village also shared how, because of their location, they don't have access to schools, public health facilities, electricity, and even drinking water. The nearest primary school is 7 kilometers away and they have to walk 12 kilometres to reach the nearest market—most of it through undulating hilly terrain. Another school is 5 kilometers from Baiguda village, but reaching it means a boat ride and the crossing of a hill. Besides, during the monsoon, the water level of the reservoir rises by 10–15 feet and this route gets cut off, increasing the walking distance by 3–4 kilometers. Most children are unable to continue with their schooling and end up dropping out. In the last three decades, only one person from Meralguttu has completed high school, that too because he moved away from the village.
As a consequence, more and more families are now migrating to big cities like Bangalore, Mumbai, Pune, and Chennai to work in brick kilns and construction sites to earn a living. Labour agents come to this region to source cheap labour. After the harvest of the monsoon crop, people migrate for six months. When families leave, children follow suit.
To stem this tide and bridge some of the learning gaps, ASPIRE and Tata Steel Foundation opened a centre in Meralguttu in May 2022, with the aim of enrolling children in a formal hostel school as part of their goal to universalise secondary education in the district. While a lot remains to be done, it is encouraging to already see young children—who would otherwise migrate from the region—attend classes at the centre with the hope of continuing with their studies.
Smita Agarwal is Head Education, Tata Steel CSR.
—
Know more: Learn how nonprofits and funders can help Jharkhand's adolescent girls recover from the pandemic-induced setbacks to to their education, mental health, and more.