My name is Lalitha Taram. I am from Jabbarkheda, a village in Maharashtra's Gondia district. I am a General Manager at the Paoni Producer Collective, which is a farmer producer company (FPC) that serves close to 5,000 members—all of whom are women—across 125 villages in the region.
Gondia is a tribal area and most households here are engaged in farming and cultivation. We grow crops such as paddy, channa (chickpeas), dal (lentils), chillies, and mahua (a tropical tree). When women take membership in an FPC, it creates an opportunity for them to collectivise and increase their income. Our FPC provides several services to members. Some examples of these include providing low interest loans, creating market linkages to help members sell their crops at a good price, and providing agricultural inputs, such as seeds and fertiliser at a low cost.
I joined Paoni Producer Collective as a member in 2014. After a few years, I started working as an area coordinator for 5-6 villages, where I was responsible for mobilising women to become shareholders. During this time, the company was starting some new businesses and I jumped at the opportunity to manage the poultry and fertiliser businesses in the villages where I was working. In May 2020, I was promoted to my current position of general manager. In this role, I am responsible for team management, recruitment, administration, board management, and more at Paoni Producer Collective.
4.00 AM: I wake up and start my day with exercise, in the form of yoga. I really enjoy doing yoga! It helps me sustain myself through the day, as my days are usually long and I often have to walk from one place to the other. After completing yoga, I spend a few hours doing the housework.
9.30 AM: I leave for the office which is two kilometers away from my home. I usually travel to the office on my Scooty (two-wheeler), but it isn't working right now, so today I walk to the office instead. The first thing I do when I reach the office is take stock of my day.
10.30 AM: The company holds a board meeting on a monthly basis. At these meetings, different decisions related to the company are taken by the board members. We have a board meeting scheduled for the upcoming week and it is my duty to ensure that everything is in order before the meeting. This includes identifying a suitable date on which maximum board members can attend, finalising the agenda (along with inputs from the rest of the team and the board members), and ensuring that the board members have all the information that they need to make decisions during the meeting.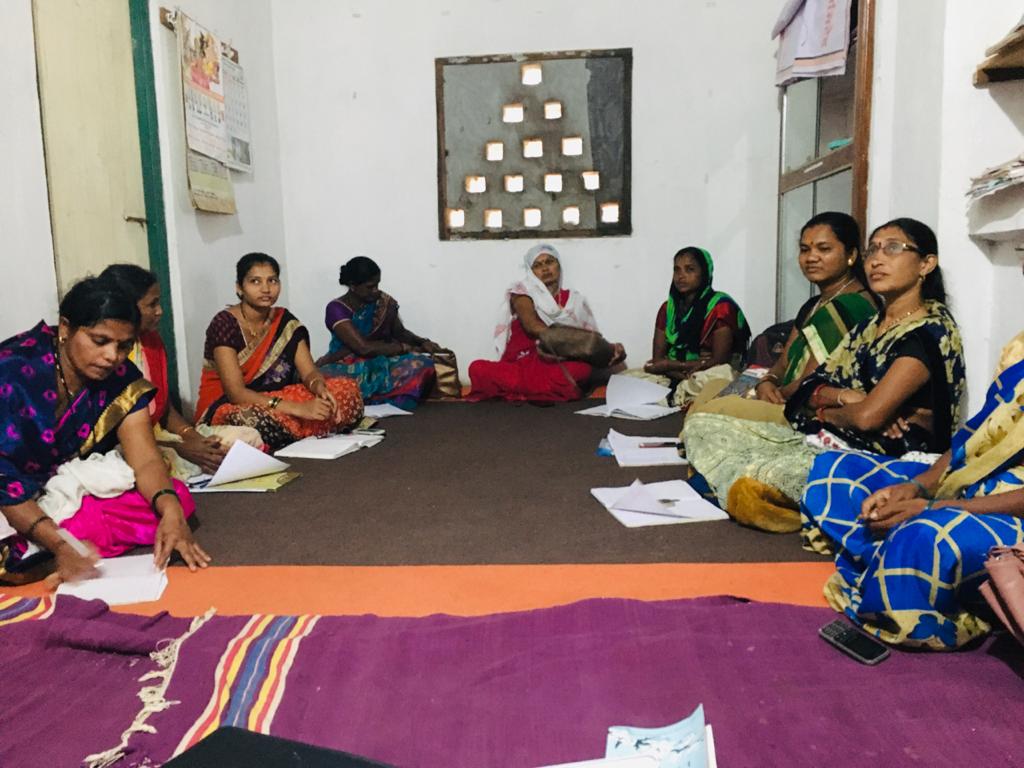 For example, in the last few months, our members have been harvesting tuvar and masoor dal (lentils), and we will help them sell this in the market at a good price. To do this, we have to collect quotes from various vendors and negotiate with them. While the board will take the final decision about which vendor to go ahead with, and at what price, I spend some time preparing the information that is needed: How much dal is available for us to sell? What are the different quotes we have received from vendors?
At times, I also have to communicate decisions that are made at the board meeting to team members or shareholders. In the last year, we have had to make many tough decisions. Due to COVID-19, business was slow and so we had to take a call to fire some employees. As the general manager, I was responsible for having this conversation with the employees that we were firing. Some of them put a lot of pressure on me because they were upset. I explained to them that this decision was taken after reviewing their performance, which was not good enough to justify retaining them at the FPC.
12.00 PM: One of the agenda items for the board meeting is to discuss the poultry business. A few months ago, during the Annual General Meeting, we came to know that our poultry business was undergoing a loss. Through this business, we provide members with chicks that they rear and sell in the market. However, the demand for Kaveri—the breed that we were selling—had reduced. The chickens should ideally be sold within three months, but it was taking four to five months to sell them and members were undergoing losses. So, we decided to try some new breeds—Sonali and Asil—as they had more demand. The manager of our poultry business has come to the office today and we spend some time preparing for the board meeting. We will share this information about these breeds with the board members: The cost of purchasing chicks, the cost of rearing, and the expected return on investment.
2.30 PM: I usually spend the morning at the office and the afternoon in the field, meeting with our field staff or shareholders, to address any concerns or problems that they are facing.
When members become angry or upset, I do my best to stay silent and avoid responding to their anger.
I leave the office to visit a shareholder who lives in a nearby village. She is upset because this year we are unable to provide her with a loan. Due to the circumstances created by COVID-19, the FPC was not able to get the volume of loans that we usually get from different financial institutions. And as a result, we are unable to extend the same number of loans as we did before. I do my best to explain our constraints to her. But she is still upset and speaks to me quite rudely. When members become angry or upset, I do my best to stay silent and avoid responding to their anger. They are members of the company and it is my duty to respect them. But I do make it clear that I have to follow the rules and regulations that have been laid out by the company.
4.00 PM: I meet with a group of members who have not been repaying their loans. Everyone is facing many challenges this year and so we have not been putting too much pressure on our members to repay their loans. But we cannot keep extending the repayments and so we started issuing warning letters to some members about the debt that they owe.
The meeting is quite contentious. Many people raise their voices and some of them threaten to leave the company. But sometimes you have to listen to people's insults before you can move forward. Since I have been involved with this work for many years now, I am able to draw on my experience to respond to their concerns while also explaining the company's position. I also draw on the training that I received when I attended a mini-MBA programme called Women Business Leaders Programme that was conducted by ALC India.
6.00 PM: I return home in time to cook dinner for my family—my teenage son and daughter, husband, and in-laws. While I am preparing dinner, I catch up with my children too. This past year, they have been studying online. It has been a big change for them.
Sometimes I think about running my own business, so that I can earn more and educate my children well.
All of us have had to deal with many changes this year. At our FPC it has been very difficult to pay staff salaries because business has been slow. When I was appointed as general manager, my salary increased and I started earning INR 5,000 per month, but this is also barely enough to provide for my family. I enjoy my job very much, but I cannot ignore the fact that it is difficult to make ends meet on the salary that I earn. Sometimes I think about running my own business, so that I can earn more and educate my children well. I have been trained as a para-vet for goats. And since I have received training in business planning as well, I do think about exploring entrepreneurial opportunities that will allow me to look after my family without difficulty.
As told to IDR.
—
Know more