A study of Jharkhand's major coal mining district, Ramgarh, shows that mining activities are shrinking and about 50 percent of mines in the region are either "closed down" or temporarily discontinued because of various factors like unprofitability. Now, this means trouble for a town like Ramgarh whose entire economy, directly or indirectly, is coal-dependent. Moreover, the recent study reveals that remaining mines, many of which are also unprofitable, have a life left of "about 10-25 years, and there are very few new ones in the pipeline" as a result of which the coal mining activities in the district will phase out in next 10-20 years "making it a perfect case for a prospective just transition."
However, the question that worries the experts is whether the authorities are ready for such a transition in Ramgarh or other such cities.
As a concept, "Just Transition"—where the transition to a clean energy economy is fair and just to the affected communities and the environment—is yet to gain traction in a coal-dependent country such as India. But, if planned well, the transition policy can be a perfect blend of good economics and politics, while addressing a plethora of issues faced by mono-industry coal towns like Dhanbad or Korba.

In Ramgarh, according to the study published in the book, "Just Transition in India: An inquiry into the challenges and opportunities for a post-coal future", one in four households derives some sort of earning directly from mining and related activities but this is largely informal and does not provide a decent income. The study was done by the International Forum for Environment, Sustainability and Technology (iForest), a think-tank working on environmental and sustainability issues.
Coal mining has not benefitted the region in terms of social and physical infrastructure.
It also highlights that coal mining dependence is quite concentrated in certain parts of the district and only "seven percent of the households had a member with a formal job in coal mining or related industry". But it emphasised that coal mining has not "benefitted the region in terms of social and physical infrastructure" as Ramgarh has "extremely poor primary healthcare infrastructure, with a nearly 50 percent deficit in the required number of primary healthcare centres." The same story repeats in the context of education and clean drinking water.
The study emphasises that a focus on coal mining and related industry over decades has "stymied the development of other sectors and the diversification of the economy" and other sectors like "agriculture, forestry, fisheries" have suffered due to "undue focus on coal mining."
It shows that even "just transition" as a concept is yet to gain attention, in the current situation of coal-mining dependent Indian towns like Ramgarh, there is an economy-wide opportunity to "reverse the resource curse in coal mining areas."
However, the study argued that "this does not mean that coal mines can be closed quickly"—instead, it states that the mines must be "closed in a planned manner so that there is minimum social and economic disruption" and side-by-side, the "new economy, and infrastructure will have to be built to support and enhance the livelihoods of those dependent on coal."
Just transition is vital for a coal-dependent economy like India
The lessons from such a study are critical for policymakers because the Indian government is planning a massive increase in coal production and cutting down of imports. This enhancement in coal production is going to trigger a similar story for the environment and communities in many other small towns and cities where coal is abundant as a resource or mining is ongoing.
For people whose lives are directly or indirectly related to mining, the future is uncertain once mining is finished in their region.
Amarendra Das of the School of Humanities and Social Sciences at the Indian government's National Institute of Science Education and Research (NISER), said that a transition that is just for community and environment is a tricky issue right now. "For people whose lives are directly or indirectly related to mining, such as contractors or labourers, the future is uncertain once mining is finished in their region. The best way forward is to invest in human capital especially because the development index in most of the mining region is quite low," Das told Mongabay-India.
Das's concerns were echoed by Ilyas Ansari of the Karampura Bachao Sangharsh Samiti who is fighting for rights of people impacted by coal mining in Jharkhand.
"In India, wherever mines are opened, people are primarily dependent on agriculture. Once mining starts, their lands are destroyed and they are left with nothing but compensation which quickly gets over. There is no sustainable solution for their livelihood as they get no jobs from the mining companies. Once mining is finished, the land becomes barren while water bodies are either destroyed or left polluted," said Ansari while adding that the story is no different in Jharkhand.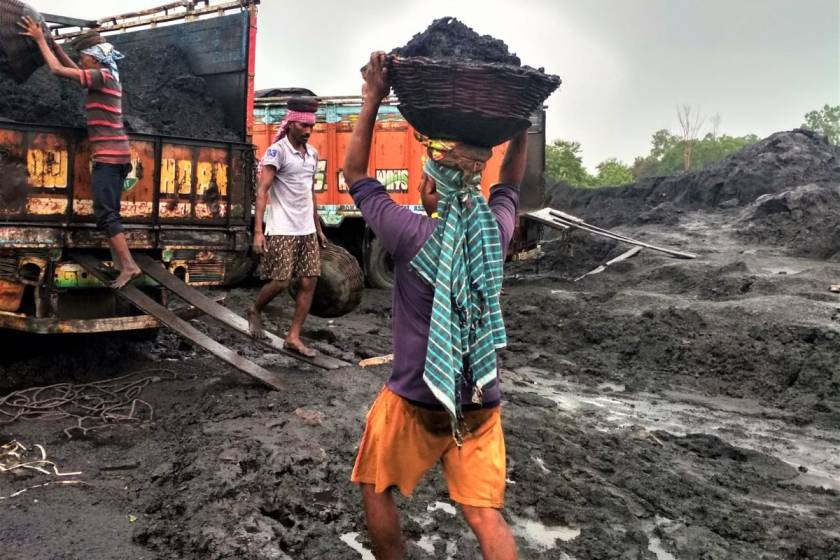 Ansari said that there are rules that mandate that companies and government authorities reclaim the land but nothing of such sort has ever happened in their area despite decades of mining.
"Now, the government is pushing for coal mining wherein private companies will only work for profits without any concern for the communities living nearby or the environment. The worst part is that there is none to take care of the people or take control of their rehabilitation work," Ansari told Mongabay-India.
A focused approach is critical for Just Transition
India is not alone grappling with just transition. There is no standardised approach as every area brings its unique issues. This concept of just transition found a mention in the preamble of the Paris Agreement in 2015 as well.
In 2016, Canada announced phasing out of traditional coal-based power by 2030 and by April 2018, the government launched a task force on "just transition" for Canadian coal power workers and communities to better understand the impacts of phasing out coal and the support required for those affected. The members of the task force visited mining-dependent areas and interacted with all stakeholders and developed recommendations for a sustainable transition away from coal.
A similar story has played in European nations like Germany where a dedicated agency has been appointed for addressing the issue to provide a blueprint for just transition of the coal workers and mining region and look at issues related to job creation in those areas.
Chandra Bhushan, who is President and Chief Executive Officer (CEO) of iForest said, "Just transition is an imperative for India as we have only 20-30 years to phase-out coal-based power to avoid catastrophic impacts of climate change."
A just transition will help India push for global collective action, and help build a sustainable and resilient economy in the coal-dependent regions.
"This is a very short time to transform coal mining areas and coal-dependent industries. If we do not start planning for a post-coal future now, our coal-dependent regions will face major economic and social disruptions in the coming years. By putting just transition at the centre of its climate mitigation plan, India can send a strong signal to the world that it is willing to play a leadership role in climate change," Bhushan told Mongabay-India.
He emphasised that a just transition will not only help India push for global collective action, but it will also help build a sustainable and resilient economy in the coal-dependent regions. "Coal mines should be closed in a planned fashion so that India's energy security is not affected, climate goals are met, and the local communities benefit from a just transition," Bhushan said.
But experts in India point out that action on achieving a just transition is something that is missing in India and in many places there is not even a discussion. It is not just phasing out of coal that could lead the transition, but in some cases, the adoption of clean energy like renewables can also drive it—aspects that need much discussion with those involved.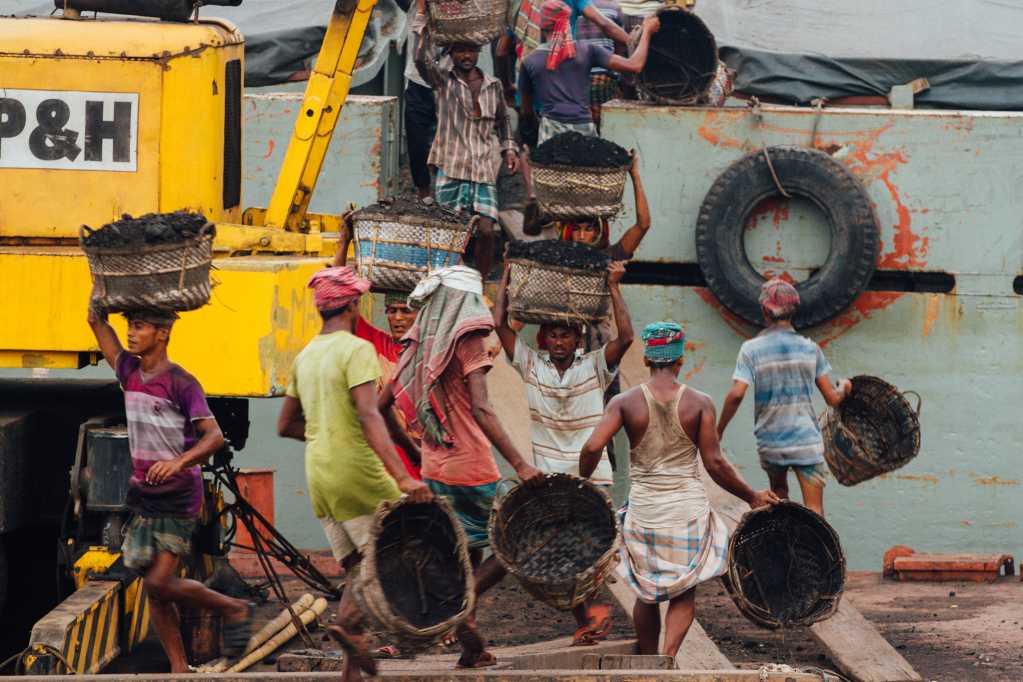 "I have not seen one even one single satisfactory case where land was returned to people after the mining or it was rehabilitated. Whether coal or iron ore, every mine in Jharkhand has to be returned after a particular time. But the experience, so far, has only been unsatisfactory," social rights activist Xavier Dias, who is the former editor of Mines, Minerals & Rights, told Mongabay-India.
iForest's programme lead Srestha Banerjee, however, said that "people in the coal mining areas have been burdened by poverty and under development for decades" and a just transition is an opportunity to reverse this.
"These districts suffered due to coal mining and are now suffering because of its unplanned closure. However, experiences from around the world show that just transition can be a win-win for the environment and the economy if it is planned and managed well," said Banerjee.
Solutions are many but a strong will is missing
What is required to make sure a transition is just? This is a critical question for which there are no set answers. The iForest study states that for just transition, state governments will have to develop a new vision and action plan, using a long-term output-outcome based planning process and it should be done with wider stakeholder consultation to avoid any major social or political disagreements in due course.
NISER's Amarendra Das notes that there is a "solution in form of DMF (District Mineral Foundation fund) but so far in the majority of the places, the money that is collected under DMF remains unutilised or used for mega infrastructure projects."
"I believe the power to use DMF should be with sarpanch (village head) rather than senior officials and that money should be used for skill development of the locals. This can be a sustainable way ahead to help the communities and the environment. A set of measures are required to reclaim the land and make it suitable for agriculture," said Das.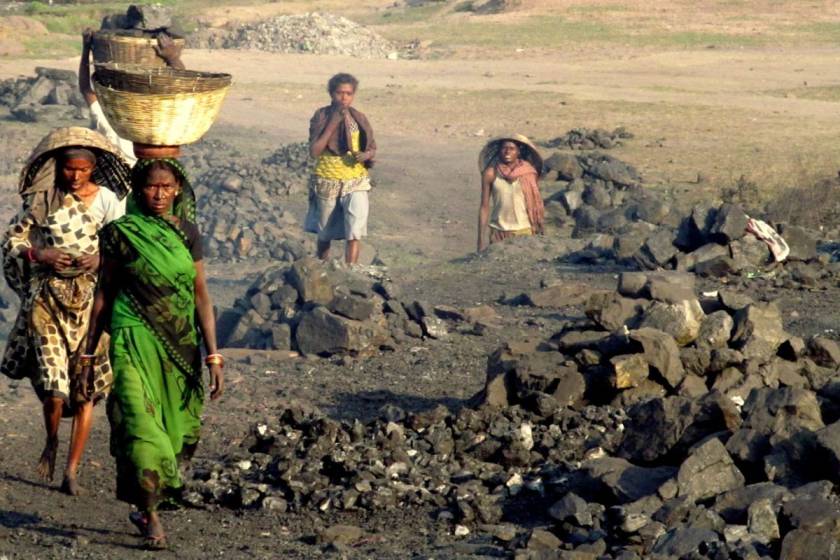 He argued that "a lot of scientific involvement and technical support is also required to address environmental concerns including cleaning degraded water bodies" as at present "we only do lip service to such concerns or to use of the DMF" while the solution is to "reclaim land and invest in human capital."
The study, meanwhile, states that to achieve just transition, a planning architecture must be developed at the district-level defining timeframe, establishing an inclusive transition planning mechanism, providing alternative employment opportunities for formal and informal workers in the short-term, planning economic diversification, including industrial restructuring, improving social and physical infrastructure and identifying financial resources to support the whole process of a just transition.
The study stated that for "just transition" to work, support is needed from various quarters including a strong national and state government policy and financial support, a diverse coalition among stakeholders, local engagement, economic diversification and social security planning, social and physical infrastructure development, and serious public and private sector investment.
This article was originally published on Mongabay-India.