In India, the conversation on fundraising has typically focused on two groups—high-net-worth individuals (HNIs) and companies that give under the CSR act. But over the last few years, especially since the COVID-19 pandemic, there has been a shift towards a third kind of giving, primarily focused on individuals. In fact, according to a 2021 report by the Charities Aid Foundation, the average amount of individual donations in India went up by 43 percent during the pandemic. This presents an opportunity for nonprofits in India to tap into a form of giving more commonly known as retail fundraising or crowdfunding.
What is retail fundraising and why it is important for nonprofits?
Simply put, retail fundraising is the practice of raising smaller amounts of money from larger pools of individual donors. If we take away the jargon, we can see that this form of raising money is no different from what people have been doing for decades to fund celebrations such as Durga Puja or Ganpati. A lesser-known example of successful crowdfunding is the Statue of Liberty, whose plinth was funded by small donations from more than 1,60,000 individuals. This approach of raising money for a single event (such as a festival) or a single asset (such as the plinth for the Statue of Liberty) represents retail fundraising in its simplest form.
Beyond one-time events, retail fundraising can also mean raising a sum of money at regular intervals, usually monthly or yearly. Consider Netflix, for example—subscribers pay a fixed amount every month for as long as they want.

This approach of raising money can be beneficial for nonprofits in many ways. Having hundreds or thousands of people donate to a cause lends legitimacy and credibility to an organisation's work. Since people are investing in the organisation's value proposition, retail fundraising signifies an exchange of trust with the brand of the organisation. And since money raised through this channel is not tied to specific projects, it can also help organisations innovate, launch pilots, and take on higher risk projects. Most importantly, however, retail fundraising can help build a community of supporters who align with a cause. Much of the work that we do in the social sector revolves around the transformation and transfer of power. Therefore, when an organisation has a large base of supporters, not only is it engaging with the communities it works with directly, but it is also encouraging or exerting some sort of positive influence over the people that support it.
Despite this, many nonprofits are hesitant to take on retail fundraising as it may not be immediately clear how cost-effective this practice is, especially when compared to more traditional routes such as grant-based funding. An organisation may write hundreds of proposals and still be able to meet, or even exceed, its funding requirements, even if one proposal translates into a grant. Compared to this, going from individual to individual asking for funds can seem more time- and effort-intensive—and it often is. Additionally, HNI and CSR funding is typically tied into annual cycles, so organisations may not be used to thinking more long term. Further, the turnaround time for a grant proposal is almost immediate, whereas the time taken to see the returns on recurring retail fundraising is a lot more. Despite these differences, organisations should consider this channel because it brings predictability in income, a large base that adds legitimacy and credibility to their work, and an opportunity to build long-term capacities of the organisation.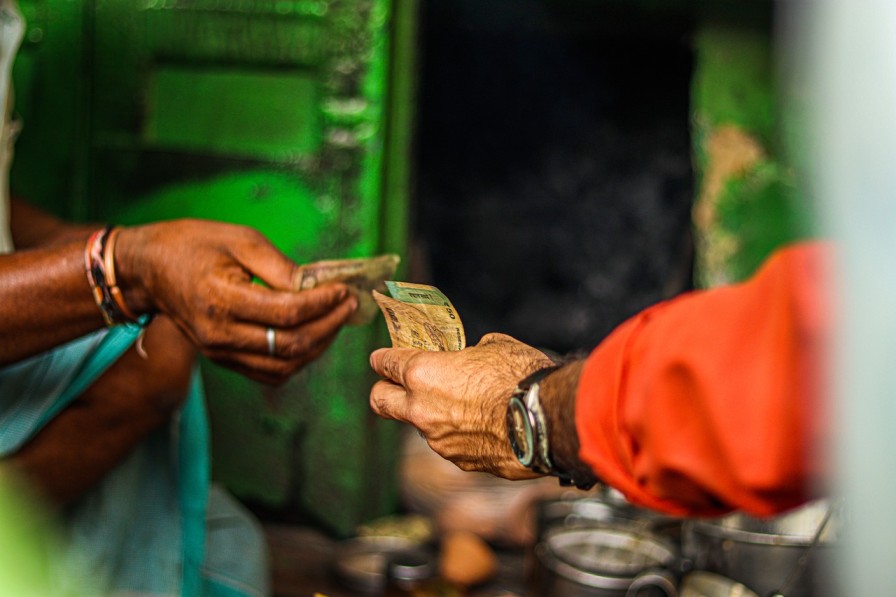 Who should think about retail fundraising?
Many organisations—both large and small—use retail fundraising to their advantage. In particular, this approach works very well for 'tangible' causes such as nutrition, education, or health, where donors are able to see what their money is being used for. Conversely, and perhaps counterintuitively, retail fundraising also works well when a cause aligns with a donor's ideology. Take, for instance, the Rashtriya Swayamsewak Sangh (RSS), one of India's largest volunteer-run organisations, which raises money through retail fundraising.
There is a case to be made for organisations at different stages of their journey to try retail fundraising.
This does not mean, however, that retail giving only works for very large organisations or for those engaged in a certain type of work. There is a case to be made for organisations at different stages of their journey to try retail fundraising. It's a viable option for young organisations that are just starting out since their capacity to take risks and experiment is high. In general, the first people to donate money to a cause are people within the founding team's network—friends, family, and acquaintances. And this network can be a good space to experiment with crowdfunding while also building a community around the cause. This is the approach I took when I first started out as a fundraiser. My target was to onboard 10 new people every month. It took me about six months to take this figure to 100. By then I had 100 people who were giving INR 1,000 a month, or INR 12 lakh a year, which more than met my costs at the time.
The other point at which an organisation should think about retail fundraising is if they've become really adept at raising money from other institutional sources. At this stage, organisations can convince institutional donors to fund retail fundraising pilots including technology and human capital costs. And, lastly, advanced organisations that have been around for 20–25 years are well positioned to try retail fundraising at scale, since they already have a committed base of supporters.
Irrespective of when they choose to begin, the main thing nonprofits should remember is: Retail fundraising is about creating a community, and not just about raising money. It is from this set of supporters that an organisation's smaller pool of HNIs, institutional funders, and CSR funders are likely to emerge.
How to get started, and what to do if you don't want to go all in
Once an organisation has decided to take the plunge into retail fundraising, there are a few practical steps to consider.
1. Build an internal community
The first—and perhaps the most difficult—step for organisations is to build an internal community. Often, retail fundraising becomes a founder's responsibility because typically they're the ones leading institutional fundraising. But when it comes to retail fundraising, having one person take the load for a whole organisation is likely to fail. Instead, founders need to first get the entire team on board—this would mean talking about why retail is important for sustainability, explaining the importance of having a wider base, and how it is connected to the organisation's mission. If the team is not convinced about or connected to the issue a nonprofit is trying to solve, it's going to have a hard time convincing anyone else. Alongside this, it is important to find people outside of the organisation who believe in your cause and who will publicly act as champions or mascots for it.
2. Build a central database
The next major step is feeding all the organisation's contacts into one central database. This is the starting point for building a community. These contacts can come from team members' phonebooks, social media contacts, and email contacts, among other sources. It is also important to keep growing this database by ensuring that every new contact is immediately transferred to the database. This database should also be connected to a customer relationship management (CRM) tool. CRM tools are crucial as they are a great way to track donor behaviour and generate analytical data such as who is receiving fundraising e-mails, who is opening e-mails, and when they are dropping off. All of this requires minimal financial investment but has disproportionate returns when building a fundraising strategy.
3. Build a communications strategy
Another step that's critical to the process is crafting a communications strategy. This has to primarily do with deciding on a style of communication with donors—should the newsletters be fun and informative or full of human-interest stories? A good way of approaching this is using a tone that represents the organisation's brand in the most authentic way. As part of the strategy, it is also important to define the frequency of communication. Being consistent and keeping in touch regularly helps with donor engagement. This means that whenever a fundraising appeal is made, donors still feel connected to the cause and aren't caught by surprise.
Doing annual crowdfunding campaigns or setting small onboarding targets are light-touch ways of approaching retail fundraising.
Alongside this, it goes without saying that having an active online presence and an updated website with a payment gateway that makes it easy for people to donate also helps. Retail fundraising is time- and effort-intensive, so it is important to have a person dedicated to it, preferably in-house rather than an external consultant.
If an organisation is at a stage where investing time, effort, or money in retail fundraising is not viable, there are several light-touch ways in which they can approach it—for instance, setting a small target of onboarding 10 new donors a month or starting with one crowdfunding campaign a year. The only caveat here is that it's important to run such a campaign every year—if it is a one-off event, it will be harder to maintain a stable community of donors.
Potential challenges and pitfalls of retail fundraising
Over the years there are many things that I've seen nonprofits get wrong when it comes to retail fundraising.
1. Don't use retail money to run programmes
The first one that I'd like to caution against is using retail money for running programmes. It is easier to get money from CSR or HNIs to run programmes, and so retail funds are better used for organisation building, hiring talent, or other activities for which it is difficult to raise funds.
2. Keep communication honest and consistent
Many organisations struggle to stay in touch with their supporters. Inconsistent communication can do more harm than good, and only reaching out when the organisation needs something from the donor makes it difficult to build trust. Related to keeping organisational reputation intact is making sure that the fundraising campaigns only promise what they can deliver—whether it is a gift, tax exemption, or an acknowledgement of some sort.
3. Tailor campaigns to your audience
When it comes to communications, avoid using language that is academic, too technical, or riddled with jargon that a lay person may not understand. It is also important to remember that people who give generally do so because of their affinity with a cause or an ideology, and not necessarily because of the organisation. And so organisations must fine-tune their story so that it resonates with what people believe in. Do not make the nonprofit the hero; make the person who is donating the hero of the story.
4. Be flexible and don't rush into things
And, lastly, do not put too much money into retail fundraising in one go. Retail fundraising is something to be done incrementally and in a consistent fashion, with regular failing and learning.
As it becomes increasingly difficult for nonprofits to secure foreign funding, it is important that they consider retail fundraising alongside other more traditional fundraising strategies. Not only does it lend legitimacy to a cause and help build a community, it also helps de-risk the organisation in the long run.
This article is based on an Instagram Live that Rishabh Lalani did with IDR.
—
Know more
Learn more about the basics of building out a retail fundraising model here.
Check out Change the Game Academy for courses and resources related to retail fundraising.
Go through this guide on tax-efficient crowdfunding for individuals.